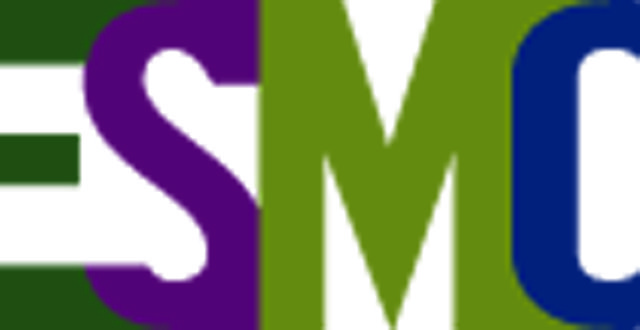 First-line immunotherapy combination fails to improve overall survival in lung cancer
First-line immunotherapy with durvalumab or the combination of durvalumab and tremelimumab does not improve overall survival in unselected patients with lung cancer, according to late-breaking results from the MYSTIC trial presented at the ESMO Immuno-Oncology Congress.
The combination of immune checkpoint inhibitors and chemotherapy has been successfully tested in different trials as first-line therapy for metastatic non-small cell lung cancer (NSCLC), while the use of two immunotherapy drugs without chemotherapy has been addressed in very few studies. Commenting on behalf of ESMO, Dr Pilar Garrido said: "Some patients are worried about the side-effects of chemotherapy and prefer to delay it. Avoiding the use of chemotherapy in the first-line setting also leaves an effective rescue option when immunotherapy fails."
The MYSTIC trial enrolled 1,118 patients with metastatic NSCLC who were randomly allocated to durvalumab alone, durvalumab plus tremelimumab or chemotherapy. The primary endpoints were overall survival (OS) for durvalumab versus chemotherapy and OS and progression-free survival (PFS) for durvalumab plus tremelimumab versus chemotherapy in patients with 25 per cent or greater PD-L1 expression in tumour cells.
A total of 488 patients (44 per cent) had PD-L1 expression of 25 per cent or greater. Durvalumab alone or with tremelimumab did not improve OS or PFS compared to chemotherapy.
Study author Dr Naiyer Rizvi, Director of Thoracic Oncology and Immunotherapeutics, Columbia University Medical Centre, New York, US, said: "While not reaching statistical significance, durvalumab monotherapy gave a clinically meaningful median OS improvement of 16.3 months compared to 12.9 months with chemotherapy in patients with 25 per cent or greater PD-L1 expression."
An exploratory analysis examined survival according to high or low tumour mutational burden (TMB) in the blood – 16 or more mutations per megabase was defined as 'high' and less than 16 as 'low'. TMB evaluation was performed in more than 70 per cent of patients, of whom 40 per cent had high TMB.
In patients with high TMB, OS was 16.5 months with durvalumab plus tremelimumab versus 10.5 months with chemotherapy, with a hazard ratio of 0.64. OS with durvalumab alone was 11 months.
The proportion of high TMB patients alive at two years was 39 per cent with durvalumab plus tremelimumab, 30 per cent with durvalumab and 18 per cent with chemotherapy. In those with low TMB, OS was 8.5 months with durvalumab plus tremelimumab, 12.2 months with durvalumab and 11.6 months with chemotherapy.
Dr Rizvi said: "The results of the exploratory analysis need to be validated in a future trial. TMB is measured with a simple blood test and might be an easy way to select patients for this treatment. The CheckMate 227 trial previously showed that first-line immunotherapy combinations work best in advanced NSCLC patients with high TMB."
Safety data were consistent with previous studies. The incidence of grade 3/4 treatment-related adverse events was 14.6 per cent, 22.1 per cent and 33.8 per cent with durvalumab, durvalumab plus tremelimumab and chemotherapy, respectively.
"Immunotherapy has rapidly become a first-line treatment option in NSCLC, as shown in the 2018 ESMO Clinical Practice Guidelines for metastatic disease," noted Dr Garrido, adding that the analysis of the MYSTIC trial shows that appropriate biomarkers are needed to select the patients most likely to benefit from combination immunotherapy in first-line. "The challenge now is to prospectively validate them prior to implementation in clinical practice."
Neoadjuvant ipilimumab plus nivolumab demonstrates promising overall survival and relapse-free survival in stage III melanoma
Updated data of the OpACIN study testing combined ipilimumab plus nivolumab administered as neoadjuvant or adjuvant therapy in patients with high-risk stage III melanoma demonstrated high response rates upon neoadjuvant therapy and very promising long-term clinical outcomes, according to findings presented at the ESMO Immuno-Oncology Congress 2018 in Geneva, Switzerland.
Adjuvant ipilimumab has been shown to improve five-year relapse-free survival (RFS) and overall survival (OS) rates and RFS was improved even more with adjuvant anti-PD1 therapy, according to Dr Elisa A Rozeman, Medical Oncology, The Netherlands Cancer Institute, Amsterdam, Netherlands.
In stage IV disease the combination of ipilimumab plus nivolumab has been demonstrated to induce higher response rates. Therefore, Dr Rozeman and colleagues conducted the phase Ib OpACIN feasibility trial to test this combination in stage III melanoma.
From August 2015 to October 2016, the trial enrolled 20 patients with high-risk, stage IIIB/IIIC melanoma, with palpable nodal disease. Patients were randomised to receive ipilimumab at 3mg/kg plus nivolumab at 1mg/kg, either in four adjuvant courses, or to receive the same doses split into two neoadjuvant plus two adjuvant courses. Pathological response was defined as <50 per cent viable tumour cells as reviewed by a blinded pathologist.
After follow-up of median 31.6 months (minimum 23.5 months) none of the seven patients achieving a pathologic response in the neoadjuvant arm have relapsed. The two patients in this arm who did not achieve a pathological response have relapsed. The estimated 30-month RFS rate was 80 per cent in the neoadjuvant arm. The OS rate at 30 months was 90 per cent with neoadjuvant treatment.
In the adjuvant arm, four patients have relapsed and the 30-month RFS rate was 60 per cent. The 30-month OS rate with adjuvant treatment was 67 per cent.
One patient in the neoadjuvant arm and three patients in the adjuvant arm died. At the time of the analysis, 16 patients were alive.
Ninety per cent of patients developed one or more grade 3/4 adverse events; all of these patients recovered to ≤ grade 1, except for eight (50 per cent) patients with ongoing endocrine toxicities, which required hormonal supplementation therapy.
Pembrolizumab improves long-term overall survival over docetaxel in advanced NSCLC
Patients with previously treated advanced non-small cell lung cancer (NSCLC) who received pembrolizumab showed significantly longer overall survival (OS) compared to those treated with docetaxel, researchers reported at the ESMO Immuno-Oncology Congress 2018.
Dr Roy S Herbst, Medical Oncology, Yale University School of Medicine in New Haven, US, presented long-term findings from the global, open-label, phase 2/3 KEYNOTE-010 trial.
KEYNOTE-010 enrolled adult patients with previously treated advanced NSCLC and PD-L1 tumour proportion scores (TPS) ≥1 per cent who were randomised 1:1:1 to receive pembrolizumab at 10mg/kg or 2mg/kg every three weeks for up to 35 cycles, or to docetaxel at 75mg/m2 every three weeks for the maximum number of cycles allowed per local guidelines, until disease progression or intolerable toxicity.
No difference between pembrolizumab doses was demonstrated in the primary analysis, thus doses were pooled in this analysis.
Previously reported results from this trial showed OS was improved with pembrolizumab over docetaxel in subgroups of patients with high and low PD-L1 expression levels, defined as PD-L1 TPS ≥50 per cent and ≥1 per cent with median follow-up of 13.1 months.
At the ESMO Immuno-Oncology Congress 2018, Dr Herbst reported updated OS and safety results with 43 months median follow-up in the study overall and long-term results for patients who had completed 35 cycles or approximately two years of pembrolizumab and for patients who received a second course of pembrolizumab therapy.
After median follow-up of 42.6 months (range, 35.2 to 53.2 months), OS in the overall population of 1,033 patients was improved with pembrolizumab over docetaxel.
Patients with PD-L1 TPS ≥50 per cent demonstrated significantly improved OS with pembrolizumab compared to docetaxel. Median OS was 16.9 (95 per cent confidence interval [CI], 12.3–21.4) months with pembrolizumab versus 8.2 (95 per cent CI 6.4–9.8) months with docetaxel (hazard ratio [HR] 0.53; 95 per cent CI 0.42–0.66; p < 0.00001). In this cohort, the 36-month OS rates were 35 per cent versus 13 per cent, respectively.
Similarly, OS was improved with pembrolizumab versus docetaxel in patients with TPS ≥1 per cent (HR 0.69; 95 per cent CI, 0.60–0.80; p < 0.00001).
Thirty-five cycles or two years of pembrolizumab were delivered to 79 of 690 patients. Among these patients, the 36-month OS rate was 99 per cent. Ninety-five per cent of these patients achieved complete or partial response as the best response and 48 (64 per cent) had an ongoing response. The median duration of response was not reached (range four to 46+ months).
Among patients who completed 35 cycles or two years of pembrolizumab, 72 (91 per cent) patients remained alive. Progressive disease was observed in 25 (32 per cent) patients, per investigator. A second course of pembrolizumab was delivered to 14 patients, of whom five patients completed 17 cycles. In this group, 11 (79 per cent) patients remained alive, with six (43 per cent) patients achieving partial response and five (36 per cent) patients showing stable disease.
The safety profile was similar to that reported for the primary analysis. Grades 3 to 5 treatment-related adverse events (TRAEs) occurred in 16 per cent of pembrolizumab-treated patients overall compared to 37 per cent of docetaxel patients.
Proton pump inhibitor therapy negatively impacts the efficacy of combination treatment in melanoma
Patients with melanoma receiving proton pump inhibitors (PPIs) for co-morbidities derived approximately half the clinical benefit from immunotherapy consisting of nivolumab plus ipilimumab as patients receiving the same combination, but not on PPI medication, according to findings presented at the ESMO Immuno-Oncology Congress 2018 in Geneva, Switzerland.
This analysis of data from the CheckMate 069 trial did not show the same negative impact with ipilimumab monotherapy in patients on PPIs.
Dr Krisztian Homicsko, Service of Immune Oncology, CHUV in Lausanne, Switzerland, and colleagues conducted this retrospective analysis of data from 140 participants in the Checkmate 069 (NCT019274199) phase 2 clinical trial. In CheckMate 069 patients with previously untreated, unresectable, or metastatic melanoma received immunotherapy consisting of ipilimumab monotherapy or ipilimumab combined with nivolumab.
Although immunotherapy has demonstrated extraordinary results across multiple tumour types in CheckMate and other clinical trials, there is a paucity of data explaining the effect of medications taken for co-morbidities on the efficacy of immunotherapy, which prompted this analysis.
The investigators compared response rates, progression-free survival (PFS), and overall survival (OS) in patients receiving one or more concomitant treatments with 11 different classes of co-medications.
The investigators conducted univariate analysis, which showed that PPI treatment received by patients that was detected at baseline, decreased the objective response rates almost by half and also reduced the length of PFS and OS in patients treated with ipilimumab and nivolumab, but not with ipilimumab alone.
This effect remained consistent across multiple comparisons and in multivariate analysis.
Evaluation of the pre-treatment serum samples showed changes in NCAM1/CD56 and CSF3R levels in PPI users, both of which are expressed on neutrophil granulocytes. In accordance with the serum protein analysis, PPI users had significantly increased neutrophil levels at baseline.
The impact of PPIs was confirmed in an independent cohort of 93 first-line melanoma patients who were treated with nivolumab or pembrolizumab monotherapy.
These results suggest that PPIs should be avoided when possible in patients diagnosed with melanoma and recommended for PD1-based immunotherapies.