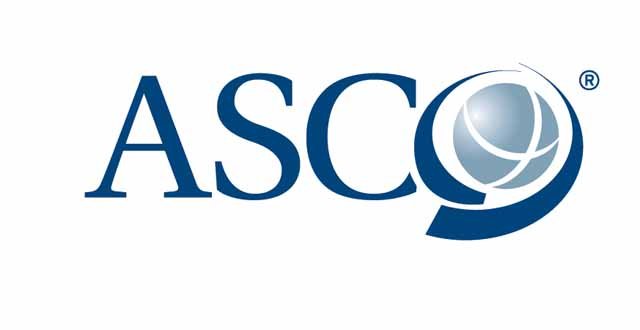 Priscilla Lynch presents a round-up of the most important studies presented at the 2019 American Society of Clinical Oncology (ASCO) Annual Meeting
Pembrolizumab increases survival rate for certain people with advanced non-small cell lung cancer – KEYNOTE-001
Five-year data from the phase Ib KEYNOTE-001 clinical trial show that pembrolizumab was safe and effective and substantially increased overall survival for advanced non-small cell lung cancer (aNSCLC).
Specifically, 23.2 per cent of people who had not previously been treated with chemotherapy and 15.5 per cent of previously treated patients were alive after five years, with the greatest benefit observed in patients with higher PD-L1 expression. This represents a marked improvement over five-year survival rates from the pre-immunotherapy era, which averaged 5.5 per cent for aNSCLC, and is the longest follow-up study to-date of people with aNSCLC treated with pembrolizumab, according to the researchers.
The study was presented at the 2019 American Society of Clinical Oncology (ASCO) Annual Meeting and is in press with the Journal of Clinical Oncology.
"The uniformly negative outlook that has been associated with a diagnosis of aNSCLC is certainly no longer appropriate," said lead study author Dr Edward B Garon, Associate Professor of Medicine at UCLA, Los Angeles, CA. "The fact that we have patients on this trial that are still alive after seven years is quite remarkable. We also have evidence that most patients who are doing well after two years on pembrolizumab live for five years or more."
In April of this year, pembrolizumab received an expanded approval from the US FDA for frontline treatment of patients with stage III NSCLC who could not have the tumours surgically removed or irradiated, or aNSCLC with PD-L1 expression levels over 1 per cent and no EGFR or ALK gene mutations.
There were 550 people with aNSCLC in this trial, including 101 patients who had not previously received any treatment and 449 patients who had received prior treatment. All patients received 2mg/kg of their body weight of pembrolizumab every three weeks or 10mg/kg every two or three weeks. In recent years, however, the protocol was changed to a single dose of 200mg regardless of body weight every three weeks, the typical regimen in clinical practice.
Patients were followed for a median of 60.6 months. At that point, 18 per cent (100 participants) were still alive. Of those who had not received prior treatment, 23 per cent were still alive after five years compared with 15.5 per cent of those previously treated.
Researchers observed that higher levels of PD-L1 expression predicted longest survival. Specifically:
In previously untreated people, 29.6 per cent with PD-L1 expression of 50 per cent or more were alive after five years compared with 15.7 per cent with expression levels below 50 per cent.
In people who had been previously treated, 25 per cent who had PD-L1 expression levels of 50 per cent or more were alive after five years compared with 12.6 per cent with expression levels between 1-to-49 per cent. Only 3.5 per cent of people with expression levels below 1 per cent were alive after five years.
Among people receiving pembrolizumab after undergoing previous treatment, 42 per cent had responses that lasted for a median of 16.8 months. For those who received pembrolizumab as initial therapy, 23 per cent had responses that lasted a median of 38.9 months.
Immune-related toxic side effects occurred in 17 per cent of enrolees. The most common side effect was hypothyroidism, while the most serious side effect seen was pneumonitis, but that was not very common.
Adding enzalutamide improves survival for men with metastatic
hormone-sensitive prostate cancer – ENZAMET trial
An interim analysis of the international randomised, phase 3 ENZAMET trial found that 80 per cent of men with metastatic hormone-sensitive prostate cancer (mHSPC) who received the non-steroidal anti-androgen (NSAA) medicine enzalutamide along with the standard-of-care treatment were alive after three years compared with 72 per cent of men who received other NSAAs along with standard treatment.
Overall, there was a 33 per cent decrease in the risk of death in men receiving enzalutamide compared to those who took an NSAA.
The study was led by the Australian and New Zealand Urogenital and Prostate (ANZUP) Cancer Trials Group.
These findings were presented in ASCO's Plenary Session, which features four studies of great importance to patient care, out of the 5,600 abstracts accepted to the 2019 ASCO Annual Meeting.
"Physicians and patients with prostate cancer now have a new treatment option with enzalutamide, and this is especially relevant for men who cannot tolerate chemotherapy and have a lower burden of disease seen on scans," said study co-chair Dr Christopher Sweeney, a Medical Oncologist at the Lank Centre for Genitourinary Oncology, Dana-Farber Cancer Institute, Boston, MA.
The study found that enzalutamide is a more effective inhibitor of the androgen receptor than bicalutamide, nilutamide, or flutamide, the comparison standard NSAAs used in the trial, but it can lead to different side effects.
Men with mHSPC were randomly assigned between March 2014 and March 2017 to receive an injection of a testosterone-suppressing medicine (such as goserelin, leuprolide, or degarelix) with either a 160mg enzalutamide pill daily or one of three standard NSAAs: bicalutamide, nilutamide, or flutamide. Of the 1,125 men enrolled in the trial, 503 men received early doses of docetaxel and 602 did not. Men were followed for a median of 34 months.
Aside from the aforementioned key findings, researchers further analysed the data to identify the impact of enzalutamide in key groups at the three-year mark:
Of 596 men with a higher amount of disease on imaging scans, 71 per cent taking enzalutamide were alive compared with 64 per cent taking another NSAA.
Of 529 men with a low amount of disease on imaging scans, 90 per cent taking enzalutamide were alive, compared with 82 per cent taking another NSAA.
The increase in survival with enzalutamide was most obvious in men who did not receive docetaxel: among patients who received enzalutamide without docetaxel, 83 per cent were alive compared with 70 per cent taking another NSAA.
64 per cent of men were still taking enzalutamide compared with 36 per cent of men taking another NSAA at the time of the first analysis of the data. Serious adverse events occurred in 42 per cent of men taking enzalutamide compared with 34 per cent of the men taking one of the other NSAAs.
Dr Sweeney noted that a survival benefit is not seen with docetaxel in men with a low volume of disease, but that enzalutamide does improve survival in these men.
Maintenance therapy with parp inhibitor olaparib delays progression of BRCA-related pancreatic cancer – POLO trial
The randomised, phase 3 POLO trial has found that maintenance therapy with the PARP inhibitor olaparib significantly delayed the progression of metastatic pancreatic cancer in patients with BRCA gene mutations compared with placebo (median progression-free survival: 7.4 months vs 3.8 months, respectively).
In the trial, olaparib was administered to patients whose cancer had not progressed after completion of initial platinum-based chemotherapy, and after two years, 22.1 per cent of people receiving olaparib had no disease progression vs 9.6 per cent for those treated with placebo. While overall survival data are not yet mature, this is a significant advance given that the median survival of metastatic pancreatic cancer is currently less than one year. The findings were presented in ASCO's Plenary Session.
"POLO is the first phase 3 randomised study to establish a biomarker-driven approach in the treatment of metastatic pancreatic cancer, and it opens the door to a new era of personalised care for this difficult-to-treat cancer," said lead study author Dr Hedy L Kindler, Professor of Medicine, University of Chicago Medicine. "Roughly one-in-five patients responded to olaparib for a median of two years, which is truly remarkable for metastatic pancreatic cancer. For patients with BRCA-driven metastatic pancreatic cancer, we may be seeing a change in patients' disease trajectory."
Olaparib is currently approved by the US FDA as first-line maintenance treatment in patients with BRCA mutations who benefitted from prior platinum-based chemotherapy. Previous phase 3 studies have to date shown the benefit of olaparib in other BRCA-driven cancers (ovarian, breast). About 5 per cent to 6 per cent of pancreatic cancers are caused by mutations in one or both BRCA genes.
In January 2019, ASCO issued a Provisional Clinical Opinion (PCO) recommending that people with pancreatic cancer undergo risk assessment for hereditary syndromes that increase pancreatic cancer risk.
The POLO trial examined if olaparib could delay disease progression after 16 weeks or more of initial platinum-based chemotherapy.
After screening 3,315 people with pancreatic cancer, the investigators identified 247 with germline BRCA mutations. The researchers randomly assigned 154 patients on a 3:2 basis, with 92 people assigned to olaparib and 62 assigned to placebo. Treatment started four to eight weeks after a patient's last dose of platinum-based chemotherapy. The median duration of treatment was six months for those taking olaparib and 3.7 months for people who received a placebo. Two-thirds of those enrolled had BRCA2 mutations, and the remainder had BRCA1 mutations.
At six, 12, 18, and 24 months after the investigators randomly assigned people to a treatment, those who received olaparib were at least twice as likely to have no disease progression compared with those who received placebo.
Olaparib reduced the risk of disease progression by 47 per cent (hazard ratio = 0.53) compared with those getting a placebo. The median progression-free survival for patients receiving olaparib was 7.4 months, compared with 3.8 months for patients who received a placebo. After one year, 33.7 per cent of patients receiving olaparib showed no signs of disease progression compared with 14.5 per cent of those who received a placebo. After two years, 22.1 per cent of people receiving olaparib had no cancer progression compared with 9.6 per cent of those receiving a placebo.
Serious side effects (grade 3, 4, or 5) occurred in 40 per cent of people taking olaparib compared with 23 per cent of those taking a placebo. In addition, 5.5 per cent of those taking olaparib and 1.7 per cent of those on placebo discontinued treatment due to toxicity. Olaparib was well tolerated and there was no difference in quality-of-life between those taking olaparib and placebo.
Dr Kindler notes that the results of this trial are likely practice changing. The long-term goal is to demonstrate the utility of olaparib in pancreatic cancer beyond the patients who benefitted from the medicine in the POLO trial.
No benefit from pazopanib in advanced renal cell carcinoma after metastasectomy
No improvement in disease-free survival (DFS) with adjuvant pazopanib (a VEGF tyrosine kinase inhibitor) was observed for patients with no evidence of disease following metastasectomy for renal cell carcinoma (RCC) when compared with placebo, according to results of a phase 3 trial presented at the 2019 ASCO Annual Meeting. Although effective targeted therapy has become increasingly available for the systemic management of patients with metastatic RCC, the clinical benefit of this approach in patients with no evidence of disease following metastasectomy was unknown at the start of the study.
E2810 was a randomised, double-blind, placebo-controlled trial to test the hypothesis that pazopanib would improve DFS in stage IV patients with no evidence of disease following metastasectomy.
"E2810 found that pazopanib treatment for one year did not improve the chance of survival without disease recurrence," said lead trial investigator Dr Leonard J Appleman, a medical oncologist at the University of Pittsburgh and the University of Pittsburgh Medical Centre Hillman Cancer Centre, US. "This finding is important because these patients are at particularly high-risk of recurrence, and treatments shown to benefit patients with metastatic disease in place have been attractive to study after surgery to completely remove all visible sites of cancer." These findings are consistent with earlier studies with other VEGF tyrosine kinase inhibitors.
Following initial surgery, select patients with stage IV RCC may undergo metastasectomy to remove one or a very limited number of metastases that develop. While this approach can sometimes lead to durable control of disease, most patients ultimately recur. No systemic therapy has been shown to benefit this population, thus, the current standard-of-care outside of a clinical trial remains surveillance following the surgery to remove the metastases.
From August 2012 to July 2017, 129 eligible patients were enrolled into the trial by physicians at 58 clinical sites across the US. Patients were randomly assigned 1:1 to receive pazopanib starting at 800mg daily vs placebo for 52 weeks. Patients were stratified by one vs > one site of resected disease, and by disease-free interval ≤ one vs > one year. Clinical assessments for toxicity and patient-reported outcomes were performed every four weeks and restaging scans were performed every 12 weeks.
The median follow-up from randomisation was 30 months (range 0.4–66.5 months). More than half the patients have had a recurrence of their cancer either during the treatment period or in later follow-up. Most (83 per cent) of the patients are still alive and some have begun further treatment.
Meanwhile, a separate Canadian study presented at ASCO 2019 concluded that active surveillance in metastatic RCC (mRCC) is a safe option in certain patients.
While active surveillance is a commonly used strategy in patients with low tumour burden or slow growing disease, few studies have assessed active surveillance for mRCC compared to immediate treatment. This study aimed to assess the outcomes and safety of active surveillance in comparison to immediate systemic treatment for mRCC patients. Using the Canadian Kidney Cancer information system (CKCis), Canada's largest database of patients with kidney cancer that collects prospective patient data from 14 Canadian academic centres, mRCC patients diagnosed between January 1, 2011 and December 31, 2016 were identified. Active surveillance strategy was defined as: (1) start of systemic therapy ≥ six months after diagnosis of mRCC; or (2) never receiving systemic therapy for mRCC with an overall survival (OS) ≥ one year (OS ≥one year a surrogate to exclude patients not started on treatment due to poor prognosis). Patients starting systemic treatment <six months after diagnosis of mRCC were defined as receiving immediate systemic treatment. OS and time until first-line treatment failure (TTF) between the two cohorts were compared.
A total of 863 patients met criteria for active surveillance (cohort A). Of these, 370 started treatment ≥ six months after their initial diagnosis (cohort A1) and 493 never received systemic treatment and were alive for ≥ one year (cohort A2). A total of 848 patients received immediate systemic treatment (cohort B). Median age for patients in cohort A and B was 65.1 (19.0-91.5) vs 62.2 years (23.1-87.1) (P< 0.0001). Sex distribution was not statistically different. Patients in cohort A had fewer sites of metastatic disease vs cohort B and 23 per cent of patients in cohort A had metastasectomy vs 5 per cent in cohort B. Five-year OS probability was significantly greater for cohort A than for cohort B (70.2 per cent vs 32.1). After adjusting for IMDC risk criteria and age, both OS (HR 0.46, 0.38-0.56) and TTF (HR 0.79, 0.69-0.92) were greater in cohort A1 vs B. For cohort A1 the median time on active surveillance was 14.2m (range 6-71).
Based on the largest analysis of active surveillance in mRCC to-date, this data suggests that a subset of patients may be safely observed without immediate initiation of systemic therapy. The study authors note, however, that as patients were treated between 2011 and 2016, a prospective validation is required in the contemporary immunotherapy era.