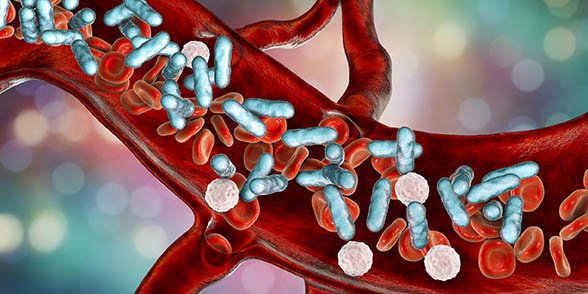 Sepsis, bacteria in blood. 3D illustration showing rod-shaped bacteria with red blood cells and leukocytes
Organising gastrointestinal (GI) bleeding services better locally and having established networks and pathways to refer on the sickest patients to expert centres should help maximise outcomes in GI bleeding patients in Ireland, the ISG's 2019 Winter Meeting's dedicated expert session on lower, mid-gut and upper GI bleeding was told
Dr Jonathan Hoare, Consultant Gastroenterologist, St Mary's Hospital, Imperial NHS Trust London, UK, outlined the British Society of Gastroenterology's (BSG's) first lower GI bleeding (LGIB) in adults in-hospital management guidelines, published earlier this year, which he co-authored, and said GI bleeding is on the rise with increased pressure on services.
The aims of the guidelines are to define standards of care for patients who present acutely with LGIB to UK hospitals, particularly focusing on initial assessment, investigation and haemostatic intervention, the standardisation of care and use of hospital resources.
The guidelines make 17 recommendations. For example, they recommend that patients with major bleeding should undergo inpatient colonoscopy on the next available list. A 2015 UK audit found that only 57 per cent hospitals had defined emergency slots on their endoscopy lists that could be used for LGIB. Dr Hoare said the literature shows that there is no advantage to urgent colonoscopy (<24 hours) in LGIB and, in fact, it can lead to more therapy and longer inpatient stays, with no difference regarding bleeding, transfusion, adverse events or mortality.
He stressed the guidelines' good practice statements in relation to how GI bleeding services should be operated — all hospitals should have a GI bleeding lead and agreed pathways for the management of acute LGIB; and all hospitals that routinely admit patients with LGIB should have access to 7/7 on-site colonoscopy and the facilities to provide endoscopic therapy, as well as access to 24/7 interventional radiology, either on-site or via a formalised referral pathway to another hospital.
Speaking to the Medical Independent (MI), Dr Hoare said the main message is that structured pathways and designated centres and clinical leads for GI bleeding lead to better outcomes.
"The really sick patients are rare but you need to be able to treat them properly and get them to the right place quickly," he said. He also acknowledged that for patients, GI bleeding "can be absolutely terrifying and we need to treat accordingly", adding that patient input into the BSG guidelines was very important. Asked about the fact GI bleeding outcomes have not significantly improved in the last two decades, Dr Hoare pointed out that GI bleeds are on the rise for a variety of reasons, with more complex patients, but that care has improved.
Also speaking during this session, Prof Deirdre McNamara, Consultant Gastroenterologist, Tallaght University Hospital, Dublin, gave a very well-received talk on mid-gut bleeding. She said that small-bowel bleeding represents 5-to-15 per cent of GI bleeding and device-assisted enteroscopy is an essential management tool, with capsule endoscopy her test of choice.
Speaking to the MI, Prof McNamara, who will be the ISG's first female President when she succeeds Dr Tony Tham, said there needs to be more awareness of the non-invasive options for endoscopy, with capsule endoscopy currently available in five centres across the country (Kerry, Waterford, Galway, Cork and Dublin).
Meanwhile, discussing the latest technological advances in treating GI bleeding, Prof Richard CK Wong, Professor of Medicine, Case Western Reserve University and Consultant in Gastroenterology and Liver Disease, University Hospitals Cleveland, US, highlighted over-the-scope clips, topical haemostatic devices/agents, and endoscopic Doppler ultrasound probes, "all of which all seem to be very promising in their own regards", he told MI.
Summarising the data to date on these technologies, Prof Wong said that in recurrent peptic ulcer bleeding, over-the-scope clips may be superior to endoscopic standard of care; TC-325 (haemospray) can be useful as an assistive therapy and while it should not be used as a monotherapy in actively bleeding ulcers, may be used to treat malignant GI bleeding with the potential to be superior than endoscopic standard of care. He added that Doppler ultrasound probe-guided haemostasis may be considered and has the potential to alter the usual approach to visually assessing bleeding lesion risk when evaluating the need for, and adequacy of, endoscopic haemostasis.