The Irish Society of Gastroenterology (ISG) Summer Meeting takes place later this month in Killarney, with enhanced adenoma detection, latest developments in inflammatory bowel disease and pancreatic cancer all on the agenda. Catherine Reilly speaks to ISG President Prof Laurence Egan about the meeting
Pivotal issues facing gastroenterology will be debated and discussed at the upcoming Irish Society of Gastroenterology (ISG) Summer Meeting in the Great Southern Hotel, Killarney, Co Kerry, on 24-25 May.
The focus of the first major clinical session will be advances in gastrointestinal surgery, with Ms Aisling Hogan, Consultant Surgeon at University Hospital Galway, due to speak on pelvic floor dysfunction; and Prof Calvin Coffey, Professor of Surgery at University Hospital Limerick, presenting on mesenteric resection in Crohn's disease.
ISG President Prof Laurence Egan told the Medical Independent (MI) that Crohn's disease surgery is "complicated by recurrence of the disease afterwards in many cases".
Currently, surgeons do not have any particular operative strategies to minimise risk of recurrence, other than to try and remove all the segments affected by Crohn's. The presentation by Prof Coffey will propose that an oncological type of resection of the affected bowel, rather a standard resection, may lead to a lower risk of postoperative occurrences.
Later in the afternoon (24 May), there will be a session on endoscopy and colon cancer. This will open with an update on the Gastrointestinal Endoscopy National Quality Improvement Programme (NQIP) as presented by Prof Steve Patchett, Consultant Gastroenterologist, Beaumont Hospital, Dublin. This will be followed by a talk on enhanced adenoma detection techniques by Prof Ralf Kiesslich, Professor of Internal Medicine/Gastroenterology, Johannes Gutenberg University of Mainz, Germany.
The NQIP has been collecting data from most Irish colonoscopy centres to assess standards of practice. "And there has been a huge improvement; it is a 'good news story', I would say," said Prof Egan.
However, the ISG President confirmed there are major pressures on colonoscopy services.
"There is absolutely massive demand for colonoscopy, and rightly so — it is all warranted."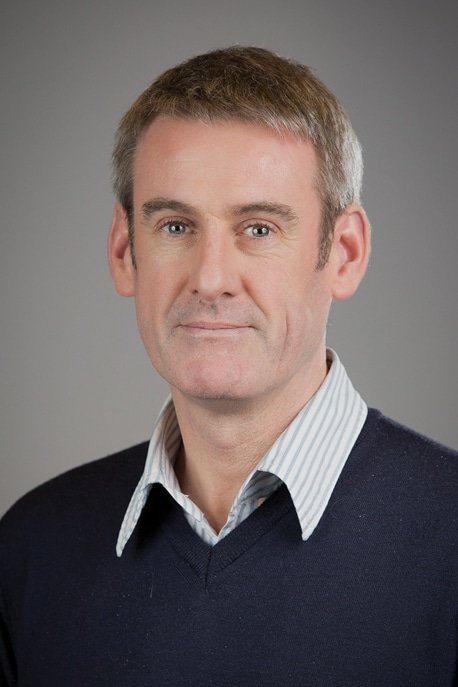 Prof Laurence Egan, ISG President
A big part of this demand emanates from the bowel screening programme, with polyps picked up in about 60 per cent of patients who undergo colonoscopy.
"All of those patients who are discovered to have polyps that are removed at colonoscopy have to come back for periodic follow-ups, say in three or five years' time. The demand is growing hugely because of that. We certainly don't at the moment have sufficient capacity in the country to meet the demands, both of the symptomatic population and the screening population — it is a big problem."
Prof Egan said BowelScreen is leading to identification of cancer at a much earlier stage compared with those "diagnosed on the basis of reporting symptoms through their doctor and undergoing investigation after that".
It would be concerning if the CervicalCheck controversy affected people's confidence in BowelScreen, he said. As it stands, 40.2 per cent of the eligible people (60-to-69 year-olds) take part in the bowel screening programme.
"We know for sure that BowelScreen is downstaging colon cancer to an earlier stage, which is more amenable to curative surgery and even if chemotherapy is needed, it is much more likely to be successful… "
There is a long pre-clinical stage where the tumour is growing and the patient is asymptomatic, "and the virtue of BowelScreen is, it can detect those tumours before any symptoms have developed".
The initial screening test is very simple, as it only requires a stool sample being returned by post, underlined Prof Egan. The other unique feature of BowelScreen is that, for individuals who have a positive stool test, the colonoscopy can both determine whether there are bowel polyps or bowel cancers present and facilitate removal of polyps.
The morning of 25 May will open with a much-anticipated session on new developments in inflammatory bowel disease (IBD).
Prof Julian Panes, Chief of the Gastroenterology Department, Clinic de Barcelona, Spain, will present on utilising mesenchymal stromal cells in the treatment of fistulising Crohn's disease.
This will be one of the meeting's highlights, according to Prof Egan. Prof Panes is the lead investigator on a study published last year, which showed that mesenchymal stromal cell injection into the perianal fistula tract in Crohn's disease patients was effective, where standard therapy had been ineffective.
"So, it is a whole new treatment paradigm for perianal fistulas that occur in Crohn's disease patients."
As to availability of this treatment in Ireland, he said "the mesenchymal stromal cells are not yet available in Ireland; they will be sometime in 2019. But it remains to be seen how good it will turn out in routine day-to-day clinical practice. It is a totally new therapy, totally different from any therapy we've had up to now. And for patients who don't respond to standard therapy, it's a promising avenue to explore. It is very novel and interesting but it has only really been examined in the clinical trials setting; there is really no real-life data in terms of how effective it's going to be in routine clinical practice".
Prof Glen Doherty, Consultant Gastroenterologist, St Vincent's University Hospital, Dublin, will present on 'Stopping IBD Treatment — Can We Do It?'
"We know a lot about starting treatment in IBD patients and how effective that is, but in patients who are doing very well on treatment, there might be five years without any symptoms on treatment, no evidence of any active IBD; is it safe to stop those patients' treatment and how will they get on after the treatment has been stopped?" said Prof Egan.
"There is very little known about it, but Prof Doherty is heading a working group on that at the European Crohn's and Colitis Organisation."
Following the session on IBD, there will be 'Hot Topics in Pancreatic Cancer'. Prof Dermot O'Toole, Consultant Gastroenterologist, St James's Hospital, Dublin, will deliver a presentation titled 'Pancreatic Cancer Trends and Staging'; and Prof Anne Marie Lennon, Associate Professor of Gastroenterology, Johns Hopkins Hospital, Baltimore, US, will speak on 'Liquid Biopsies on the Pancreas — Potential for Cancer Diagnosis and Management'.
A segment titled 'Outstanding Controversies in Pancreatic Cancer' will look at endoscopic stenting (presented by Dr Finbar McCarthy, Consultant Gastroenterologist, St James's Hospital, Dublin) versus trans-hepatic stenting (presented by Dr Ronan Ryan, Consultant Radiologist, St Vincent's University Hospital, Dublin).
To complete this session on pancreatic cancer, Mr Justin Geoghegan, Consultant Surgeon, St Vincent's University Hospital, Dublin, will discuss modern surgical approaches.
"Pancreatic cancer is one of the most deadly cancers we have and the processes around detecting it, diagnosing it and treating it are advancing incrementally, I would say. But it still has an overall very poor prognosis, unfortunately," outlined Prof Egan. "So really, this session is a review on those points, how can we diagnose it better, how can we manage it better clinically, and what kind of both palliative and curative approaches are available."
The final major session of the conference will focus on hepatology and specifically on hepatitis C virus (HCV). Prof Aiden McCormick, Clinical Lead of the HSE National Hepatitis C Treatment Programme and Consultant Hepatologist at St Vincent's University Hospital, Dublin, will present on 'HCV in Ireland — Where to Next?'
Prof Egan said the advent of direct-acting antivirals (DAAs) had meant that HCV is now highly curable in respect of most patients. However, he added there are two significant problems. "One is that the drugs are expensive and can we afford it, and all of that. The other problem is reinfection."
Prof Egan noted that HCV has a particularly high prevalence in the IV drug-using population "and reinfection can be a problem. So, Prof McCormick is going to be talking about his perspective on the future treatment of hepatitis C in Ireland."
Clinical cases and oral presentations will also feature at the meeting.
ISG in focus
The Irish Society of Gastroenterology (ISG) comprises medical specialists working in the field of gastrointestinal and liver disease and associated research. The Society also caters for specialist trainees and non-medical scientists. The majority of members are located in Ireland or have links within this country.
The ISG organises and hosts regular platforms and conferences, allowing members to present clinical and scientific material.
The Society has a varied membership, encompassing consultants and trainees in various specialties. These include gastroenterologists, surgeons, pathologists, radiologists, immunologists, physicians and others with an interest in gastroenterology.