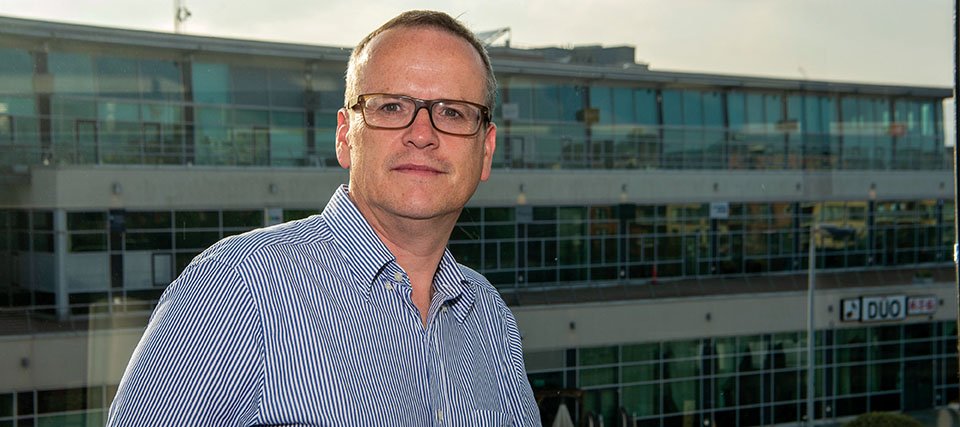 Priscilla Lynch talks to Irish Neurological Association President Dr Brian McNamara ahead of next month's annual meeting in Cork
The 55th Annual Meeting of the Irish Neurological Association (INA), under the presidency of Dr Brian McNamara, Consultant in Clinical Neurophysiology, Cork University Hospital, will take place from 6 to 7 June at the Radisson Blu Hotel, Little Island, Cork.
Topics to be covered during the meeting will span a broad range of clinical, laboratory and research areas across neurology, neurosurgery and neuropathology, to include multiple sclerosis, epilepsy, Parkinson's disease, movement disorders, etc, "basically any area of clinical neuroscience", Dr McNamara told the Medical Independent (MI).
"The meeting promotes high-quality clinical and laboratory research in neurosciences and we welcome submissions from all areas of clinical neuroscience. The meeting also provides an opportunity to forge new contacts and strengthen existing ties with colleagues in the clinical neurosciences. Cork has a long tradition of promoting research at the interface between the laboratory and the clinic, so it is fitting that this year's guest lecturer is Prof Andrew McKeon of the Mayo Clinic," he commented.
The Callaghan Guest Lecture will be delivered by Prof McKeon, Professor of Neurology, and Associate Professor of Laboratory Medicine and Pathology in the Mayo Clinic College of Medicine and Science, Rochester, US, on the topic of 'IgG Biomarkers of CNS Autoimmunity'.
Prof McKeon is originally from Dublin and graduated from UCD Medical School in 2000. Following his clinical training in Ireland and the US, he became a consultant at the Mayo Clinic in 2009.
Prof McKeon currently co-directs the Clinic's neuroimmunology laboratory, which is a service and research laboratory specialising in diagnostic antibody tests for autoimmune neurological diseases. His research and clinical interests pertain to the evaluation and treatment of patients with autoimmune CNS disorders, and he is particularly interested in finding new specific biomarkers, so his presentation will be a key highlight at the meeting.
In addition, the INA annual conference will feature a strong research element, with a number of awards for best presentations, including the:
Harold Millar Prize for best overall presentation.
John Kirker Prize for best epilepsy-related presentation.
Mark Gibson Prize for best movement disorder-related presentation.
Prize for best neurosurgical presentation.
Prize for best poster presentation.
Hugh Staunton Prize for best undergraduate or intern presentation.
The meeting also has a strong social and networking element, according to Dr McNamara. For the official conference dinner, there will be a coach transfer from the hotel to the Crawford Gallery in Cork city at 19.00 on the Thursday for a wine reception, tour of the gallery and dinner.
Clinical neurophysiology
Dr McNamara is currently the only full-time public HSE consultant in clinical neurophysiology outside of Dublin.
Clinical neurophysiology is primarily a diagnostic specialty and involves investigations of the nervous system using technologies such as nerve conduction studies (NCS), electromyography (EMG) and electroencephalography (EEG) and evoked potentials (EPs).
Dr McNamara completed his specialist training in clinical neurophysiology at Addenbrooke's Hospital Cambridge, UK, in 2001 and was appointed Consultant in Clinical Neurophysiology at Cork University Hospital and the Mercy University Hospital in 2001.
His main clinical workload involves dealing with people with epilepsy and seizures, patients in intensive care with brain complications, and also disorders of the peripheral nervous system, including those with peripheral neuropathy, muscle disorders and denervation.
As clinical neurophysiology is a niche specialty in Ireland, low staffing levels and recruitment are key issues. There is no formal training programme for clinical neurophysiology in Ireland currently, with training still done in the US and UK. However, Dr McNamara and colleagues are working with the RCPI and the HSE to try to establish a training programme here to deal with increasing demand and to expand services. He also wants to see a national clinical programme in the area set up by the HSE, as while it is a small specialty, he believes this approach is necessary in order to roll-out clinical neurophysiology services nationally and have a more equal geographical spread.
"So a priority for me is getting posts, creating posts and trying to make sure that there is a more national spread of services than what we have now, as currently, we are just in Dublin and Cork," he said.
While inadequate resources and staffing are big challenges for neurology services in Ireland, Dr McNamara is also keen to point out that there have been significant positive advances in the specialty in the last two decades. "When I started out in the early 90s, the first MS drug had only hit the market, there were only three or four anticonvulsants, and there was no treatment for acute stroke. We have gone from that to a much wider field of drugs for the treatment of MS, there is a big selection of anticonvulsants, surgery for the treatment of epilepsy has really taken off and stroke management, even in the last four or five years, has really improved. So while we are under massive pressure from all the demand these advances bring, it is also a very exciting time. You have all these new treatments, as well as the advances in imaging, ie, CTs, MRIs. So every area of neuroscience has seen incredible advances but this brings increasing demand because patients are doing better, living longer and staying with services longer so in every area there is pressure to provide more services; we need more consultants and neurosurgeons, but also we need more corresponding allied health services, occupational therapy, speech services, facilities and space for these services.
"We have to continue to make our case as strong as we can for more resources because a lot of other specialities are competing and also trying to do the best for their services. So it is a very competitive market, but because of the advances in neuroscience since I qualified in 1992, it means it is almost like a different specialty and that brings pressure to provide for patients."
More information on this month's INA Annual Meeting can be obtained from the website www.iicn.ie, while full exclusive coverage of the meeting will be carried in a future edition of MI.