A round-up of medical news and oddities from left field
Are the 'lazy' media off their trolleys?
Readers will have noted in the last issue of the Medical Independent the comments made by Minister of State for Mental Health and Older People Jim Daly regarding the numbers of people languishing on trolleys in emergency departments.
If you haven't had the chance to read the interview and accompanying news piece, I recommend looking it up online. But there were a couple of golden nuggets in there, one of which stood out particularly, where the Minister stated "it's immaterial how many people are on trolleys". He continued by saying "if there's about 40 people on trolleys in CUH [Cork University Hospital] today, then there'd be something wrong if there was 40 empty beds in CUH today to accommodate those people".
I'll just give you a few seconds to let that one sink in…
He went on to blame other politicians and media for being "lazy" in devoting too much focus to trolley numbers, rather than delayed discharges, which is where he said the real problem lies.
I don't know for sure, but I get the distinct feeling that Minister Daly has never worked a red-eye shift in an emergency department (ED), or for that matter, had an elderly relative lying on a trolley for 24 hours in an ED while others with alcohol-related injuries are whizzed past them for urgent attention. The fact that he is the Minister of State for Older People makes the comments even more eyebrow-raising.
It kind of makes one wonder if some politicians actually have a quality control mechanism that operates between their brains and their mouths.
A dishonourable and retrospective mention must go to Bertie Ahern (remember him?) from the noughties. In 2007, as the recession began to bite and people started to lose their jobs, Bertie said during a speech: "Sitting on the sidelines, cribbing and moaning is a lost opportunity. I don't know how people who engage in that don't commit suicide because frankly, the only thing that motivates me is being able to actively change something."
He subsequently apologised for the remark, but as the lawyers say, the 'toothpaste was out of the tube'.
Anyway, returning to Minister Daly, in the same interview said he is not seeking any more funding for mental health services, describing lack of funding for mental health a "nonsense argument". He maintained that rather than more funding, mental health services require a more streamlined approach and faster access to care. That's a valid point, but I'd be more interested in how exactly he plans to do this.
I'd explore the matter further, but frankly, being in the media, I'm a little too lazy to be bothered.
Hard hats and hard necks
The new National Children's Hospital seems to be the only show in town at the moment, so my thanks to the anonymous reader who emailed the following gag to me. As always, your contributions are most welcome at the email address below.
A contractor, who had nothing to do with the construction of a new hospital anywhere, dies in a tragic accident on his 40th birthday. He ascends to heaven, where he's greeted at the Pearly Gates by a brass band and Saint Peter.
Saint Peter shakes the guys hand warmly and says, "congratulations!"
The contractor is a little confused. "Congratulations for what?" he asks.
"Congratulations for what!?" says Saint Peter. "We're celebrating the fact you lived to the grand old age of 160."
The contractor says, "But that's not right — I only lived to be 40."
"That's impossible," says Saint Peter. "We added up your time sheets!"
****************************************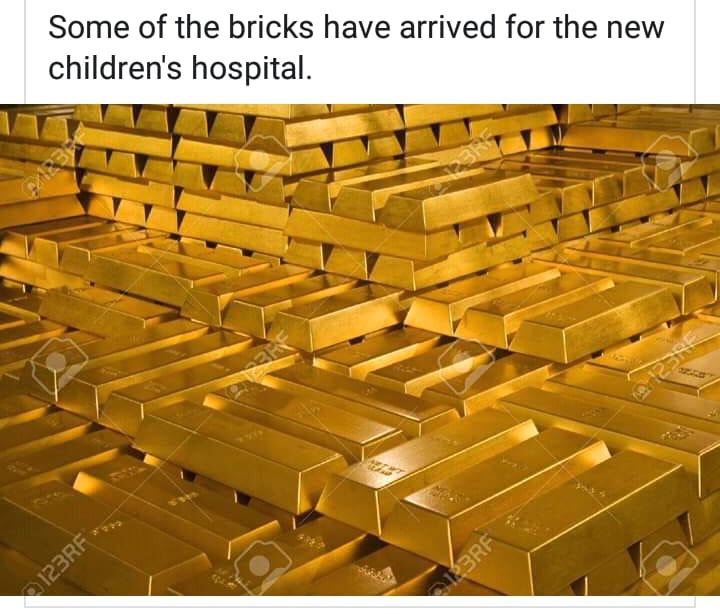 And finally, many thanks to the reader who kindly supplied me with the image below, which says more about the new children's hospital than words possibly could.