As the landscape continues to change with regard to Covid-19, conflicting information is emerging around transmission rates, mortalities, etc. Amid all the morass, one thing is certain; as is invariably the case with such outbreaks, doctors and other healthcare professionals are the ones at the coalface and are at the highest risk of contamination.
Part of the current confusion rests with how confident we can be regarding the information that is being fed from the Communist state that is the source of the outbreak. At time of writing and according to Chinese authorities, as reported by The Lancet, 1,716 health workers in China have contracted Covid-19, six of whom have died.
Of course, the first and most high-profile of these was Dr Li Wenliang, who is considered the first 'whistleblower' on the outbreak and is regarded as something of a hero among the people of China for his sacrifice. In fact, Dr Li at first had no intention of announcing his concerns publicly by approaching a newspaper, for example. A wise choice, considering the vice-like grip state authorities maintain over the media in that part of the world. In case you haven't had the chance to follow the sequence of events, here's a whistle-stop tour of what happened.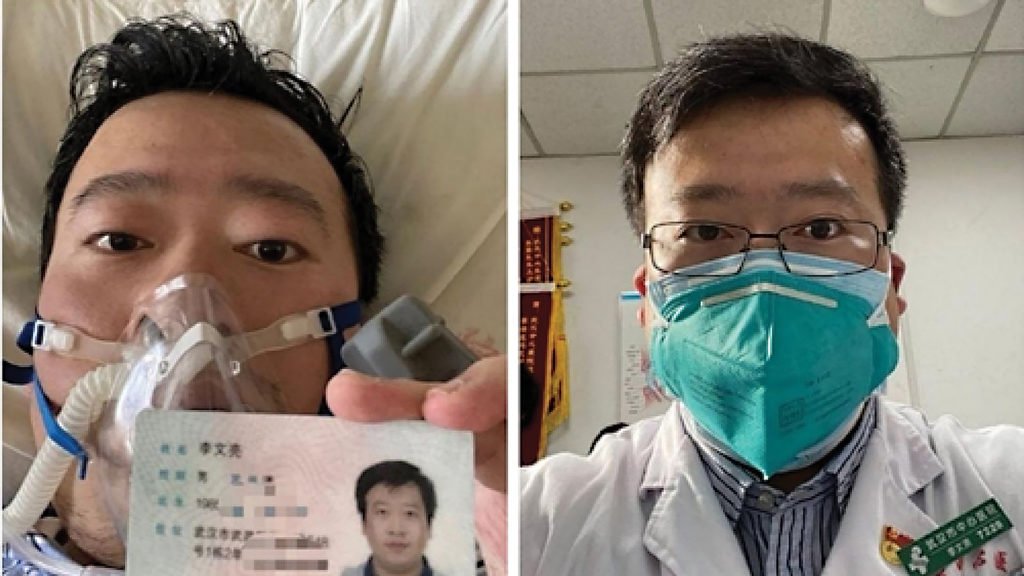 As far back as 30 December 2019, Dr Li's suspicions were aroused when he spotted SARS-like symptoms in a number of patients and initially, he tried to raise the alarm among his fellow doctors. He knew the potential perils of raising his head above the parapet in the broader sense.
The ophthalmologist subsequently sent a private message on the social media app WeChat in a closed group, warning colleagues that he had learned of patients being quarantined. In fact, there had already been speculation among the members of the group that a new outbreak that shared similarities to SARS was up-and-running. He advised his colleagues to make efforts to avoid infection and wear protective clothing. "We needed to be ready for it mentally… take protective measures," Dr Li told the New York Times.
The sequence of events that followed is somewhat unclear, but screenshots of his initial warning, together with his name in plain view, were published publicly online and went viral. What is clear is that he was swiftly detained by Wuhan police and was summoned by the 'Public Security Bureau' (Orwell would have been proud of that one) and compelled to sign a letter, in which he 'confessed', stating that he had made "false comments" that had "severely disturbed the social order". Authorities then denounced him for "rumourmongering" and he was threatened with legal action if he didn't keep his comments to himself.
Dr Li developed symptoms of Covid-19 in early January after unwittingly treating an infected patient and was hospitalised on 13 January. He quickly ended up on oxygen support in an intensive care unit and was officially diagnosed with Covid-19 on 30 January.
Dr Li Wenliang, ophthalmologist since 2014 at Wuhan Central Hospital, died on 7 February at the age of 34 and leaves behind a young child and a pregnant wife. The Supreme People's Court in China subsequently scolded authorities in Wuhan for not giving this man the attention and respect he deserved, stating: "It might have been a fortunate thing for containing the new coronavirus if the public had listened to this 'rumour' at the time."
Last word to Dr Tom Inglesby, Director of the Centre for Health Security at Johns Hopkins Bloomberg School of Public Health in Baltimore, US, who is quoted in The Lancet as saying: "One of the world's most important warning systems for a deadly new outbreak is a doctor's or nurse's recognition that some new disease is emerging and then sounding the alarm.
"It takes intelligence and courage to step up and say something like that, even in the best of circumstances."
Age of empires
To round-off, a nod to Mr Chitetsu Watanabe, a Japanese gentleman who was recognised as the world's oldest man by the Guinness Book of Records and who passed away recently at the ripe old age of 112. Apart from healthy culinary traditions and good familial support, Mr Watanabe said there were reasons he made it to such an advanced age, such as to "not get angry and keep a smile on your face". Below are a couple of pearls of wisdom that he may have enjoyed. I am always glad to receive any comments, opinions, contributions or jokes to info@mindo.ie.
"I'm at an age when my back goes out more than I do." Phyllis Diller.
"He's so old that when he orders a three-minute egg, they ask for the money up front." George Burns.
"By the time a man is wise enough to watch his step, he's too old to go anywhere." Billy Crystal.
"There is no pleasure worth forgoing just for an extra three years in the geriatric ward." John Mortimer.
"I'm so old they've cancelled my blood type." Bob Hope.