that takes the pressure off
At the time of writing, there is much hand-wringing and number-crunching as committees, sub-committees and specialist subgroups are formed to determine when lockdown should be fully lifted. The negative psychological aspects of self-isolation have been widely reported and this is no doubt on the minds of the policy-makers who will decide when it's okay to 'get back in the game'.
As I have written previously, it would be unwise — and indeed, almost impossible — to ignore the psychological impacts of the lockdown. The amount of supports available for people during this time, particularly the older generations, has been severely curtailed. GP visits and counselling sessions became few and far between. Even when these were deemed necessary, it can be difficult for a patient to open their heart to a doctor who is in full scrubs and wearing a face shield which suggests that he is about to defuse a viable device.
While phone counselling is of value, it is limited, as patients cannot pick-up on on subtle body language, for which a counsellor will have been trained to use judiciously. While the many studies on this subject vary in terms of their conclusions, it's generally accepted that between 70-to-93 per cent of all communication is non-verbal. In the case of phone counselling in self-isolation, the phrase 'a nod is as good as a wink to a blind horse' might be appropriate.
One of the most obvious supports that remained available during the lockdown is pet ownership. Much of the evidence for the psychological benefits of pet ownership is of course anecdotal, but the formal study of the advantages of having a pet — one you actually like, naturally — began decades ago.
It's now known that, notwithstanding hay fever issues, having a dog has a blood pressure-lowering effect, not just because of the calming effect, but also because it will nag its owner to get out for a walk and get some exercise. One study published in the Medical Journal of Australia way back in 1992 strongly suggested lower LDL cholesterol and triglyceride levels among dog-owners, regardless of socioeconomic status, diet, BMI and other such factors.
While sending a recovering cardiac surgery patient home with a dog may not become part of official healthcare policy just yet, one would wonder how many events were prevented during lockdown by 'man's best friend'.
Even without Covid-19, it's good to have a pet that reduces stress and keeps a person active. Sure, even the dogs on the street know it.
Buzzing at NUIG and UL
Drones have evolved to serve all kinds of purposes in recent years and it was almost certain that the Covid-19 crisis would create another 'job opportunity' for them.
Enter the bright folks at National University of Ireland Galway (NUIG) and University of Limerick (UL), who have collaborated to develop an 'autonomous drone platform' to deliver sterilising ultraviolet light from above to disinfect public surfaces.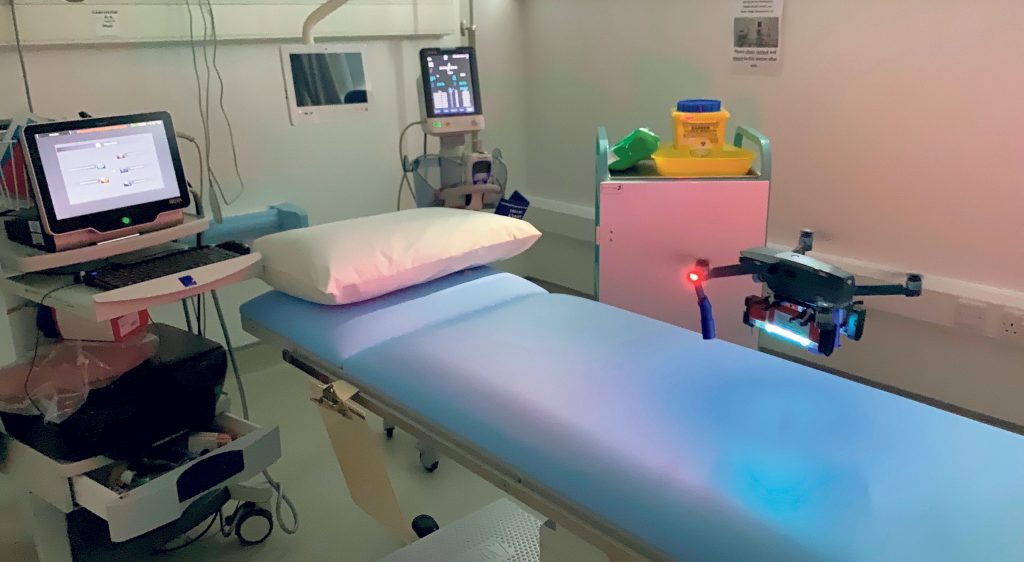 It sounds like it's straight out of a sci-fi movie but it is intended to curtail the spread not only of Covid-19, but also other microbial diseases that can spread on surfaces.
The @UVCDrone uses ultraviolet (UV) light to sterilise surfaces. UV light (10-to-400nm) is not visible to the human eye and is divided into three bands — UVA, UVB and UVC, said the team. The @UVCDrone uses UVC (100-to-280nm), which is high-frequency, short-wavelength radiation that can destroy the genetic material of micro-organisms, preventing them from reproducing and thereby providing the ability to sterilise surfaces. While this application is indeed novel, its germicidal action has been used for decades in water, air, laboratory and medical applications.
As UVC light is harmful to humans, the drone delivers the UVC light when a public space is unoccupied, such as at night-time. The team points out that the drone is programmed to switch on at a predefined time, autonomously fly around the public space using a specially-designed AI algorithm and when finished cleaning, it lands again for recharging.
Hats off to NUIG's Prof Derek O'Keeffe and Dr Ted Vaughan, with Dr Kevin Johnson from UL. That's what you call a bright idea.