Dublin Hospitals Rock Seaford's boat and get the win
Dublin Hospitals (DH) travelled southside for their second pre-season friendly taking on Seaford Rock, a team who they have met plenty of times over the past few years, with mixed results. Both squads had changed somewhat since those matches, but it promised to be a good test for DH as they continued to test formations and team shape. Rory Durand, or the Derry 'Pep', as he prefers, went with 4-3-3, hoping a more familiar formation would mean a better performance from his team.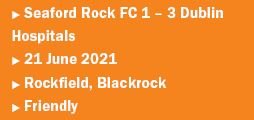 Both teams started brightly but it was DH that grabbed the lead with a helping hand from the opposition. Eddie Wrynn was released down the line and after pressure on the front post by Ger Cheevers, the ball found its way into the Seaford goal. Cheevers ran away celebrating, attempting a con not seen since Maradona in '86, but with a Seaford defender left with his head in his hands, it was clear who got the final touch.
More clever play from DH came shortly after, providing the team's second of the afternoon, and player-manager Rory Durand's first of the pre-season. Brian Gaffney was a step ahead of the Seaford defence and played a quick free kick to release Wrynn once more, who crossed for Durand and an easy tap in. DH were in the ascendancy and pushed to grab a third and put the game beyond the reach of their opponents.
DH had a scare when the Seaford Rock number 9 was brought down in the penalty area. Thankfully for DH, goalkeeper Paul Schütze proved his reactions were too quick and he made an excellent save low to his left from the resulting penalty. Just before half-time, the third goal came, this time for Ian Daly. Known for his box-to-box non-stop running, he showed he has a touch of class to his game too, volleying into the Seaford net from the edge of the box after some industrious work in the middle of the park from Matt Berkley.
Half-time came shortly after and signalled a raft of changes for both teams. The pace of the game slowed with the soaring Irish summer temperatures and both teams played out the second-half comfortable in the knowledge that the game was finished as a contest. Seaford did manage to get one goal back, but it was merely a consolation.
With Beechwood providing the opposition in their next friendly, DH hoped to make it three victories from three as the opening game for the new season loomed.
Matchday squad (4-3-3): Paul Schütze, Colm Kirby, Colm Cosgrove, John O'Grady, Andy Delany, Matt Berkley, Eddie Wrynn, Ian Daly, Rory Durand, Brian Gaffney, Ger Cheevers.
Subs: Cillian Grant, David Kennedy, John Cosgrove, Cian Ward, Des O'Donnell, Ray Winters.