Sheriff YC 5-1 St Vincent's Hospital FC
1 February 2020
Sheriff YC, Clontarf Road, Dublin 3
Leinster Senior League, Saturday Major 1B
In what has been an, ahem, challenging season so far for St Vincent's Hospital FC, an easy fixture would have been just what the doctors ordered amidst a run of five league defeats. However, the powers-that-be in the Leinster Senior League prescribed a daunting away fixture to league-leaders Sheriff YC in blustery Clontarf. The resulting 5-1 defeat will do little to cure the doctors' cold streak.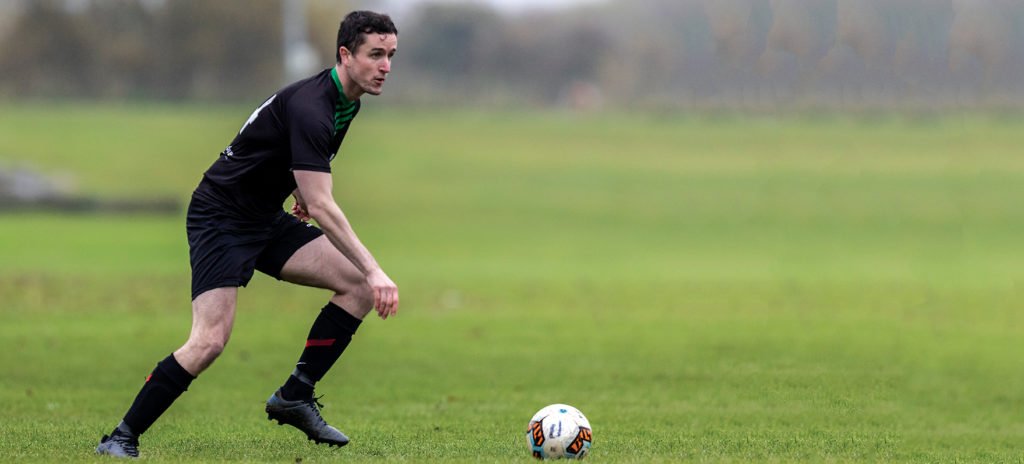 In what proved to be a microcosm of their season to date, Vincent's started with a solid display, showing good organisation, only to be overwhelmed by pressure from a superior opponent. With a few notable absentees, Vincent's reverted to their more traditional 4-3-3 formation, hoping to dominate numerically in centre midfield. The tactic bore fruit in the early exchanges as Sheriff were kept mostly at bay until the 20-minute mark. A sprayed pass beyond the Vincent's defence sent the Sheriff right-winger clear, only to be thwarted by a fabulous low save, which was to be the first of many from Vincent's goalkeeper Mathew Berkley. It was an omen of what was to come only six minutes later. Some neat Sheriff passing in midfield caused confusion in the doctors' defence before a slipped pass beat both central defenders to release the Sheriff No 10, who finished coolly into the left corner.
Despite enduring a difficult period following the goal, Vincent's unexpectedly delivered one of their season's highlights soon after. Just beyond halfway, Captain Paul Lynch showed great strength to win an aerial challenge from a defensive free-kick. From the ensuing ricochet, attacker Anis Keshkar, with an assist credited to the stiff breeze, drilled the bouncing ball beyond the Sheriff 'keeper from 35 yards and into the home goal. Cue delirium amongst the away side. However, celebrations were short-lived, as by half-time Vincent's found themselves even further behind. First, on 40 minutes, a clipped through-ball from midfield was expertly taken on the chest by Sheriff's skilful striker, who steered a controlled finish beyond Berkley. Then, on the stroke of half-time, a discreet tug on the jersey of the same forward wasn't missed by the keen-eyed referee, who pointed to the spot. The penalty was dispatched with ease — 3-1.
Despite a spirited second-half performance with a few chances created, the away side grew increasingly fatigued and Sheriff YC capitalised. After 58 minutes, a direct ball into the edge of the box, followed by some loose touches on both sides, resulted in a scramble inside the box, eventually finished by Sheriff past a helpless Berkley. Ten minutes later, the five-star performance was complete when a mazy run by a Sheriff midfielder was emphatically finished powerfully off the left post. The game proved to be hard medicine for the doctors.
Team: Mathew Berkley, David Kennedy, Barra Neary, Paul Bourke, Emmet O'Brien, Ceelan Simon, Anis Keshkar, Paul Lynch, Samy Boukourbane, Yassir Zeroug, Adam Righeibi.
Can Vincent's pull off a great escape?
This season has been one to forget for the struggling medics, who are yet to win a league game in the 2019/2020 season. This is the worst start to a season since records began for St Vincent's Hospital FC and the doctors need revival, they need the kiss of life, and they need it now!
As of Monday 17 Feb, they have played seven league games and have not yet registered a single league point. Even more worryingly, the team are scoring less than one goal per game on average, while conceding four goals per game on average. To put this into perspective, during the entire 2017/2018 season-winning campaign, which comprised of 28 games, Vincent's conceded only 21 goals in total.
It is predicted that the magical number of points to survive relegation is 24 points, which means the team needs to win eight of their next 13 games. Although possible, this leaves very little room for error for Vincent's to turn their season around.
Although the odds are stacked against the doctors, the task ahead is not impossible, and the team were in a similarly compromising position in the 2018/2019 season and managed to survive.
According to manager Rory Durand: "The current season has been difficult. We have had an unusual number of injuries to the playing squad, and all our efforts are now concentrated on avoiding relegation."
If any Mindo readers have what it takes to help St Vincent's survive the drop, please get in touch at Stvincentsfc@gmail.com