With the start of the competitive season just around the corner, Dublin Hospitals (DH) welcomed Beechwood to Crumlin for the last of their pre-season friendlies. A win would make it three wins from three and they got off to the best possible start after just five minutes. Ger Cheevers got his first of pre-season after Peter Kelly won the ball in midfield and set up Colm Kirby and Cillian Grant to combine on the right. The buildup play made Cheevers finish an easy one at the back post.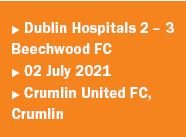 After going a goal up DH sat back and after a period of sustained pressure, Beechwood got their slightly fortuitous equaliser. It came from an inswinging cross, which beat Matt Berkley in goal and levelled the match. It was no more than Beechwood deserved. DH looked to recover, but were hit with a further body blow as some good pressure in midfield allowed the Beechwood centre forward to collect the ball and finish in the bottom corner.
Half-time saw Rory Durand ring the changes and call upon the experience of Colm Cosgrove at the back. DH were defensively more solid as the second-half went on and grabbed their equaliser from a set piece straight from the 'playbook'. Cillian Grant was the beneficiary from John Cosgrove's assist. It looked like the game was heading for a stalemate until Beechwood got a winner with 15 minutes remaining. The centre midfielder, composed on the
ball throughout the game, provided the goal from outside the box and left DH once more looking for an equaliser. It didn't arrive though as the referee called time on pre-season.
DH were disappointed not to finish with a win, but they look forward to the start of the league in the coming weeks.

Matchday squad (4-3-3): Matt Berkley, Colm Kirby, Ray Winters, Ciaran Judge, John O'Grady, Andy Delany, Cian Ward, Peter Kelly, Cillian Grant, John Cosgrove, Ger Cheevers.
Subs: Colm Cosgrove, Rory Durand.
PS. We at DHFC would like to thank our sponsors Medisec Ireland for the tremendous support.
Thanks to the Medical Independent for their excellent coverage of DHFC activities. We look forward to a new season and we welcome any prospective players to contact us at management@dublinhospitalsfc.com.