Following his recent return to Ireland after six years in the US, specialist in stereotactic radiation Dr Daniel Cagney spoke with Pat Kelly about taking the helm of radiation oncology at the Mater Private Network and the plans for this service.
Dr Daniel Cagney recently returned to Ireland following a six-year stint at the Dana-Farber Brigham and Women's Cancer Centre in Boston, US, to take up the role of Clinical Director of Radiation Oncology at the Mater Private Network. Dr Cagney brings with him priceless experience and expertise gained at Dana-Farber Brigham, where he held a number of strategically vital positions at the world-leading cancer treatment and research facility as Consultant Radiation Oncologist, Director of Stereotactic Radiation, and Director of its MRI-Guided Radiation Programme.
Dr Cagney is Ireland's only Fellowship-trained specialist in stereotactic radiation and on joining the Mater Private Network, he spoke with the Medical Independent (MI) about bringing cutting-edge radiation oncology services to Irish cancer patients and his passion for patient care. Dr Cagney brings home his experience in stereotactic radiosurgery, intensity-modulated radiation therapy, and stereotactic body radiotherapy. Dr Cagney's research and educational achievements and awards include the Richard Steevens Scholarship (2015), the St Luke's Institute of Cancer Research Award (2016) and the Association of Residents in Radiation Oncology (ARRO) Educator of the Year (2020), among others.
Dr Cagney received his medical degree from University College Cork Faculty of Medicine. As a clinical researcher at Harvard Medical School and Dana-Farber/Brigham and Women's Cancer Centre, he published more than 70 peer-reviewed manuscripts and book chapters in leading academic journals, including the New England Journal of Medicine, The Lancet, the Journal of Clinical Oncology, JAMA Oncology, Radiotherapy & Oncology, and the International Journal of Radiation Oncology, Biology, Physics. He is also a Diplomate of the American Board of Radiology and a Fellow of the Faculty of Radiologists of the RCSI.
The appointment coincides with Mater Private Network announcing that it will soon have the option to receive stereotactic radiation patients. The Network has also said it is implementing the ExacTrac Dynamic system, which achieves sub-millimetric radiotherapy accuracy and allows for the delivery of high-precision treatments for a wide range of cancers, including brain, spine, lung, abdominal and prostate. This system incorporates artificial intelligence and thermal-surface camera technology using a 4D thermal camera, which creates a highly accurate and reliable hybrid thermal surface by correlating the patient's heat signature to their reconstructed 3D surface structure. To achieve this, 300,000 3D surface points are acquired and matched to the heat signal generated by the thermal camera, creating another dimension to track their position.
Motivation
Remaining at Dana-Farber for six years was not initially in Dr Cagney's plans, as he had originally intended to stay there only for a two-year Fellowship. Whilst the appointment of Dr Cagney to the Mater Private is significant for radiation oncology in Ireland overall, he makes it clear that his main motivation for returning home is simple: "It's exciting to be home and to bring back some of the skills I have learned over there. Being Irish and growing up here, all I really wanted to do as a trainee and as a doctor was to care for Irish patients," he told MI. "I think that's always the thing that draws Irish doctors home – to care for Irish patients, to care for friends and family. I have been given a fantastic opportunity at the Mater Private to work with and grow our department to have a national presence. So it's a combination of wanting to care for Irish patients, and wanting to deliver on that vision."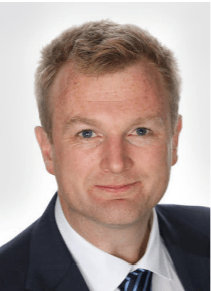 Dr Daniel Cagney
These plans at the Mater Private aim to build on its reputation nationally, he explained. "It has an excellent reputation in, for example, cardiology, spinal care and oncology, in collaboration with the cancer care programme nationally," he said. "We are the only private hospital that has a presence nationally, in that we have a centre in Dublin and Limerick. In parallel to that, the wider goal of the Mater Private is to be a comprehensive cancer centre and that's very much aligned with my vision, which is to provide high-quality, innovative, patient-centered care, so there is an alignment of visions between the Mater Private and me."
One of the many notable achievements in Dr Cagney's career includes a clinical revelation in stereotactic radiation. Dr Cagney previously identified an unreported pattern of intracranial failure in neuro-oncology. He also initiated the first trial of its kind to assess the safety and efficacy of combination stereotactic radiation and nanoparticles for patients with centrally-located non-small cell lung cancer and pancreatic cancer. "Historically, the management of patients with brain metastases has been a combination of surgery and radiation, known as whole-brain radiation. That works well in terms of controlling cancer, but it ultimately does have an impact on patients' quality-of-life and day-to-day functioning," he explained.
"Over the past 10 years, the field has moved towards trying to deliver the same outcomes in terms of cancer control, but also minimise the dose of radiation to healthy brain tissue – in other words, stereotactic or focal radiation for patients who have had resected brain tumours," he said. "As you can imagine, we are learning more and more about that. I looked at our series in Dana-Farber Brigham and Harvard and looked at how our patients who were receiving stereotactic or focal radiation were doing." This, he explained, involved carefully reviewing some 1,200 images. "We noted that there was an unusual cancer recurrence pattern in some patients – not a huge cohort, but in some patients – who received stereotactic radiation. Unfortunately, that pattern of failure could be pretty devastating in terms of the outcome," he said.
Dr Cagney explained that this process is called pachymeningeal disease, and he and his colleagues were the first to report this pattern of failure. "I think our rationale for reporting it was to show that yes, it is important to look at better outcomes, but it's also important to see whether this innovation was to the detriment of some patients and to think about better ways to treat those patients."
This has led to Dr Cagney working with NRG Oncology as a co-Principal Investigator to help design a different stereotactic radiation protocol. One of the ambitions of the group is to offer preoperative stereotactic radiation, the goal of which is to reduce the rate of pachymeningeal failure in these patients.
Passion
He also discussed his work in the US to use MRI-guided delivery of radiation in real-time. At the moment, there is no MRI-guided technology in Ireland "and we are hoping that will change" to allow Dr Cagney to deliver this kind of advanced care to Irish patients. He is still involved with colleagues in Boston on co-ordinating the first trial of its kind dedicated to this area of precision oncology. "These kind of things are my passion," he said. "Discovering, listening to patients to find out what's important to them, as well as constantly trying to improve and innovate and leveraging technology to achieve better outcomes for these patients."
There are many additional indications for the use of stereotactic radiation that are constantly evolving and which Dr Cagney hopes to implement in Ireland, he said.
He also described the applications for the ExacTrac Dynamic system, which delivers high-precision treatments for a wide range of conditions, including cranial cancers. "Stereotactic radiation delivers high doses of sub-millimeter precision radiation and that's convenient in a number of ways," he said. "It has been proven to lead to better outcomes for patients in brain tumours, spinal tumours, lung cancers, liver and kidney cancers – there are lots of different indications for it now, including prostate cancer. One of the reasons it's beneficial is that we can shorten the number of visits a patient has to make for radiation treatment.
"For example, in prostate cancer, historically that can be treated over 20 days, or even up to 37 days," he continued. "With stereotactic radiation, we can treat it over five days, with similar outcomes, or potentially even better outcomes in terms of side-effects. There is also a convenience for patients in terms of delivering high-precision stereotactic radiation." There are different ways to deliver stereotactic radiation, he explained, but the ExacTrac Dynamic system provides an additional safety verification.
It also uses additional x-ray, thermal and surface-guided imaging. "It puts all of that information together and allows us to be 110 per cent certain that we are treating exactly the area that we want to treat," said Dr Cagney. The inclusion of both thermal and surface-guided imaging is a particular advantage, he added.
Across the national cancer strategy, the goal is to have a personalised medicine and personalised cancer management approach implemented for these patients, he said. "In the Mater Private, we have identified that we would like to be a comprehensive cancer centre. We want to leverage not only the traditional pillars of care delivery – surgical oncology, radiation oncology, medical oncology – but also to implement a diagnostic programme, a genomics programme, a quality-of-life and survivorship programme, and a research programme, which I am passionate about," Dr Cagney explained.
"Ultimately, the goal of that is to ensure that every patient who comes through the door is treated as an individual and is treated to the highest quality of care, and to gather all the information we need to ensure that happens."
The ExacTrac Dynamic system also incorporates an artificial intelligence programme, which automates certain steps within the process that allow Dr Cagney and his colleagues to speed-up the turnaround time for patients. "Currently, where things may happen in seven-to-10 days, our hope is that once a patient comes into the hospital and is mapped for radiation, because of the AI tools that automate some of the processes, we would be able to treat patients in a more timely fashion," said Dr Cagney. "I think that's really meaningful for patients. Part of their anxiety comes from the waiting and uncertainty and we want to leverage all the tools that are available to allow us to deliver as timely a treatment as possible."
Dr Cagney also spoke about the multidisciplinary team (MDT) that has been assembled since he returned to Ireland and joined the Mater Private. "Within radiation oncology, we have a great MDT in place," he said. "We have a fantastic group of radiation therapists and we have hired a number of additional radiation therapists. We have
a fantastic group of physicists and we are in the process of hiring additional physicists to support the service, which
will go live in November."
In a wider context, Dr Cagney sees himself and his radiation oncology colleagues as part of the wider Mater
campus MDT: "We discuss all our patients in an MDT in meetings that include surgeons, oncologists, etc, and I
feel I am really fortunate that it has that kind of whole campus approach."
Covid-19 and care
Given the level of services that will be offered, combined with the effects of Covid-19, Dr Cagney was asked if an onerous waiting list of patients is on the horizon. "Radiation oncology is kind of unique as a specialty, in that we are very much a tertiary referral centre," he told MI. "So we are dependent on cancer being detected and a radiation indication for those cancers, and we'll see those patients based on that.
Nationally and internationally, the number of cancers being detected in screening programmes is down [during Covid-19]. When I was in Boston, cancer detection was down by something like 40 per cent across breast, cervical and lung cancers, for which there are screening programmes.
"For my department specifically, we are ready and available to see patients within 24-to-48 hours of the
referral landing on our desk and that's something I also feel very strongly about." In common with Ireland, Dr Cagney explained that over 18 months in Boston, the practice of seeing patients virtually gained in popularity
as a response to Covid-19. During that time, some 80 per cent of the patients he saw were managed virtually.
"In my role as director of MRI-Guided Radiation, we were actually able to see more patients and this was significantly more convenient for patients and spared them the visit to hospital. "It is my ambition that we would be able to offer patients more virtual appointments and make that an option for patients, because it's certainly more convenient for them.
Of course, there will still be a number of patients who need to be seen face-to-face to make a treatment determination, but my hope is that we could operate a hybrid model where some patients can safely be managed virtually." Dr Cagney concluded by outlining other initiatives he is striving to bring to cancer care in the Mater Private
and beyond, using practical applications from clinical research.
"Clinical research is something I'm very passionate about," he told MI. "Clinical research is good cancer care. I hope to leverage some of the contacts I have made in the US and Europe and bring a clinical trials portfolio to the Mater Private and make it available nationally. These are things that we do very well through Cancer Trials Ireland and we want to grow that.
"I get my ideas for innovation from listening to patients, and that's what I want to continue to do here. I am very fortunate to work where I do because we are a very patient-centered, high-quality innovative group and
that's the continuing mission of our department and our hospital – to put patients first, to listen to them, and to
work with them. We understand that people go through an incredibly tough time when they are diagnosed with
cancer and if we can make it as pain-free and stress-free as possible, that's our goal."