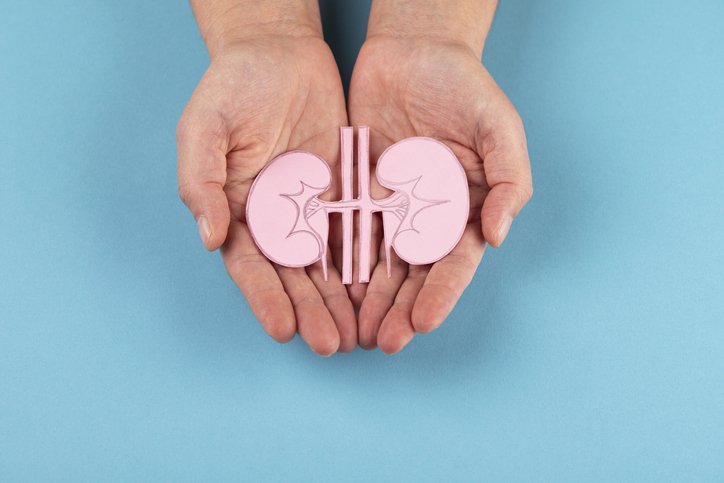 Human kidney in hands isolated on blue background
Covid-19 has impacted the entire healthcare system, but renal services and patients have faced a particularly tumultuous year. Clinical Lead for Renal Services Prof George Mellotte speaks to Catherine Reilly about the impact of the pandemic and priorities for 2021 and beyond
The Covid-19 pandemic has further underscored the need for increased access to home dialysis therapies, a longstanding priority for the HSE National Renal Office (NRO), according to the Clinical Lead for Renal Services Prof George Mellotte. End-of-year figures for 2020 show an additional 34 patients accessed home therapies compared with the end of 2019 (an extra six home haemodialysis and 27 peritoneal dialysis patients).
The NRO described the rise in provision as substantial, equating to an extra 9,000 treatments during the year. At the end of 2020, there were a total of 58 patients on home haemodialysis and 238 on peritoneal dialysis.
Nevertheless, these figures were dwarfed by the numbers receiving in-centre haemodialysis, which also rose last year (2,014 at the end of 2020, up from 1,933 in 2019).
"At the moment around 12 per cent of people are on home therapies and 88 per cent are on hospital-based therapies. The goal of the NRO is to get that up to 20 per cent of people on home therapies," outlined Prof Mellotte, a Consultant Nephrologist at Tallaght University Hospital and St James's Hospital, Dublin.
He told the Medical Independent (MI) it is vital to inform and educate patients about home therapies at an early stage.
"I think there's a need for increased nursing support to these patients," continued Prof Mellotte, who noted there were "relatively few" nurses assigned to home therapy provision. "We need pre-dialysis nurses [and] we need home therapy care nurses to provide that support to these patients. That is one of the barriers and we have been talking to the HSE about increasing the supports to these patients. Because most people will agree it is a better quality-of-life if you can do it, but you need training."
Prof Mellotte said most people "do not want to go back into the hospital" after commencing home-based treatment, as it provides them with more freedom and flexibility, as well as reducing infection risks. Of note, as of 19 March 2021, there had been no Covid-19-related deaths in patients on home therapies.
Greater provision of home therapies is also cost-saving for the healthcare system. But as Prof Mellotte acknowledged, patients can be out of pocket for costs, such as electricity, "and we should look at incentivising home therapies."
According to the Irish Kidney Association (IKA), patients on home therapies are entitled to claim back some incurred expenses against taxes, but there may not be a taxpayer in the household (the average age of a person starting dialysis is over 60). Prof Mellotte referred to models in some other countries, such as Australia, that involve a grant to cover expenses associated with training, electricity, etc.
"I do think we should look at models that other countries have for incentivising home therapies." A proposal has been developed by the NRO and is under active discussion, he confirmed.
In-centre patients
In-centre haemodialysis patients have faced a disproportionate risk of Covid-19 infection associated with their medical vulnerabilities and need to attend dialysis units three times a week. Internationally, mortality rates of over 20 per cent have been reported in this cohort following infection. A study at Beaumont Hospital's Department of Nephrology, which reported data from the early weeks of the pandemic (mid-March to mid-May 2020), provided a stark insight into the level of threat for end-stage kidney disease (ESKD) patients.
In the study period, 20 out of 296 haemodialysis patients at the hospital and two satellite units were infected with SARS-CoV-2, of whom 10 (50 per cent) died. The high mortality rate was largely driven by an early nosocomial outbreak and underlying frailty, with 11 cases described as hospital-acquired, according to the paper published in the Irish Medical Journal.
On 7 April 2020, the NRO instituted a surgical mask-wearing policy for dialysis patients and healthcare workers for the duration of dialysis sessions. Later that month, the NRO recommended patients should not eat on dialysis. This guidance contributed to significant reductions in Covid-19 infections in dialysis patients, stated Prof Mellotte.
He said there was a period of almost four months where there were no infections in dialysis units, following the initial wave.
Prof Mellotte confirmed it was the prerogative of hospital management to implement NRO guidance. However, he maintained the HSE was fully supportive and it funded provision of surgical masks and thermometers for patients attending dialysis units nationally. He added that HSE National Director of Acute Operations Mr Liam Woods authorised a self-drive stipend "so patients didn't have to take taxis, which I think made a big difference because a family member could drive someone in and there wasn't risk of exposure in taxis". There were also additional isolation spaces established to facilitate Covid-19-positive patients in continuing their dialysis treatment.
From the beginning of the pandemic to 19 March 2021, some 369 ESKD patients had acquired Covid-19 infection. This comprised 271 haemodialysis patients, 14 peritoneal dialysis patients, and 84 renal transplant patients. Sadly, there were 76 Covid-related deaths, 64 of which were in-centre haemodialysis patients and 12 renal transplant patients.
Transplants
Last year, the growth in patients receiving in-centre dialysis was double the average increase recorded over the past 10 years, representing an additional 13,000 haemodialysis treatments. This rise was associated with reduced transplant activity and the sequelae of Covid-19 infection.
"There was a pause on the renal transplant service for a while during the summer; that is re-established, but activity has been a little bit lower than usual for a number of complex medical reasons," stated Prof Mellotte. Some 123 kidney transplants took place in 2020, compared to a five-year average of 167 as of 2019.
"Those people who did not get a transplant had to be kept alive on dialysis, therefore the number of people on dialysis increased quite significantly during the year," outlined Prof Mellotte. In addition, there is a cohort of people who now require long-term dialysis following severe Covid-19 infection, as well as people with pre-existing chronic kidney disease who suffered further kidney damage following infection, leading to a requirement for dialysis. All of these factors point to a considerable onward challenge for renal and transplant services.
Even pre-pandemic, Ireland's rate of kidney transplantation was average compared with European counterparts, which had prompted the IKA to call for a second transplanting hospital to supplement the programme at Beaumont.
When asked by MI, Prof Mellotte said he was not an advocate of a second transplanting hospital. He believed one kidney transplanting hospital was sufficient for a population of just under five million. "I am not sure it would be a good idea to dilute the clinical expertise that there is in Beaumont to a second unit," he said, describing the outcomes at Beaumont as "excellent".
Instead, Prof Mellotte said he would prefer "looking at initiatives such as protected inpatient spaces, protected theatres" to increase the number of transplants at Beaumont. He also cited promotion of living donation as among the priorities of the NRO.
The kidney transplant waiting list data, published annually by HSE Organ Donation and Transplant Ireland, has remained steadfastly within a particular range: 509 patients were listed in 2019 (208 newly listed; eight fatalities during the year); 462 in 2018 (178 newly listed; 17 fatalities); and 482 in 2017 (200 newly listed; 15 fatalities). However, Prof Mellotte said there was no 'cap' on the pool deemed eligible for kidney transplantation.
Eligibility is also assessed regularly, he added. "You could be medically fit one year and a couple of years later, because of other illnesses, you are no longer medically fit. Each patient who goes on the transplant list has been assessed as medically fit for transplantation."
Meanwhile, the NRO has been developing a model of care for chronic kidney disease, a programme of work disrupted by Covid-19. The NRO is aiming to launch the model of care in the second half of this year.
Prof Mellotte is keen to promote "preventative nephrology". He highlighted the importance of early blood pressure checks and getting GPs to look for renal failure and kidney disease at an early stage. Early treatment has been shown to slow the progression of kidney disease, particularly in high-risk groups, such as people with diabetes and hypertension.
In addition, as certain treatments and interventions can be detrimental to people with chronic kidney disease (eg, analgesic medications and contrast dyes for diagnostic procedures), it is important to raise awareness of such issues in healthcare settings.
"So informing primary and secondary care providers to be more conscious of the impact of these treatments on chronic kidney disease progression is something that is a longer term aim."
Vaccination
When MI spoke to Prof Mellotte in late March, Covid-19 vaccination had been rolled out to most frontline healthcare workers. It had also commenced for the "vast majority" of dialysis patients and in a "substantial" number of transplant patients. At that time, patients with severe renal failure who were not yet on dialysis were "not quite as easy to identify".
The NRO had strongly lobbied for a reprioritisation of ESKD patients in the original draft vaccination sequencing plan, due to their high medical vulnerability. It is hoped vaccination will considerably lessen risks of infection for renal patients, reduce incidence of kidney damage associated with Covid-19, and allow for increased transplantation compared to 2020. It has been a very trying 13 months for renal patients and staff, Prof Mellotte confirmed.
"I want to thank all staff in dialysis units and home therapies for the excellent care they have given our patients during the pandemic," he emphasised.