Dr Neil Black speaks with Pat Kelly about his experiences in the Irish Doctors Choir, an ensemble that raises important funds for charity while spreading musical joy
The origins of the Irish Doctors Choir (IDC) can be traced back to 2017, when the European Doctors Orchestra (EDO) was getting ready for a performance of Mahler's Symphony No 2, Resurrection, at the Ulster Hall in Belfast. As the finale of this epic requires the inclusion of a chorus, the EDO set about recruiting singers from within Irish healthcare settings, as well as offering EDO-sponsored places to medical students. The affinity and common interest among the Irish doctors led to the formation of the IDC, with well-known Irish conductor, pianist, vocal coach, oboist, and chamber musician Mr Brian MacKay agreeing to assume the role of Musical Director.
The choir developed a repertoire for 'pop-up' performances in healthcare settings and some of their subsequent recitals included Rachmaninoff's All-Night Vigil in Termonfeckin, Co Louth, to benefit local charity The Gary Kelly Cancer Support Centre. The choir has also performed in Our Lady of Lourdes Hospital, Drogheda, for patients and staff and held concerts in Cork in aid of the Mercy Hospital Foundation. Among the many other venues that have been graced by the choir are the Belfast City Hospital Cancer Centre, and the Mater Misericordiae University Hospital in Dublin.
Dr Neil Black is a Consultant Physician in Endocrinology and Diabetes at the Western Health and Social Care Trust, Altnagelvin Hospital, Derry, and IDC Committee Officer. He updated the Medical Independent (MI) on the choir's activities and plans for the future, including its important fundraising endeavours. "I had heard of the choir and I knew that a colleague had been asked to take part in the Mahler chorus, the first concert," he explained.
"I then bumped into an academic at Queen's University Belfast [who spoke about the choir] – I was a bit nervous at first that it might be beyond my capabilities, especially with the works of Mahler." However, Dr Black joined the choir's second workshop and found he could cope very well with the musical requirements of the all-Ireland IDC.
"The IDC is set up so that we can work on it while we work with our home choirs," he said. "That means that we don't do any performances over the Christmas period, because we are all so heavily committed to our local choirs. So the aim was to tr y to align our current commitments, as well as work commitments, so we usually hold an event each March and in November, just before the busy Christmas season."
In November of 2021, the IDC held a residential workshop to record audio and video, which is currently being prepared to raise money for the charity Brain Tumour Ireland, which supports people living with the condition and their families.
"In March, we are going to meet up in Maynooth University chapel to perform and record Gabriel Fauré's Requiem and perhaps some other pieces," said Dr Black. "There will be a small audience, which will probably be comprised of charity representatives, and we are going to live-stream that and sell tickets to raise money for Brain Tumour Ireland."
Profound experience
Dr Black revealed that one of his favourite pieces to perform with the IDC was Mahler's Symphony No 2. "Performing that was a really profound experience and very intense," he said.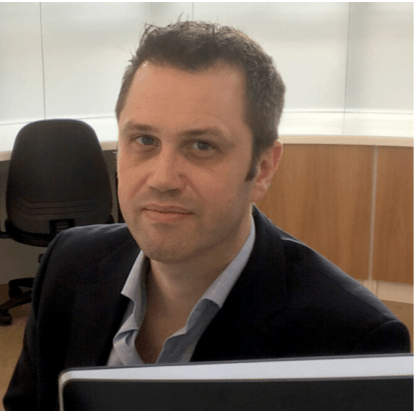 Dr Neil Black
The IDC performing in Belfast
"The whole symphony lasts for over an hour, but the choral section lasts for 10-to-15 minutes – it's quite short, but really intense and powerful, and doing that one was quite a formative experience. We also enjoyed doing some of Bach's motets and cantatas in Dublin some years ago, and that was a phenomenal experience, technically speaking. They are quite complicated and exciting, and it came off really well. I hugely enjoyed that."
Aside from the important charity work that they do, the collegiality within the IDC cannot be understated, said Dr Black.
"We are quite widely spread out on both sides of the border, which makes networking a little more difficult," he said. "I had previously met one of the professors from the south and being in the choir has meant that I get to see him more often, which is really nice. Particularly for those who work in similar areas, especially around Dublin, it has been really helpful because it has forged some links in different institutions.
"In musical terms, there is definitely an important networking benefit in meeting people with similar musical interests but from different professional backgrounds. Not everybody is able to come to every event, but there is a core of about 30 or 40 people whom we see at every event and it's always really nice to see them again."
Dr Black and his fellow choir members also kept in touch during the Covid lockdowns via online activities.
"When we did get to meet in person again, there was a huge appreciation for just being together again, which was really lovely."
A recent report by the Institute of Public Health that reviewed more than 70 international studies highlighted the importance of the arts in the ageing population, including singing. Among the take-home messages from the research was that music and singing confer improvements in cognitive function and improved emotional health, as well as improving sense of wellbeing, social connections, and overall quality-of-life.
Whilst Dr Black is not in the ageing population demographic, he acknowledged the benefits of music and singing at any age.
"One of our members is Prof Des O'Neill, a professor in elderly care, who has been involved in some of the research and has written extensively on the benefits of the arts for health," said Dr Black. "Personally, there is a definite benefit to taking you out of your work space – there is a clearing of the mind that happens with the process," he told MI.
"The preparation, the feeling of achievement – doctors, pharmacists, and nurses, anyone who works in healthcare really, can be ground down by it. This is a time put aside where you can interact more naturally with people whom you would otherwise be working with. I would also definitely hold to the health benefits that singing provides, such as the breathing and clarity of the mind. Even during lockdowns, instead of live rehearsals, we had online sessions with the IDC, and that really was a breath of fresh air during those times."
Achievement
The choir members all share something personally in preparing for a performance and delivering the recital, he explained, "but it also gives you a feeling of achievement; the experience of the preparation and singing is fantastic. When the piece finishes, there is always a feeling that it was all worthwhile, and you can see that in people's smiles and the looks on their faces."
The IDC is currently preparing for a performance of Fauré's Requiem to be delivered via live-stream on 11-13 March as its 2022 Spring Concert. The choir will also be resident at Maynooth College for that weekend and will be performing in the College's chapel on the Sunday afternoon, all in aid of Brain Tumour Ireland.
To find out more details about the IDC's Spring Concert, to book a place, or to donate, visit https://irishdoctorschoir.
ie/ or email: irishdoctorschoir@gmail.com