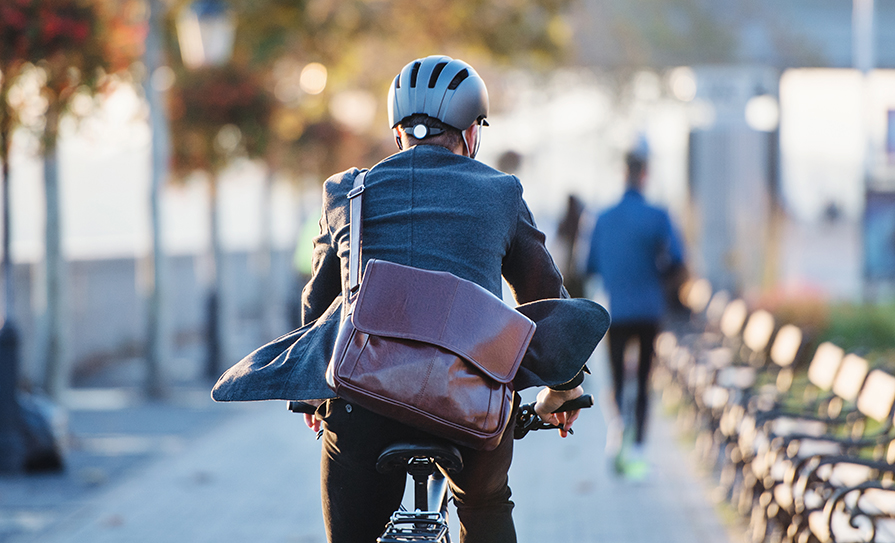 Dr Andrew Rowe and Dr Colm Byrne outline why active travel is the only solution which targets
both the climate and obesity emergencies
Ireland has a transport problem, but more specifically a car problem. We rank only behind Cyprus as the most car-dependent country in the EU, with 76 per cent of people using a car as their main form of transport on a daily basis. It wasn't always like this; the number of licensed vehicles in the country has increased by 215 per cent from 915,000 in 1985 to 2.9 million in 2021. In the last 30 years, the number of children walking and cycling to primary school has fallen from 49.5 per cent in 1986 to 25 per cent in 2016. Concurrently, the number of children being driven by car to primary school has increased from 24 per cent of journeys in 1986 to 59.8 per cent in 2016. This may tell a tale of the increased prosperity of the nation, but it has come at a cost.
Obesity
Obesity rates in Ireland have more than doubled since 1990, with 23 per cent of the population obese and a further 37 per cent overweight. This is a global issue, but it is felt particularly acutely in Ireland where we are on track to be the most overweight country in Europe by 2030. Furthermore, our ageing population will see the chronic disease burden continue to grow. The increased prevalence of lifestyle-related disease, such as cardiovascular disease and diabetes, will put strain on an ever-creaking health system. A large contributor to this crisis is the challenge in meeting population physical activity guidelines: Only half of Irish adults met the recommended 150 minutes of mild-to-moderate intensity exercise recommended. Our change in travel and reduction of manual labour has reduced our opportunities for physical activity and confined exercise to our 'leisure' time via organised sport.
Carbon emissions
Higher traffic volumes not only mean we move less, but also emit more greenhouse gases. Personal transport accounted for the biggest rise in carbon emissions over the last 30 years, increasing from 9 per cent of total emissions in 1990 to 17.7 per cent in 2021. Climate change is already causing high levels of global mortality, with nearly five million annual global deaths linked to extreme weather in the last decade. In order to help mitigate the worst effects of climate change and help reach targets to reduce carbon emissions by 51 per cent, the Irish Government has committed to a 50 per cent reduction in transport related emissions by 2030. This will require a fundamental change in how we get around as individuals and as a society.
Air
Increased motorised transport has a negative effect on our air quality. Emissions from traffic releases nitrous oxides and other harmful gases into the atmosphere. Those sitting inside a car are exposed to much higher pollutant levels than those outside. Poor air quality not only increases the incidence of respiratory diseases, such as asthma, but has been linked to poorer academic performance in children. This all culminates in an estimated 2,600 premature yearly deaths on the island of Ireland associated with poor air quality.
Active travel
'Active travel' is using our own energy to travel, generally by walking or cycling. It is the one intervention that has the potential to combat the twin health and climate crises. Currently, active travel accounts for 21 per cent of journeys in Dublin and just 12 per cent of journeys outside of Dublin. At the moment there are more two kilometre (km) journeys taken by car than by foot. Two km is a leisurely 25 minute walk. An easy 15 minute cycle will cover five km.
Those who participate in travel via cycling or walking can exceed their physical activity targets through active travel alone: One UK-based study with over 3,500 participants reported that those who used some form of active travel accumulated an average of 195 minutes exercise per week, significantly more than those who did not. Real changes can be made by those who change their commute to an active one – a longitudinal study of 8,432 UK children reported that those who changed to walking or cycling on their way to school lowered their BMI and lowered their percentage body fat. Cycling to school has also been associated with improved performance in the classroom. A 2010 Danish study demonstrated a 7 per cent increase in concentration levels in those who cycled versus those who were driven. Older people who are more physically active are also more likely to maintain independent living for longer.
Active travel in Ireland is already having a major health impact: Current levels of cycling in Dublin prevent 42 premature deaths and save 82,000 GP appointments. Countries with high levels of active travel have lower levels of obesity. In Scotland, it is estimated that, if, 40 per cent of all car journeys were converted to cycling, there would be a saving of £4 billion when mortality reductions and improved health are accounted for.
In the healthcare profession, we have a duty to promote not only personal health, but planetary health. Brief interventions to increase physical activity, reduce smoking and reduce alcohol consumption are well evidenced-based, particularly in primary care. A similar approach could easily be taken to promoting active travel. For example, the clinician could lead with, "how did you travel to the appointment today?" General practice in particular is well-suited to active travel as an estimated 89 per cent of all patients live within walking distance of their GP in the urban setting, with the average urban dweller just 900 metres from their GP. Active travel may not always be possible in a rural setting as the average distance from a GP is 6.5km. The clinician could, however, explore how to integrate more walking and cycling into someone's lifestyle, while also promoting public transport as a more sustainable option than driving where possible. Where distance is a barrier to cycling, e-bikes allow a person to travel further without the same effort and can be a more accessible option for less active sections of the population.
It is important to recognise that not every car journey has to be or even should be replaced by an active trip.  Over half the net economic benefit from active travel arises from those with a car leaving it at home, while substantial environmental benefits can be derived just from small individual changes on a population scale.
Change
Fundamental change is needed to halve Ireland's transport emissions by 2030 and reach the Government's target of 500,000 additional daily active and public transport journeys. The scale of this challenge is portrayed by the reduction in carbon emissions from transport in 2020 during the Covid-19 pandemic was just 16 per cent compared to 2019. In order to achieve this there will need to be a massive redistribution of transport funding away from car infrastructure towards bike lanes and public transport. Furthermore, rates of obesity are continuing to rise and Ireland is likely to miss the World Health Organisation target to stop rising obesity levels by 2025. Active travel is the only solution which targets both the climate and obesity emergencies and as healthcare professionals we can make a difference by promoting it.
Our car-centric urban environment contributes to many of our modern day ills – an inactivity crisis, climate crisis, poor air quality, and noise pollution amongst others. As stated in the Intergovernmental Panel on Climate Change 2023 report "walking, cycling, and public transport enhance air quality, improve health, employment opportunities, and deliver equity". Reorienting our urban environments toward active travel would be a positive step towards improving public health and the health of our planet.
References available on request