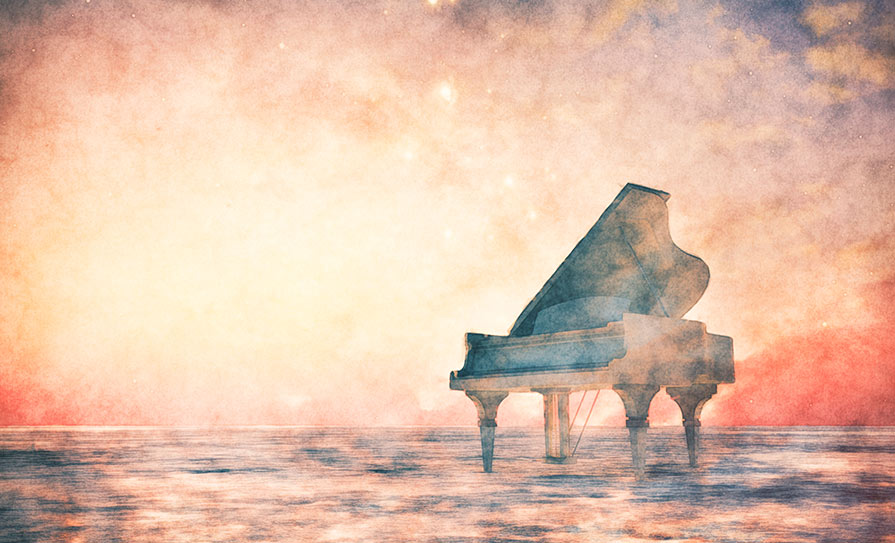 My reaction to the piano being moved brought home truths that were only becoming clear to me
While I was weeding the kitchen garden my husband moved the piano. A classic upright, over three feet tall and five feet long, the piano weighs (according to piano weight charts) between 400 and 500 pounds. Most of the weight comes from the cast iron harp that sits within the body of the instrument. The visible elements, the wood, pedals, and keys, contribute little.
I can imagine the effort it took for him to haul this solid, unyielding piece of furniture from the kitchen, through the dining room, around a corner, passing through a set of double doors, and across the sitting room floor to its home beside the fireplace. I can imagine how he would have pushed and pulled, pressing his back into the wood, his feet flat against the floor (stockinged feet, I hope, as I had recently put a ban on wearing shoes in the dining room). I can almost hear how he would have grunted with the effort of shoving and tugging, taking short breaks while he puffed and panted like a woman in labour. I imagine his relief when finally, the piano began to yield to his exertions. How this would have sustained his effort, knowing that he was doing the work of four men. I imagine he thought I would be pleased as he placed the trophies and photographs back on the newly dusted and polished ivory-coloured wood.
I was not at all pleased. I was furious.
I closed my eyes, turned away, and steadied myself against the windowsill. I would not look at him. Eventually, in a low steady voice that betrayed every bit of my anger and disbelief, I asked: "Why did you do that? Did I ask you to do that?"
"I thought you would like things back in their rightful place," he said. "I know how you like things tidy."
He was deliberately misunderstanding my questions. He must have known he had done something terrible. He had to have known what that was.
"What did I say about the piano?" I asked, still angry, but with enough insight to hate the sound of my own voice: The shrill imperious, superior voice that reduced him to a bold child. Hated it, but could not control it.
Unsurprisingly, he did not reply.
"I told you what Gregor said." I went on: "Nobody, NOBODY, except a professional mover should touch that piano. You did hear me say that?"
"Well, it's back now and no harm done," he said. "We would have waited weeks, months maybe, to get a professional."
I could not trust myself to speak. No harm done. Tears of frustration and disappointment ran down my cheeks, and I made no attempt to stop them. My husband, who probably had been about to walk away, conversation over as far as he was concerned, turned and stood in front of me. I lowered my head even further and kept my eyes closed, anger now turned to resignation, some level of control returning.
He became alarmed. "Why are you crying?" he asked. "What have I done that is so terrible?"
I could not explain. I could not open my eyes. I still could not look at him. But more than that, I kept them shut because I could not risk catching sight of the damage that he must have done to the recently varnished oak floor.
I had waited 12 months to get the floor refurbished. Had made numerous phone calls, sent dozens of texts, pleaded, cajoled, and coaxed Gregor to find a slot for me in his busy schedule. I had arranged to work from home for the four days it took him to do it, making him coffee and snacks, keeping Dax, our great big Labrador out of his way. Under Gregor's relentless sanding, 10 years of dirt, grime, and spills were stripped away to be replaced by smooth, uniform oak planks complete with natural knots, streaks, and wormholes. Kneeling, I had run my hands over the stained and waxed finish, feeling a profound sense of satisfaction and awe.
The floor was renewed. The empty nest was being refurbished. After decades of creating spaces for children, pets, and visitors, I had dared to do something just for me, for us, so that we might enjoy what we had created so many years ago. I had imagined that he would find pleasure in this too. But how could he have known what I was thinking, when those thoughts were only just becoming clear to me. I was only learning to search for, and appreciate, what had been there all the time, buried beneath years of busyness and caring for others. My husband, meanwhile, had come to know me as one who, above all else, likes things to be tidy. In typical female fashion, I wonder if I have only myself to blame.