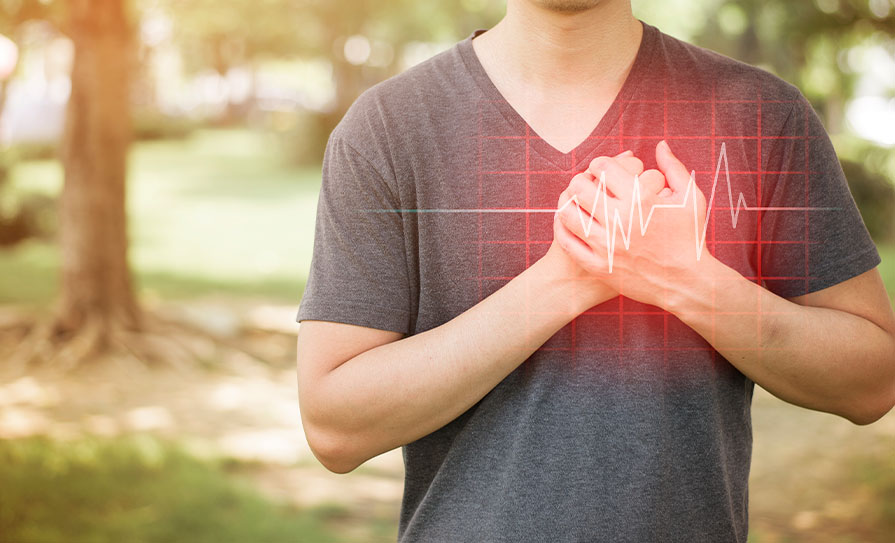 We need to ensure that guideline-recommended heart failure pathways are widely adopted and effective for all patients.
There are currently around 90,000 people living with heart failure in Ireland. That's not a small number – it works out at around one in every 50 people across the country. Heart failure is a condition whereby the heart does not work as efficiently as it should, with a higher risk of death than many common cancers, and yet it receives significantly less attention. But with an estimated 10,000 new heart failure diagnoses every year in Ireland, this has to change.
As the Clinical Lead of the national heart programme, I have spent my career working with heart failure patients and have seen first-hand the impact it has on individuals and their families. That is why I am passionate about promoting early diagnosis. Diagnosing heart failure can be difficult, not least because the signs and symptoms are vague, often being attributed to other conditions or illnesses. Symptoms can include breathlessness, tiredness, and f luid build-up resulting in ankle swelling, for example. The over-50s are most at risk, but it can strike at any age.
Much like cancer, getting an early diagnosis is vital for patients to get appropriate treatment as soon as possible. I therefore welcome the State of the Heart: Examining the current state of heart failure diagnosis and care in Ireland report from Roche Diagnostics and the Irish Heart Foundation, which shines a light on the experiences of these patients – with powerful stories and new data highlighting the impact that a delayed diagnosis has on their quality-of-life.
The report lays bare the realities of delays in receiving a heart failure diagnosis and getting the right care. These delays have a significant impact on patients, both mentally and physically, with 70 per cent of surveyed patients feeling their mental health was negatively impacted. One-in-five patients surveyed had been misdiagnosed before finally finding they had heart failure, which can of course cause additional stress. 
There's also a clear gender gap. Women make up around 40 per cent of heart failure patients; however, the new report finds that women, on average, wait longer to receive a formal diagnosis of heart failure, compared to men – a clearly unacceptable imbalance.
Nearly three-quarters of the patients surveyed for this research said that an earlier diagnosis would have made their lives better. Which is why we need to do more to make this a reality – to implement improvements to ensure patients are diagnosed quickly and then treated and managed appropriately.
The good news is that steps are being taken to remedy the problems with delayed diagnosis. The HSE are putting in place robust systems to address this and other needs related to improving heart failure care. And there are clinical solutions at hand. Measuring natriuretic peptide levels (NP), such as NT-proBNP, in a single blood test can rule out heart failure, ensuring that only those who need further tests, such as an echocardiogram, are then referred for one. Accurate diagnostic testing helps guide a clinician's decision-making process and can speed up the timeframe for diagnosis. It also helps to reduce the number of unnecessary hospital referrals, which is more important than ever as our health service manages the post-pandemic backlog. 
Promising changes have recently been made with the introduction of Sláintecare, which through the enhanced community care programme has been facilitating a phased direct access to blood testing for GPs. In addition, the national heart programme is supporting diagnostics and specialist support in the community, including empowering GPs to make more decisions around their patients' care.
Whilst these new initiatives provide hope for the future of heart failure diagnosis and management, the pandemic has stalled progress on the implementation of these vital programmes. At this time of significant pressure, it is now crucial that we come together to drive forward these solutions, and make sure they have a positive impact on patients. The roll-out of community programmes should be accelerated and GP practices must have access to the right tests to ensure equity of access across Ireland.
We can and must speed up reform to ensure that guideline-recommended heart failure pathways are widely adopted and effective for all patients. We need to spread the word about signs and symptoms so that people know what to look out for and when to suspect heart failure and book an appointment with their GP. Now is the time to come together, raise awareness, and improve early diagnosis for heart failure patients across the country.