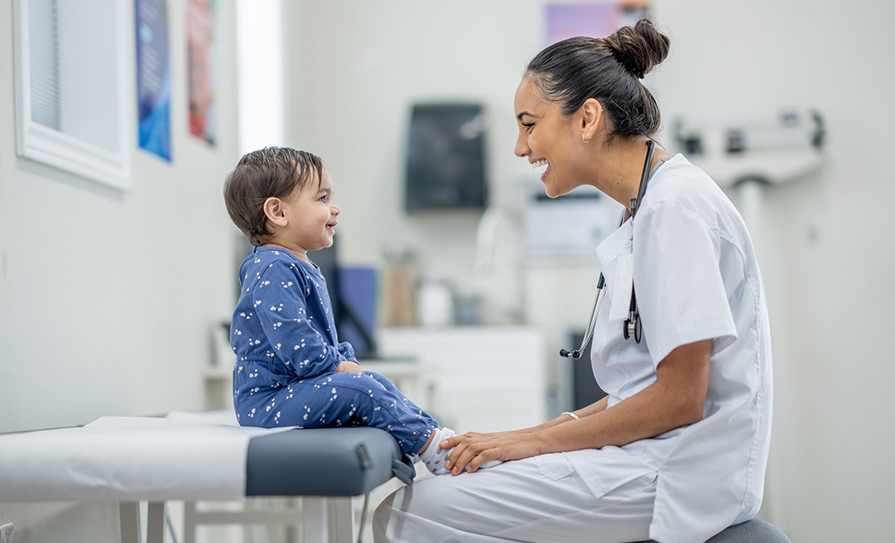 A recently published tome has brought back the happy days of my undergraduate paediatrics training
I was lucky enough to undertake my undergraduate paediatrics training at the National Children's Hospital (NCH) in Harcourt Street. In particular, I have fond memories of a month in residence at the hospital during the summer of 1984.
As a Trinity College Dublin (TCD) student based in the much larger St James's Hospital, the old staircase, period rooms and nooks and crannies of Harcourt Street were contrastingly attractive. Bringing a textbook just a few steps to St Stephen's Green on a sunny evening was special. And for a student who lived with family in suburban Dublin, the prospect of a month of 'digs' bang in the centre of the city was a huge draw.
I was reminded of these happy days when reading the recently published book The National Children's Hospital of Dublin: A social and institutional history 1822-1998 by Michael Hanna. Its central pages contain an extensive collection of photographs and illustrations that bring the hospital's history to life. Culled from hospital annual reports going back to the 19th Century, the pictures of individual wards and the outpatients department show how little the place had changed by the time this resident medical tyro passed through.
NCH was actually the first hospital for sick children in the UK and Ireland when it was founded in 1822 at Pitt Street (Balfe St) by Henry Marsh and Charles Johnson. It was called the Dublin Institution for the Treatment of Diseases of Children. It was essentially a dispensary for outpatients when it began and the hospital's annual report in 1824 recorded that 4,000 children had been treated in its first two years. Hitherto, many sick children were essentially abandoned by living in extreme poverty and experiencing a complete lack of health services. The objectives of the hospital 200 years ago were to provide free medical and surgical treatment, clinical instruction to students, and to educate mothers and nurses in the care of children.
As a charitable institution, the hospital's early years were full of uncertainty. But, in 1886, it amalgamated with the National Orthopaedic Hospital and house numbers 87 and 88 Harcourt Street were purchased. This brought NCH to its final home; the subsequent purchase of adjoining houses allowed it to expand. The hospital formally opened in Harcourt Street on 14 December 1888.
Hanna has based much of the early part of his deeply researched book on the NCH's annual reports. These are naturally spare and sterile in their descriptions. It wasn't until Dr Henry Marsh's casebook, covering the years 1838-1847, was acquired by the National Library of Ireland – as recently as 2021 – that there is any mention of clinical cases. Hydrocephalus, paralysis, measles, and pleuropneumonia are the most common diagnoses recorded. On occasion, the social conditions the patients were living in break through: "The mother, though young, complains of a great weakness… she is obliged to be out all day selling things and can suckle the infant of course only at night." Her two-month-old child dies. Older children had a better chance of recovery, the casebook suggests. Marsh's joy at every clinical success is palpable.
NCH was always a 'Trinity hospital'. Over the years, many of its governors had TCD links. However, its bed numbers were small compared to Temple Street Hospital and Our Lady's Hospital for Sick Children (OLHC) in Crumlin. It meant that Harcourt Street had to continually contemplate where its future lay. This included a brief courtship from St James's Hospital in 1970 – ironic when you consider the location of the almost complete Children's Health Ireland institution at the Rialto end of St James's now – and an unlikely set of negotiations with OLHC. This latter prospect was rapidly seen off by the Catholic Archbishop of Dublin, John Charles McQuaid.
Finally, in 1981, the Department of Health ruled on the future of the NCH. It pushed for Harcourt Street to join the Meath and Adelaide hospitals in the new Tallaght Hospital, while guaranteeing its role as a TCD teaching hospital. NCH eventually closed in 1998.
Hanna's book gives a thorough flavour of medical and hospital politics from the time a Dublin children's hospital was first dreamt off. Figures such as long-serving Dublin Chief Medical Officer Sir Charles Cameron, eminent barrister and judge TC Kingsmill Moore and his wife, and Trinity Professor Ian Howie all played significant roles in steering the hospital through sometimes choppy waters.
Studying children's medicine at Harcourt Street was, for my classmates and myself, enriched by then Professor of Paediatrics, Hilary Hoey. One of the best teachers I ever had, she expended great time and energy on the wards and in the corridors of NCH schooling us in the mid-1980s. Fittingly, she has written the foreword to the book. Typically, she writes of "the many unsung heroes… who devoting their lives to everyday patient care and teaching of juniors made a real difference".
The National Children's Hospital of Dublin: A social and institutional history 1822-1998 by Michael Hanna is available, on request, at nominal cost from www.childrenshealth.ie.