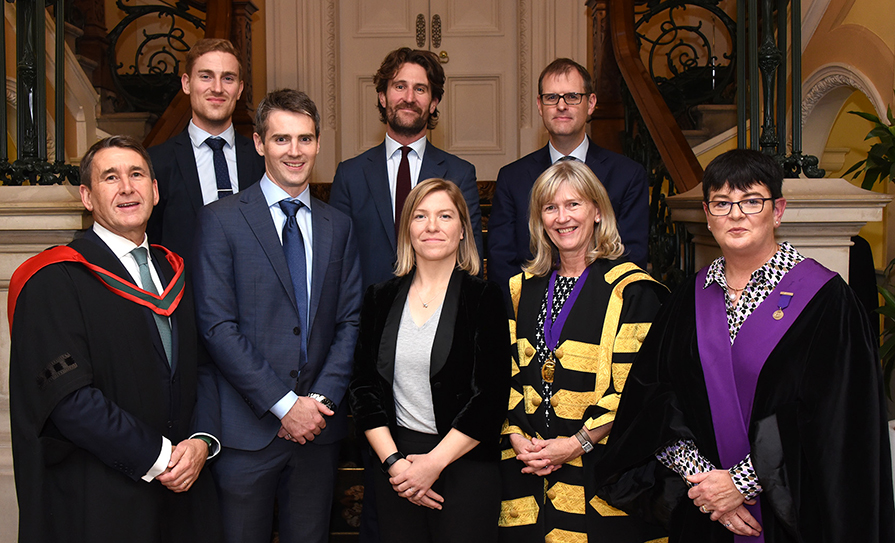 Back row (L-to-R): Mr Bob Brennan; Mr Keiran Barbalich; and Mr Michael McDaid (all PwC). Front row: Dr Terry McWade, CEO, RCPI; Dr Barra Neary; Dr Judi Lynch, Management Fellows; Prof Mary Horgan, President, RCPI; and Dr Maeve Skelly
RCPI Management Fellowships help inform future clinical leaders on best practice in healthcare management
CPI Management Fellowships provide trainees, in the latter part of the higher specialist training, an opportunity to work full-time for one year in some of Ireland's leading companies to gain practical business, management and leadership experience in a healthcare context. Established as a partnership between the RCPI and PricewaterhouseCoopers (PwC) in 2021, this successful new model of innovation in training will be crucial in helping to inform future clinical leaders on best practice in healthcare management.
RCPI Management Fellowships continue to be offered at PwC, with further opportunities created this year in partnership with Ernst & Young (EY) and Irish Life Health.
These partnering firms support clients on a wide range of healthcare projects to address challenges and identify solutions and improvements within the Irish health service.
Trainees, working at the level of manager or equivalent, are embedded within these firms to deliver workstreams and projects. The participant's HSE SpR salary for the year is matched by the employing firm. Six newly appointed trainees for the 2023/2024 intake will commence in June 2023.
Mr Colm Small, RCPI Head of Training and Examinations, says the expansion of the programme to include EY and Irish Life is an important milestone and will provide unique opportunities for higher specialist trainees to utilise their business acumen and bring new-found knowledge and expertise back to their own healthcare setting.
"There is huge value in being completely immersed for a full year in a management environment," Mr Small says.
"Our Fellows emerge from the experience with a strong understanding of the end-to-end process to deliver change in healthcare settings.
"The Fellows bring the unique context of someone who works on the frontline, providing practical insights and perspectives only garnered from working with patients in complex healthcare scenarios to inform better ways of working and better solutions. It's a winning combination."
Ms Yvonne Mowlds, Partner and Healthcare Leader, PwC, says: "We've been delighted to work with the RCPI to bring this Fellowship to fruition. The Fellowship, now in its second year, represents an innovative approach not only for the RCPI, in providing experience and learning to higher specialist trainees, but also for how we support our healthcare clients. The five Fellows that have worked to date with PwC have brought significant contribution and value to our PwC team and our clients' work, and we are delighted with how the Fellowship has developed."
Following intensive induction and orientation, Fellows become an integral member of the team working on projects relating to the reform of community and acute healthcare services in Ireland. Fellows report a more holistic understanding of the healthcare system and improved skills in leadership, management, communications, and project and stakeholder management.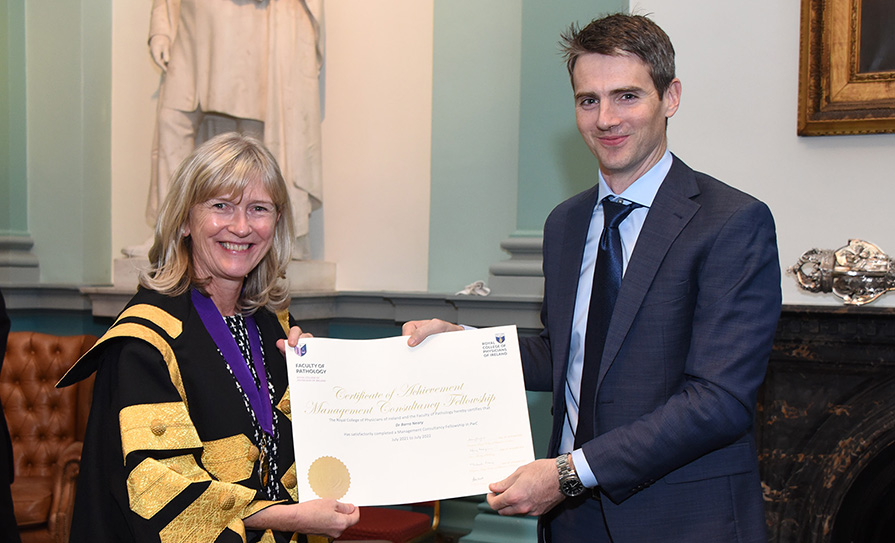 Testimonies
Commencing the RCPI Management Fellowship with PwC in July 2022, Dr Ciara Kelly, a Public Health Medicine Specialist Registrar, was keen to better understand the role of management consultants in advising within the healthcare context and to bring her own clinical expertise and knowledge to PwC.
During the first six months, Dr Kelly worked with a team at PwC on projects delivering significant change to community healthcare services, with the aim of enhancing delivery of care in the community, maintaining care as close to home as possible, and reducing pressure on hospital services.
"My role in the team has involved both leading on and supporting deliverables for the client, such as presentations, reports, data analysis, and support for client-led stakeholder engagements. I interact directly with the client regularly and work closely with my team to understand the client's project priorities and needs," outlines Dr Kelly.
"This role has allowed me to develop my skills across the areas of leadership, management, communication and presentation, teamwork, stakeholder engagement, and organisation. It has also provided me with valuable insights into a significant and important transformational programme for the Irish health service, as well as the process, enablers and challenges for implementation of the programme.
"I have thoroughly enjoyed getting to know my co-Fellows and PwC colleagues across the advisory consulting practice, and learning from their knowledge, perspectives and experiences. In addition, I have been able to use opportunities to share my public health medicine experiences and relevant knowledge with my PwC colleagues."
Dr Kelly will return to complete the remaining six months of her higher specialist training scheme in public health medicine in a regional health setting later this year. She says she will bring improved leadership, management, communication and presentation skills to her studies and future career.
"I would recommend the Management Fellowship to anyone considering the programme. It provides both a unique opportunity to enhance key skills that will be of benefit to a future career as a consultant, and a valuable insight into the Irish healthcare system with respect to resource allocation, change management, stakeholder engagement, and senior decision-making."
Dr Barra Neary shared Dr Kelly's enthusiasm when speaking at the RCPI's annual St Luke's Symposium. Dr Neary was one of the first RCPI Management Fellows and together with his colleague, Dr Judi Lynch, graduated from the year-long programme in October 2022.
Dr Neary says he was exposed to a wide range of healthcare initiatives during his time at PwC and worked on reform projects across community and acute hospital settings.
"Our roles could vary quite substantially on any of these pieces of work; from HSE client engagement, to delivering our clinical perspective, data analysis, presentations, focusing on process development," Dr Neary explains.
"My lasting impression [of the Fellowship programme] is going to be getting a deeper understanding of the healthcare system as a whole and the HSE decision-making process…. I learned to focus on the healthcare system as a whole as opposed to focusing on my hospital, or my specialty, or my department within the hospital.
"I also built very important relationships with senior people in the HSE and PwC, which I know will be very important in the next phase of my career. Judi and I developed very strong skills that will be transferrable and invaluable in our clinical practice."
Applications
The RPCI looks forward to working with our partners to build on the programme's success so far and to watching how our Management Fellows apply what they have learned in their clinical practice as consultants.
The programme is open annually to trainees in the final two years of the RCPI's higher specialist training. RCPI trainees may receive a full or partial training credit for the year or may take the year as an 'out of clinical programme experience', at the discretion of the relevant faculty/institute or National Specialty Director. July 2023 will see our third intake of senior registrars onto this Fellowship. We have grown from two trainees to now six participants this coming summer.
This RCPI programme is open to other postgraduate training bodies. Trainees from other postgraduate training bodies in Ireland who wish to participate will need to discuss the programme with their training body directly.
This article was produced by the RCPI.