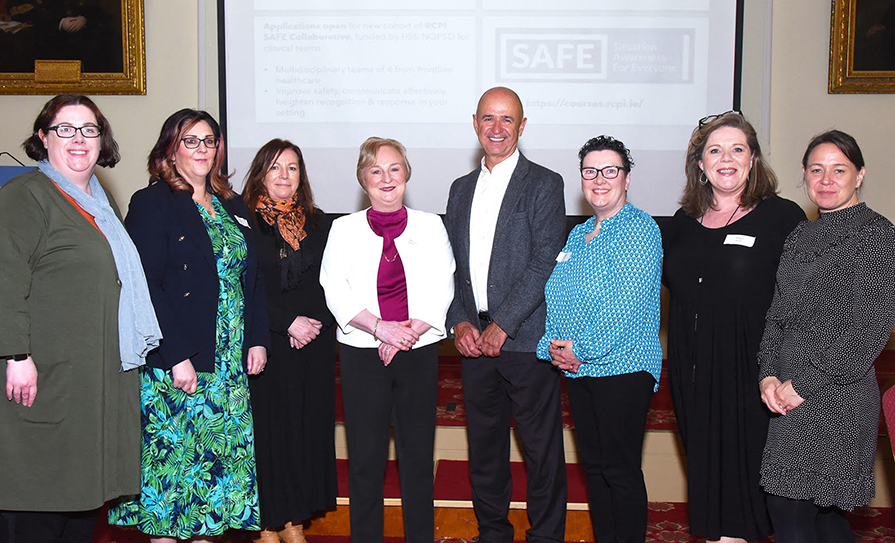 RCPI SAFE Sustainability WorkshopDr Dervla Hogan, Yvonne Young, Blathnaid Connolly, Maria Lordan Dunphy, Dr Peter Lachman, Mary Bedding, Rachel McDonald
The RCPI's S.A.F.E. programme equips participants with the skills to engage and empower patients and colleagues to improve patient safety
The RCPI hosted the first S.A.F.E. sustainability workshop in May 2023 at No 6 Kildare Street. The event brought together past participants to share their experiences and ongoing commitment to Situation Awareness For Everyone (S.A.F.E.) in their hospitals.
S.A.F.E. is a six-month collaborative patient safety education programme designed and delivered by the RCPI and funded by the HSE National Quality and Patient Safety Directorate. The programme supports multidisciplinary clinical teams to integrate patient safety methodologies into their daily work.
Now in its sixth year, the RCPI is recruiting teams for the 2023-2024 S.A.F.E. programme.
The S.A.F.E. sustainability workshop provided an opportunity to explore the success of the programme so far, with a renewed focus on empowering teams to spread and share their learnings about patient safety in their hospitals and to scale up within hospital groups.
Dr Peter Lachman, Faculty Lead for the S.A.F.E. programme, opened the workshop with his vision for patient care empowered by the S.A.F.E. methodology.
"S.A.F.E. is for everyone," he said. "Doctors, nurses, patients, physios, pharmacists… everyone that interacts with people in their care in the medical setting."
S.A.F.E. equips participants with the skills to engage and empower patients as people and colleagues to improve patient safety, to anticipate and respond to risks, to learn and use available information on patient safety, and to lead and inform governance on patient safety issues. It flattens hierarchy and co-produces patient safety.
The programme achieves this in a practical way with participants delivering a bespoke safety huddle initiative to enhance interdisciplinary team communication and address specific patient safety concerns.
"The S.A.F.E. programme integrates the latest version of the Irish National Early Warning System (INEWS), published by the HSE's DPIP [Deteriorating Patient Improvement Programme Partnership] in 2020, with up-to-date safety theory and methodology, particularly moving from reacting to events towards the proactive anticipation of potential harm or deterioration," Dr Lachman said.
"Anticipation of potential deterioration is essential and the INEWS is a valuable tool to assist in the assessment. It involves proactive management of risk to enable the earlier recognition of the potential for deterioration using clinical judgement, situation awareness, and an appropriate tiered response model. This year we will concentrate on how the S.A.F.E. programme can help clinical teams implement the national patient safety strategy."
S.A.F.E. focuses on consistent collaboration and information sharing.
As Dr Lachman says: "When it comes to patient safety training and education, a once-off learning session or course is not enough. You need regular boosters of learning, just as you do for immunisation for influenza."
Safety huddles
Regular safety huddles facilitate the identification of potential risk and are one of the key interventions that can increase situation awareness. Safety huddles are regular and quick meetings of the multidisciplinary team focused on patient safety. In many hospitals, safety huddles have become a staple part of everyday practice.
Ms Susan Jacob, Acting Clinical Nurse Manager (CNM) 2 at Cork University Hospital works in the acute medicine and neurology ward. Ms Jacob was a driving force in establishing the safety huddle on her ward as part of the S.A.F.E. programme.
The aim of their huddle was to identify clinically deteriorating patients earlier and to reduce the number of people experiencing cardiac arrests on the ward. Speaking at the event, Ms Jacob explained that everyone on the ward participates in the huddle, which is hugely important in determining success.
The huddle implemented a system of identifying 'watchers'. This is to look out for "a patient who has cues for caution, ie, patients on the ward who are or could be high risk; for example, a person with an unfamiliar or complex condition, with unfamiliar or complex treatments or with communication difficulties, or people who are 'outliers' and not placed in the best ward for their clinical condition".
Patients can be identified as 'watchers' too. The huddle empowers any member of the care team to speak up about a concern and enables the identification of any risk factors. This supports early escalation of care as required to the right team or the high dependency unit if needed.
As a result, Ms Jacob reported improvement in care, fewer incident reports, fewer medication errors, and a significant decrease in the number of people experiencing cardiac arrests on the ward.
Saolta
S.A.F.E. is not just about patient safety. There is also a strong and important focus on team safety. Director of Paediatric Nursing Ms Siobhan Horkan; CNM 3 Paediatric Quality Improvement Ms Catherine Sheridan; and Clinical Director of Paediatrics Dr Hilary Stokes, spoke on behalf of the five paediatric teams in the Saolta University Health Care Group that have so far attended the S.A.F.E. programme. They described the development of the programme in their Hospital Group over the five years since the first team attended the initial S.A.F.E. programme.
They affirmed that a multidisciplinary, inclusive team approach is vital to bring everyone together and tackle any disjointedness. Doctors, nurses, medical trainees, and other staff can join the huddle in person or remotely, making it much more accessible to participate.
"We run our huddle seven days a week and aim to include all the key people – that means everyone who contributes to patient safety and care on the ward. We've also found it beneficial to give everyone a chance to lead the huddle. And, of course, the huddle has to be a safe place to ask questions and give feedback."
They have developed a group-wide safety huddle script, which will be implemented in all paediatric wards in Saolta hospitals in 2023. In addition to focusing on clinical patient safety questions, interdisciplinary teams are asked: "Does everyone feel safe?" and "Does everyone know their role?" The bespoke huddle provides a safe space to discuss these complex topics and has contributed to their teams' success.
Become part of the S.A.F.E. collaborative
When you join the S.A.F.E. collaborative, you will work within your teams with expert faculty to achieve the following aims:
Implement the national patient
safety strategy;
Reduce avoidable error and harm to acutely unwell patient;
Improve communication between individuals involved in patient care; and
Improve culture and enhance psychological safety for healthcare staff.
S.A.F.E. is delivered as a six-day blended learning programme. Teams will attend two full-days in person and four half-days virtually via zoom. All learners are expected to attend each session with their team and conduct a safety huddle implementation or improvement initiative in their workplace.
Your team should consist of four members: A consultant; a senior nurse or midwife; and two others. Managers are welcome to join the teams. Teams can be hospital or community-based.
The RCPI is currently accepting applications until 8 June 2023.
Learn More: https://courses.rcpi.ie/product?catalog=Situation-Awareness-For-Everyone-SAFE.
This article was produced by the RCPI.
Pictured L-to-R:Dr Dervla Hogan; Ms Yvonne Young; Ms Bláthnaid Connolly; Ms Maria Lordan Dunphy; Dr Peter Lachman; Ms Mary Bedding; and Ms Rachel McDonald