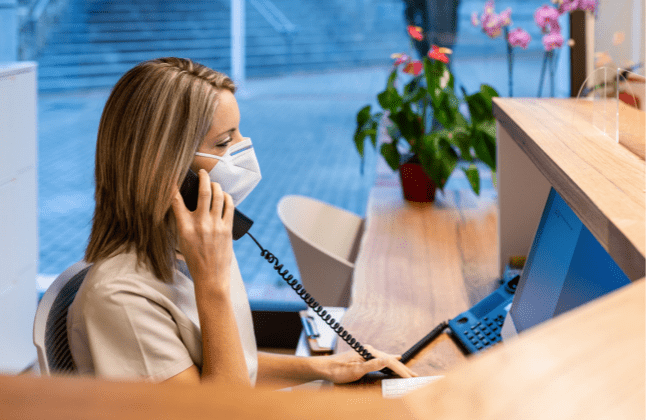 Dr Rachel Birch, Medico-Legal Consultant at Medical Protection, explains how clear policies, procedures, and training
can help receptionists avoid conflict with patients
The role of receptionists in general practice is vital and will have been particularly challenging following the changes in how general practice provides services to their patients during the Covid-19 pandemic. Unfortunately, the receptionist can sometimes be seen by patients as an obstacle to their seeing their GP, particularly where there is a lack of patient understanding around any restrictions in the current appointment system or changes to the system.
For example, many practices have been operating a system whereby all patients who contact the practice will normally be assessed by a clinician via teleconsultation first, rather than asking patients to attend the surgery in person.As the demand for GP appointments is ever increasing and with changes in how the practice operates, this in turn intensifies the job demands of receptionists and the potential for difficult interactions or communication breakdowns, which can result in a complaint.
Increasing pressure on general practice could also result in receptionists attempting to make clinical decisions. This could result in a complaint or can contribute to events which lead to patient harm and a clinical negligence claim against the practice. The case study below highlights an example of this.
Top tips to support receptionists
Without doubt, this type of job requires key skills including patience, resilience and good communication. But reception staff also need training so they can handle a range of situations effectively, alongside clear policies and procedures. This will help to ensure they understand the scope of their role. Getting these things right could help to avoid difficult interactions with patients escalating, mitigate complaints, and even reduce the chance of a claim.
Be clear on roles and responsibilities
It is important to ensure that practice staff are clear on their areas of competence and their roles in a triage protocol.Reception staff should never provide clinical advice or make a diagnosis no matter how experienced they are. But they should be trained to signpost the patient to a correct clinician or to an emergency service. They should know how to determine the need for an urgent/same-day appointment or the need to interrupt a GP for advice. To determine the severity of a patient's case, receptionists will need to ask about the nature of a patient's problem. Although patients do not have to disclose any information if they are not comfortable, it should be clearly explained to the patient the reason for requesting this information.
2. Be clear on when it is acceptable to interrupt a GP
GPs need to be accessible and approachable to their colleagues. When GPs are dealing with back-to-back consultations, it can be difficult for reception staff to approach them. Interruptions may inadvertently cause the doctor to lose their train of thought and may also result in a breach of confidentiality. However, measures must be taken to ensure that the receptionist can contact a doctor to deal with clinical queries. Guidelines should be provided detailing the reasons or situations when interruptions are acceptable and when they are not.
Interruptions should always be kept to a minimum and staff should make use of an internal electronic message system for urgent messages.
3. Ensure staff are aware of how to deal with persistently abusive or disruptive patients
A Medical Protection survey1 found that onein-three doctors, including GPs, have experienced verbal or physical abuse from patients or patients' relatives during the pandemic. It is highly likely that many of these patients and relatives may have directed their frustration at reception staff too. Practices should have guidance in place for managing patients who display intimidating or aggressive behaviour. Practice staff should be familiar with it to ensure that problems are dealt with in a professional and consistent manner and in accordance with the practice policy.
Staff should be supported if they have been faced with unacceptable behaviour from patients and incidents should be reported via the practice incident reporting system. Adequate warnings must be given to the patient and documented in the patient's records.
When faced with a very difficult patient, it is important that receptionists are encouraged and trained to maintain a calm demeanour and apologise when mistakes or misunderstandings occur. We know that dealing with demanding patients can be difficult and time consuming and apologies are a valuable tool. An apology can take the heat out of the situation and help to prevent the situation from escalating further. They should avoid getting into an argument and try to explain the procedures or policies at the practice.
Removing a patient from the practice list would be the last resort. But you may well feel that persistent aggression, violence or abusive behaviour are grounds to end your relationship with a patient. You should ensure that you follow the correct processes to minimise the risk of a complaint.
The Medical Council2 advises that, if doctors feel unable to continue to care for a patient, they should advise the patient of this, being mindful that they still have an ethical duty to continue to care for the patient until alternative arrangements for their care are put in place. Doctors still remain under a duty to always provide care in emergency situations. They should facilitate transfer of medical records, with the patient's consent, to their new GP.
For GMS patients, doctors should advise the HSE that they are removing the patient from their list and the reasons why, as well as informing the patient in writing that the HSE will make alternative arrangements for their care.It is important that reception staff are made aware if steps have been taken to remove a patient from the list, and what action to take if the patient contacts the practice, to ensure consistency in the approach. They must also be aware that doctors remain under an obligation to provide emergency care and they should escalate any concerns to the GPs appropriately.
4. Encourage team-wide discussion about difficult interactions
It is helpful to have regular team meetings, which include all members of the practice team. Encourage discussions around difficult interactions with patients, be it on the phone, on the front desk or during the consultation. Such discussions present the opportunity for GPs and practice staff to learn from one another.
5. Ensure receptionists have regular and appropriate training
We know that good communication skills are the cornerstone of effective and safe clinical care, therefore training in communication skills for receptionists is crucial. It would be beneficial for receptionists to be aware of verbal and non-verbal communication, as well as understanding cultural nuances. Effective communication is not all about what you say; how you say it is also very important.
Receptionists – your unsung heroes
Receptionists play a key role in maintaining efficiency and productivity as well as excellent patient relationships. GPs and practice managers must understand how their receptionists' roles have evolved and provide appropriate support. Daily challenges faced by receptionists must be acknowledged and they should feel reassured and be able to escalate
any concerns. With the right systems in place, practices can mitigate medico-legal risks even in the most challenging environment.
Case study
A 60-year-old man was recovering from heart surgery and woke up one morning with a severe headache. His wife rang the practice to request a blood pressure check as she was concerned that this might be the cause of the headache. She
was told by the receptionist that the practice was not offering routine blood pressure testing due to Covid-19 restrictions, and while trying to be helpful, the receptionist suggested that the patient could monitor his blood pressure at home for a few days if they had a machine.
The patient's wife stated that she was not offered any alternative or an appointment with the GP. Unfortunately, later that day the patient suffered a stroke and was admitted into hospital. The wife wrote to the practice to complain
that the decision whether or not to monitor his blood pressure should have been made by a clinician rather
than a member of the administrative team. The patient also instigated legal proceedings against the practice for clinical negligence.
References
www.medicalprotection.org/ireland/
about/media-centre/press-releases/pressreleases/1-in-3-doctors-suffered-abuse-duringcovid-19
www.medicalcouncil.ie/news-andpublications/reports/guide-to-professionalconduct-ethics-8th-edition.html