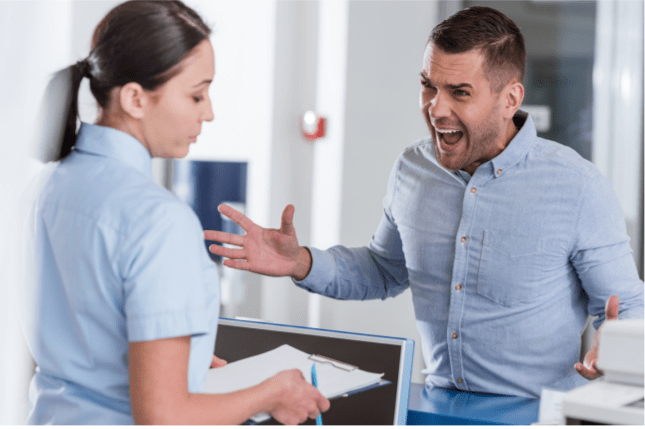 Dr Michael Devlin, Medical Defence Union, Head of Professional Standards and Liaison, provides advice on how to deal with aggressive patients
Staff shortages, overcrowding and exceptional patient demand are some of the factors that have contributed to a pressure cooker atmosphere in many healthcare settings, which is taking its toll on staff and patients alike. Sadly, one consequence of this is a growing number of violent incidents and assaults on healthcare staff.
According to figures from HSE's National Incident Management Scheme, which were obtained by the Irish Nurses and Midwives Association, more than 8,667 staff reported physical, verbal, and sexual assault in the workplace in 2020. This compares with more than 1,000 reported assaults in 2019 and 948 in 2018. These alarming figures are likely to under-represent the actual number of incidents.
Of course, this is not an exclusively Irish problem. The World Health Organisation (WHO) has noted that between eight per cent and 38 per cent of health workers worldwide suffered physical violence at some point in their careers, largely from patients and visitors. The WHO commented that this "not only had a negative impact on the psychological and physical wellbeing of healthcare staff, but also affects their job motivation.
As a consequence, this violence compromises the quality of care and puts healthcare provision at risk. It also leads to immense financial loss in the health sector." And in May 2021, The Guardian reported that "hundreds of healthcare workers treating Covid patients around the world have experienced verbal, physical, and sometimes life-threatening attacks during the pandemic" citing cases in India, Italy, Mexico, and the US.
While most patients and their families appreciate their skill and dedication, the possibility of encountering violence, intimidation or verbal abuse during their shift is an additional strain on healthcare professionals, who are already working long hours in difficult conditions.
Every healthcare organisation has a responsibility to protect frontline staff, but is there anything that doctors and
other healthcare professionals can do to help themselves?
Situational awareness
The first step is to be alert to factors that might make you more vulnerable. The Health and Safety Authority's guidance on managing the risk of violence and aggression in healthcare includes examples of employees that are at greater risk, including those who:
Provide care and advice for service users with risk factors, such as a history of alcohol or drug misuse or a physical or mental illness, which may cause them to behave unpredictably;
Tell people something they don't want to hear;
Work alone or work in the community;
Carry, handle or are believed to carry money, valuables (such as expensive equipment) or medication;
Work after normal working hours;
Are new, inexperienced or have not received the necessary training or developed the required skills.
Other typically high-risk situations include Friday and Saturday night in the emergency department, long waiting
times, or cases of street violence, which have the potential to spill over.
Recognising high-risk situations at an early stage means you can request additional support and security measures, in line with the Medical Council's ethical guidance. This says that "you should also take all reasonable steps to protect yourself and your colleagues when treating patients who may be violent or pose other risks to the health or safety of those caring for them" (paragraph 5.5).
Under the Safety Health and Welfare at Work Act 2005 employers also have a duty to ensure, so far as is reasonably practicable, employee safety, health, and welfare at work, including putting in place appropriate control measures to protect employees from violence and aggression.
The HSA guidance calls on organisations to have a policy to address workplace violence and includes examples of safety measures, such as a prominently displayed zero-tolerance and acceptable behaviour policy; restricted access to treatment rooms and staff areas; a visible security presence; and the issue of personal alarms.
Recognise warning signs
Patient aggression may seem to come out of the blue if you have missed clues such as body language. This can escalate from restlessness and agitation/irritability to verbal aggression, gestures and threats, and potentially damage to objects and physical assault.
For this reason, it is important for doctors and other healthcare professionals to observe a patient's manner as much as what they say (this applies to any relatives or friends in attendance).
If you notice warning signs early enough it may be possible to take steps to calm the situation. The HSA guidance recommends training for employees at risk in how to recognise the early signs of aggression, manage difficult situations and de-escalation techniques. If you have not been trained or are not confident in how to handle a particular situation, you should seek immediate support.
If you can, try to defuse the situation
As implied above, dealing with an aggressive patient takes care, judgement and self-control. The advice of the Medical Defence Union (MDU) is as follows:
Remain calm, listen to what they are saying, ask open-ended questions.
Reassure them and acknowledge their grievances.
Provide them with an opportunity to explain what has angered them. Understanding the source of their frustration may help you find a solution.
Maintain eye contact, but not prolonged.
Aim to position yourself between the patient and the exit, keep away from corners and know how to raise the alarm in an emergency.
If the patient has a weapon, ask them to put it down. Don't ask them to hand it over.
Use the panic button or call for help.
Leave the room and call security or the police.
If possible, move the patient to an area away from public view.
Even if a patient has been aggressive or you fear they may become violent, they cannot be denied necessary treatment as the Medical Council states that you can only consider refusing treatment in 'exceptional circumstances' (39.1). However, it may be reasonable and necessary to consider alternative arrangements for providing treatment, such as with hospital security or gardaí in attendance or close by.
If you have been assaulted
If the worst happens and someone attacks you during a shift or you witness an assault on a colleague or patient, you should raise the alarm immediately. Hospital security should respond to any immediate threat, but it would usually be appropriate to report assaults to the gardaí. They could ask you orthe staff member concerned to be examined by a forensic physician so that injuries are fully recorded and necessary samples taken.
Even if you do not want to notify the gardaí, you should still follow your organisation's reporting procedures to ensure that the incident is properly recorded and investigated. As mentioned above, employers have a legal responsibility to protect staff from harm. The HSA says that organisations must have clear procedures for employees to follow in the event of an aggressive or violent incident and that "employees should be encouraged to report all incidents of violence and aggression, however minor"
Hospitals should investigate violent incidents to determine the cause, learn lessons and identify trends. If a healthcare professional is unable to work for more than three days as a result, it must be reported to the HSA.
Finally, do not underestimate the effect a violent episode can have on those who experience it, especially when the initial shock has begun to wear off. Take advantage of any counselling services your organisation may offer and seek professional support if you are concerned about your mental health.
MDU members can contact us for further support and advice if encountering difficulties with aggressive or abusive patients.
MDU membership is open to consultants and doctors not currently in training posts working in public hospitals. To find out more information, visit www.themdu.com/ireland or follow us on Twitter @the_mdu