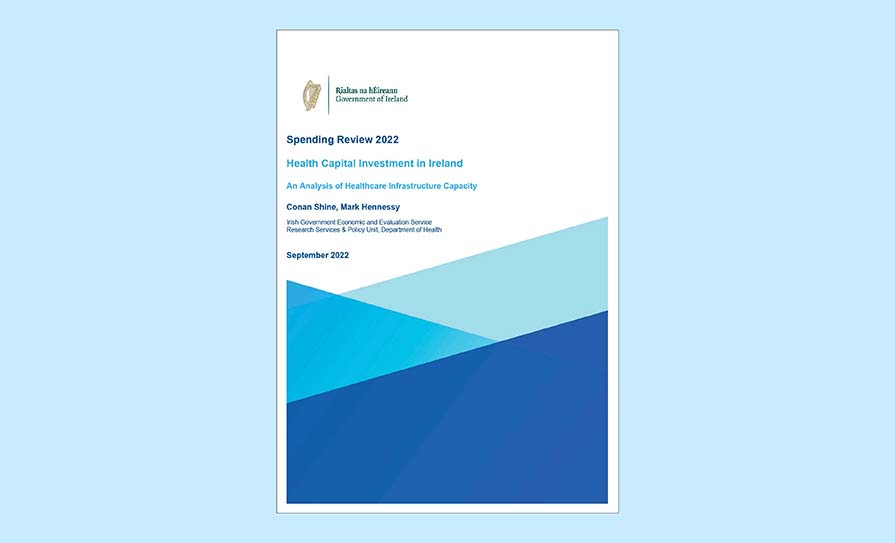 The fourth and fifth papers in the Healthcare Capital Investment in Ireland series were recently published as part of the 2022 spending review process to improve the evidence-base for policy decision-making.
The papers, which were produced by the research services and policy unit in the Department of Health, build on the analysis in the first three papers in the series, published in December 2021.
The initial papers identified a lack of centralised strategic direction for healthcare infrastructure investment historically. A key recommendation was the need for planned investment to better account for the long-term strategic priorities of the health system, while incorporating the existing capital stock profile and population needs by care setting and region.
To facilitate a more evidence-based approach to capital investment, it was decided at the end of 2021 that a strategic investment framework for health would be produced by the Department. This was to enable prioritisation of healthcare investment projects to address long-term strategic priorities. This framework, due to be published next month, is intended to better align investment with the needs of the health system, the Climate Action Plan, National Planning Framework, and National Development Plan.
The fourth paper, Analysis of Healthcare Infrastructure Capacity, provides an analysis of healthcare infrastructure as it relates to service capacity and provides insights into access to care, such as beds and radiological equipment by region.
The authors find that healthcare infrastructure capacity varies across the proposed six regional health areas (RHAs).
For instance, there is a variation in critical care unit (CCU) bed access by RHA adjusting for population. RHA A (North Dublin; Meath; Louth; Cavan; and Monaghan), B (Longford; West- meath; Offaly; Laois; Kildare; and parts of Dublin and Wicklow), and E (Limerick; Tipperary; and Clare) have significantly more CCU beds relative to population than RHA C (Tipperary South; Waterford; Kilkenny; Carlow; Wexford; Wicklow; and part of South Dublin), D (Kerry and Cork), and F (Donegal; Sligo; Leitrim; Roscommon; Mayo; and Galway).
"This variation is likely to be partially reflective of the presence of national centres of excellence in some regional health areas and the associated higher acuity care provided in these hospitals," according to the report.
It adds that the HSE is nearing completion of delivery of phase one of the strategic multi-year plan to expand adult critical care capacity with attention now focused on delivering phase two, which looks to ultimately deliver a total of 446 CCU beds.
There are also disparities found in relation to access to day procedures and radiological equipment by region.
The fifth paper is titled Analysis of Built Healthcare Infrastructure.
According to the paper, the age of both community and acute facilities varies significantly with a large proportion of portfolios built over 40 years ago.
Such evidence is essential in guiding investment, which needs to be provided on a more strategic basis than in the past. The concern is that the findings in the reports will not be acted upon. As Dr Eoin Kelleher's cartoon in this issue shows, successive Ministers for Health and the Department they lead have the habit of putting off implementation in favour of re-examination.