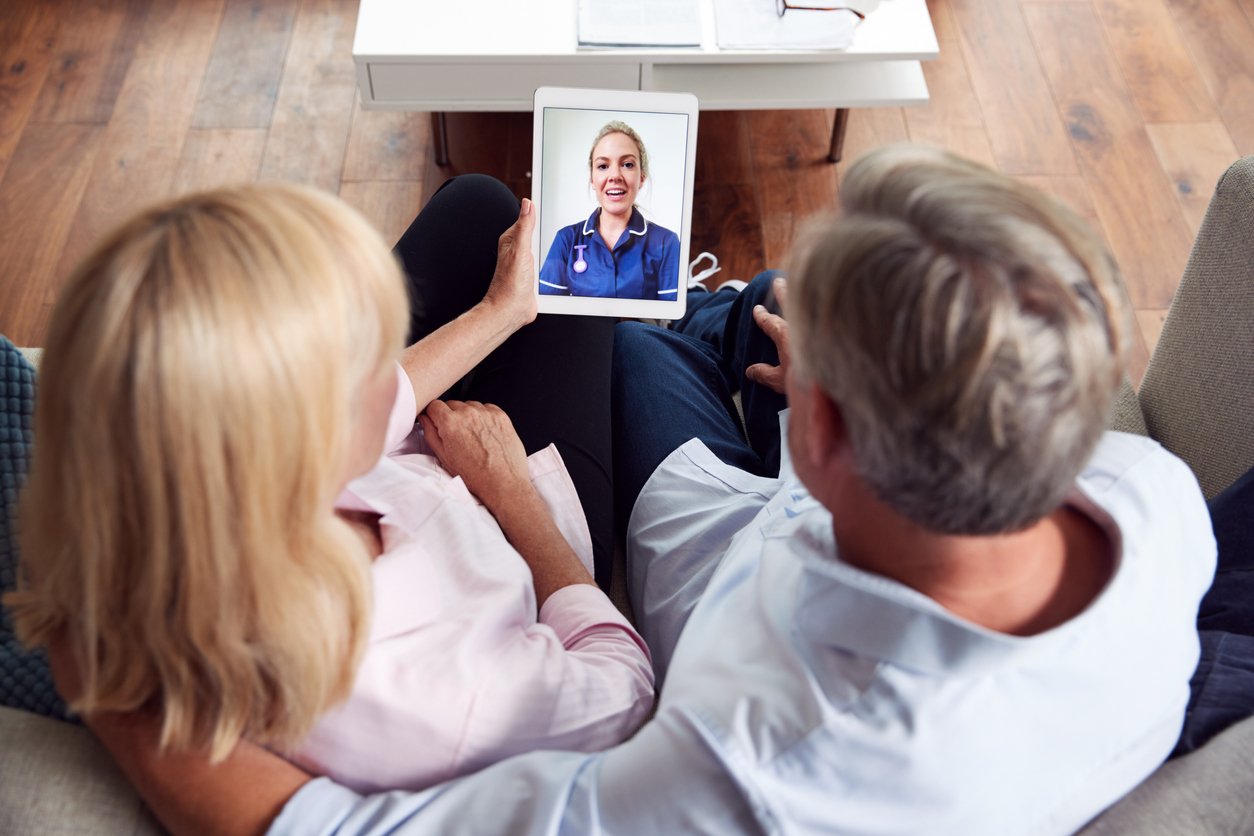 Mature Couple Having Online Consultation With Female Nurse At Home On Digital Tablet
At the end of last year, the Medical Protection Society (MPS) issued the results of a survey on the subject of doctors' attitudes to telemedicine.
According to the survey, many medical professionals are worried that if there is an expectation for more appointments to be delivered remotely after Covid-19, some vulnerable patient groups may get left behind.
The survey, which received 361 responses from doctors in Ireland, found 64 per cent of respondents agreed that the benefits of telemedicine have been "unquestionable" during the current Covid-19 pandemic and that it will remain a fundamental tool in practice.
However, 79 per cent raised concerns about patients whose access to remote services may be impacted by factors such as digital literacy, disability, language, location or internet connection.
MPS stated 80 per cent of the doctors surveyed said they are concerned that if some patients feel excluded from telemedicine, this may result in a breakdown in the doctor/patient relationship, or conditions being left untreated.
Also, 78 per cent said they are generally more worried about missing something in a remote consultation, with 64 per cent saying they are more worried about a claim or investigation arising.
In November 2020, the Medical Council reported a five-fold increase in the use of telemedicine in Ireland since the start of the pandemic. According to the Council's research, more than a fifth of the adult population (21 per cent) indicated that they had used telemedicine by October. When the previous comparable research was undertaken in March of last year, the level of usage was just 4 per cent.
Perceptions of telemedicine are positive, with up to half of respondents happy that they don't have to attend a particular practice and exactly half indicating that it is more convenient for them. However, only one-in-three agreed that it necessarily meets their care needs.
The research also found those who said that they were less likely to be frequent users tended to be older, from less affluent backgrounds, and female more so than male. The Council said it is looking at the regulatory challenges presented by the increase in the use of telemedicine.
The current surge of Covid-19 is extremely concerning and the priority once again is preventing the country's capacity-deficient health service from being overwhelmed. Curtailments in non-essential services in adult hospitals have been introduced once more, in order to cope with increasing Covid-19 admissions.
The role of telemedicine has never been more important than it is now, offering patients the chance to link with their GP or specialist without the need to attend their general practice or hospital.
Even when the current surge is over and more of the population gets vaccinated, remote consultations are likely to be more of a feature in the healthcare landscape than they were before the pandemic.
After the current crisis abates, the future role of telemedicine will be one of the many topics to discuss, as society and the health service plan to recover from the past gruelling year.