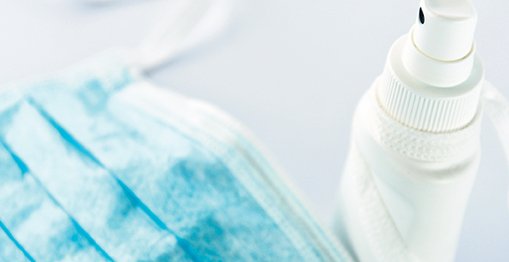 Medical mouth guard recommended by doctors and disinfectant spray to protect against the spread of viruses and bacteria such as coronavirus and epidemic.
ne of the most worrying trends in the spread of Covid-19 in Ireland has been the outbreak of infections in nursing homes and other residential care settings. Given that older people are more at risk of serious infection and death from the virus, the presence of Covid-19 in nursing homes can be particularly devastating.
As of Tuesday 14 April, 187 deaths were reported to have taken place in nursing homes alone. This figure is likely to be an under-representation of the true number, as residents may have died with the virus, but the cause was not attributed to Covid-19.
The main feature article in our previous issue (13 April) examined the strain the pandemic is placing on the disability sector. In response to the pandemic, intellectual disability services were converting day centres into isolation units. The feature revealed how providers were dismayed by the regulatory requirements of this development.
A report from the London School of Economics, published on 12 April, showed that the high number of deaths occurring in care homes as a result of Covid-19 was a European, not just an Irish, problem.
In the five countries surveyed, including Ireland, approximately half of Covid-19 deaths took place in these settings. The spread of Covid-19 in the residential care sector has also been noted by the European Centre for Disease Prevention and Control (ECDC). Covid-19 not only threatens residents, but staff as well, with the lack of personal protective equipment (PPE) again an issue.
According to a statement from the national public health emergency team on 14 April, Chief Medical Officer at the Department of Health Dr Tony Holohan said: "We remain concerned about the prevalence of Covid-19 in nursing homes and residential care settings." Dr Holohan spoke of the need to take a more "proactive" approach to limiting the spread of the virus in these settings.
Earlier in the month, HIQA had opened an infection prevention and control hub to provide advice and support to social care services as they tackle Covid-19. The hub is available to providers and staff of nursing homes, residential centres for people with a disability, special care units and Tusla children's residential settings.
The initiative is designed to provide guidance on how to prepare for and manage a Covid-19 outbreak in a residential service, and offer advice on infection prevention and control measures when caring for a resident with confirmed or suspected Covid-19.
As a result of this spread, in addition to existing protective measures and financial supports, the HSE will put in place a 'co-ordinated national process' to identify the prevalence of Covid-19 across nursing homes and other residential healthcare settings, as recommended by the ECDC.
Also, a voluntary process has been agreed between unions and the HSE to allow healthcare staff to be redeployed into private nursing homes during the Covid-19 crisis, given the scale of the problem.
Will these measures be sufficient? Some say the provision of data needs to become more transparent. According to the CEO of Inclusion Ireland Mr Enda Egan: "It is… of critical importance that the data of Covid-19 in disability services is made available on a daily basis so we know the extent of the issue and are able to address it."
Trinity College Dublin researchers have already commented upon how the pandemic has uncovered 'ageist' attitudes in relation to the economic contribution that people aged over 70 make to society. The effort towards tackling Covid-19 infections in nursing homes and other residential settings will show how serious any new Government is about protecting our most vulnerable citizens.