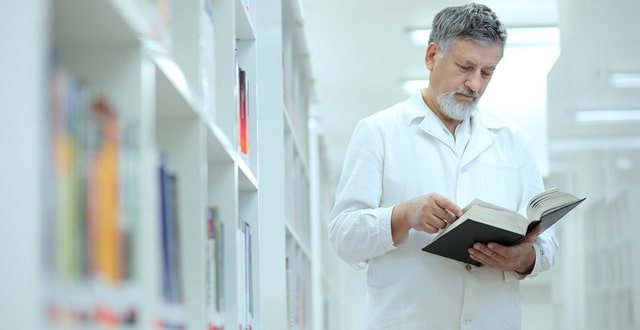 Renowned scientist/doctor in a library of research center/hospital - browsing a book
Is the value of patient experience surveys universally acknowledged? An editorial in the BMJ in 1999 argued that numerous studies of patient satisfaction had not resulted in the quality improvement many expected. However, the editorial went on to say that the development of sounder methods in drawing-up patient experience surveys meant that they should facilitate quality improvement in the future. Almost 20 years on, there are still some sceptical voices. An article in The Atlantic in 2015 titled 'The Problem With Satisfied Patients' said that an obsession with surveys has led some US hospitals to focus on making people happy, rather than making them well. The article says that surveys treat patients as consumers, rather than as, well, patients. A commentary in the New England Journal of Medicine from 2013 noted that despite advances in the field, there was no consensus regarding the "legitimacy" of patient experience surveys in terms of quality assessment. Also, it said there was still no common approach for even defining 'patient satisfaction'. And an article published this year in the BMJ warned against the dangers of bias, stating that designers of patient satisfaction surveys "should avoid using all positively-phrased statements".
Getting feedback from patients about their experience of hospitals and healthcare can only be a good thing. Historically, a huge problem in healthcare was that patients have not been listened to enough. The HSE has also usefully published its response to the two HIQA surveys to show the service improvements it has put in place as a result of the documents. But it is worth being critical when we hear about 84 per cent satisfaction ratings. A breakdown of the results show 64 per cent of non-emergency patients reported 'a very good' experience, compared with 51 per cent of people whose admission was in an emergency. Note that the survey took place in May. Would the satisfaction ratings have been different if patients were questioned in late December or early January during the annual winter overcrowding crisis?