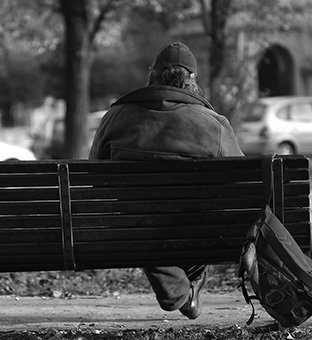 Homeless on a park bench
n our last editorial, we focused on how healthcare was the most important issue for the electorate based on an Ipsos/MRBI exit poll. After healthcare, the most important issue was housing. Like healthcare, housing is a wide area. It encompasses everything from someone trying to buy their first home, to the growing problem of homelessness.
During the election campaign, the news that a homeless man sustained serious injuries when a Dublin City Council vehicle removed his tent on the Grand Canal while he was still inside symbolised for many the Government's perceived disregard for the homeless population. According to Focus Ireland, homelessness has increased by 280 per cent since December 2014. The figures do not include the large amount of people who are sleeping rough.
Being homeless also carries significant dangers for a person's health, which a feature in this issue explores. People without a home often experience complex and chronic health conditions, including mental health and addiction issues, and face barriers in accessing appropriate healthcare. They also have more visits to emergency departments, longer inpatient stays and use an estimated 20 times more hospital bed days.
In an under-resourced healthcare system, there is a danger that this vulnerable group is at risk of further marginalisation.
In spite of the need for more support for the area, there have been admirable initiatives to provide healthcare to Ireland's homeless community. Safetynet Primary Care was set up in 2007 as a network for health professionals and organisations working to improve healthcare access for homeless people. Under the stewardship of Dr Austin O'Carroll, this service has been essential in meeting the community's healthcare needs, which grew more pressing when the country was in the midst of a recession.
More recently, there has been the Inclusion Health group, based in St James's Hospital, and the Mater Misericordiae University Hospital. The group, which is led by Dr Cliona Ní Cheallaigh, a Consultant in General Medicine and Infectious Diseases at St James's, is among the first of its kind in the world. It recognises the complex medical and psychosocial needs and health inequalities experienced by marginal populations, including homeless people. The group's multidisciplinary team has achieved promising results, with reductions in the rates of admission, readmission, and lengths of stay.
At present, it is still run on a pilot basis, but there are hopes the service can be eventually extended to other hospitals throughout the country. This, of course, will require funding and support. However, it is even more essential to address the root cause of the problem. This is an era which increasingly recognises the importance of prevention. The best way ultimately to improve the health of the homeless community is to ensure that the shortage of social housing is addressed and an adequate policy is developed to reduce the numbers of people without a home.