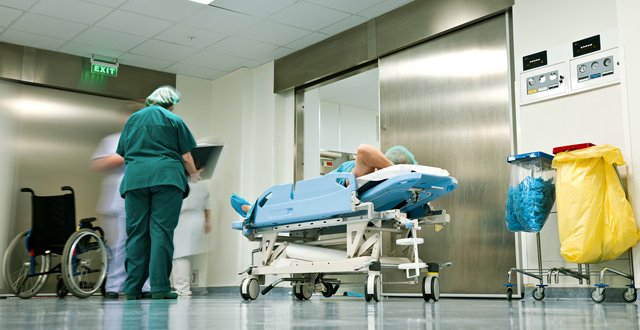 When trolley numbers hit an appalling record of 677, according to INMO figures of patients waiting for admission on trollies and wards on 3 January, it highlighted once again how fragile and unstainable the state of our hospital system is.
It is now over 10 years since former Taoiseach Enda Kenny infamously declared on election billboards that he would "end the scandal of patients on trolleys", and things have only deteriorated since then.
High trolley numbers and long waits in emergency departments (EDs) have been a consistent issue in our health service for many years, through recession and recovery, with ED nurses and doctors long past breaking point.
Recent years have seen grand announcements of HSE Winter Plans, the ED Taskforce, the ED Congestion Escalation Directive, which makes it compulsory for each acute hospital to take specific steps to address overcrowding if trolley figures reach 'red' status, and the latest Budget 2018 overcrowding and homecare package, but none of these measures have made a real, sustained impact on the trolley crisis – as became crystal clear during this month's peak ED season.
Yet persistent myths about the trolley crisis remain. Those who work in the health service know that it is all about capacity; beds and staff, and is not a problem confined to the ED, which more ED staff and less community referrals will resolve, as some commentators would have us believe. It is also hard to listen to statements on extra beds that have been opened and staff that have been recently hired, when taking a closer look at the figures reveals that many acute beds remain closed due to staff shortages and other reasons, and nurse and doctor recruitment drives have failed to deliver anywhere near their hiring targets, not to mind the retirement and exit of many frontline staff.
The issues behind and solutions to our ED crisis have been clearly signposted for many years by those working in the acute system.
There were repeated warnings by health staff about what would unfold this month so political declarations that it is 'totally unacceptable and all efforts are being made to address it' are hard to swallow. The trolley crisis is now a year round phenomenon, but only really generates the current glaring media focus when we hit new records like 677 patients on trolleys – with little mention of the thousands of patients who do not need admitting languishing for hours in EDs for treatment or those whose operations and appointments have been cancelled to desperately free up beds and staff to care for those on trollies. Cancelled operations and longer waiting times for inpatient and outpatient appointments are naturally being exacerbated by the trolley situation, in a vicious cycle we seemed doomed to endlessly repeat.
While remaining unpublished at the time of going to press, the long awaited bed capacity review recommends a significant increase in bed numbers across the HSE, Minister for Health Simon Harris acknowledged recently. The question is whether the purse strings will be loosened at Government level to implement its recommendations and improve the contract terms and conditions of the medical staff we are currently unable to sufficiently recruit and retain. Like the trolley crisis not being confined to the ED, the ability to resolve it lies at a whole Government level, not just a HSE and Department of Health level. Where is the declaration – and resultant resources – of a national emergency?
The trolley madness must end. Patients and healthcare staff deserve so much better. It is not an impossible task but it needs a far stronger approach than the inadequate, failed attempts to-date.