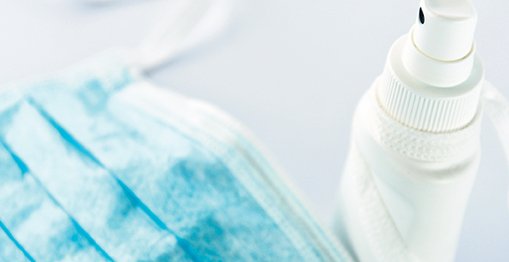 Medical mouth guard recommended by doctors and disinfectant spray to protect against the spread of viruses and bacteria such as coronavirus and epidemic.
Over three months since the lockdown, the desire for things to go back to normal is more than understandable. The plans to reopen society promise a relief from the enforced claustrophobia we have all endured since March.
This desire for normality, or as close to normality as we can get, should not bring with it complacency. We only need to look abroad to see the risks lifting lockdowns can bring. South Korea, which was widely lauded for its handling of the Covid-19 crisis, is experiencing a second wave of the virus in Seoul and its environs. At time of writing, its government authorities have announced that strong physical distancing measures will have to be reimposed if the number of daily cases continues to climb.
Germany has announced lockdowns in two regions following an upswing in cases. The lockdown in the Guetersloh region was imposed after a novel coronavirus outbreak at an abattoir in the town of Rheda-Wiedenbrueck that left more than 1,500 workers infected.
In our last editorial, the question was posed whether Ireland should follow New Zealand's policy of elimination after the country declared itself free from the pandemic. Well, this situation did not last very long, with new cases emerging as a result of people flying into the country. Stricter border controls are now being put in place to contain the spread of the virus.
It all goes to show the difficulty in achieving stability during this pandemic. While there has been a lot of talk of the 'new normal', this has been in relation only to the initial months of lockdown. The disruption of society opening, then closing, then opening and closing again, and so on, will mark another evolution in this reality that is still being defined.
While disruption is inevitable, it can be limited. Which brings us to the controversial issue of face masks or coverings. According to Amárach research conducted on behalf of the Department of Health, there has been an increase in the percentage of adults wearing face coverings, up from 34 per cent to 41 per cent, across all demographic groups. However, Dr Ronan Glynn, Deputy Chief Medical Officer, Department of Health, said while it was encouraging to see an increase in the number of people wearing face coverings in public places, 41 per cent was a "significantly lower uptake when compared to our other recommended behaviours, such as hand washing (92 per cent) and physical distancing (91 per cent)". The Chief Medical Officer Dr Tony Holohan said people needed to "do better" on wearing face coverings. The emphasis on responsibility, at official level, appears to be placed on the public.
But what of the Government's role? Until recently in Ireland, face masks were only recommended to be used in public settings where social distancing was not possible, even though in many regions they had been made mandatory to contain the threat of a second wave of the virus. In the UK, which has been rightly condemned for its chaotic Covid-19 response, face coverings have been mandatory for people taking public transport since 15 June.
Finally, it was revealed on Wednesday 24 June that Ireland would introduce the same measure, with face masks to be made compulsory for people taking trains and buses. The move is welcome, but education and direction are now required on the proper usage of masks, and to raise awareness about their effectiveness.
While the evidence on face coverings has been shifting, and, at home, the tortuous process of forming a new Government has led to a power vacuum, stronger leadership is required on this issue as the country moves toward reopening. It isn't acceptable to place the blame on the public for non-adherence when official messaging on the use of coverings has been weak in comparison to other countries.
As the Chief Medical Officer admitted, people don't like wearing masks. While most of us have always washed our hands, wearing coverings in public is different. It is a huge change in behaviour and a visual reminder, when we go shopping or take a train, that the world has changed, as much as we wish that everything would return to normal.