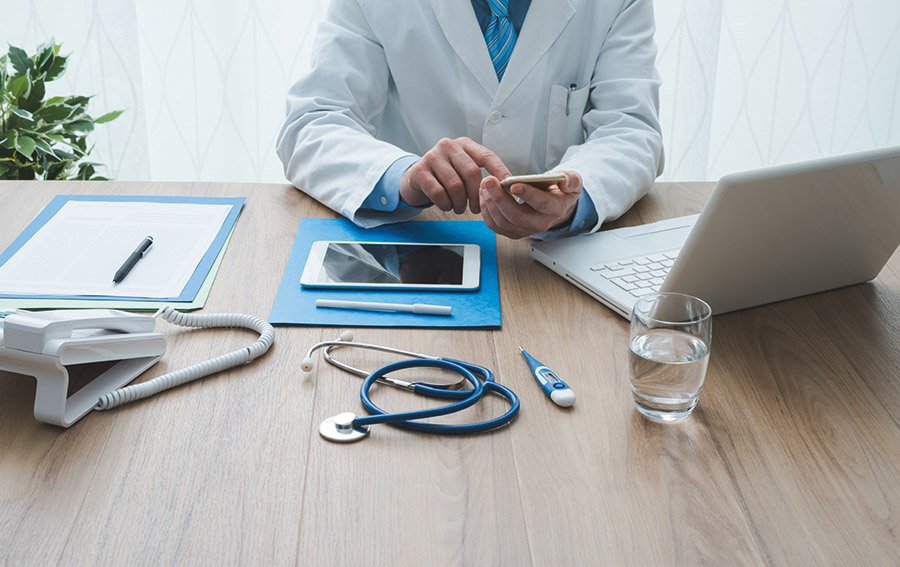 Professional doctor working at office desk he is using a smartphone healthcare and technology concept
Consultations can still be 'small miracles', even with video technology
"If one wishes to be master of an art, technical knowledge is not enough. One has to transcend technique so that the art becomes an 'artless art,' growing out of the unconscious."
— DT Suzuki (1870-1966), Zen Master.
Dr Roger Neighbour, OBE, GP, practising Buddhist and author of the seminal book The Inner Consultation, shared the above quotation at the Royal College of General Practitioners' Annual Conference last year. Neighbour was, of course, talking about the consultation. It is the beating heart of every GP's practice, where everything begins and ends. Neighbour reminded us of the many models of the consultation: Byrne and Long, Stott and Davies, Pendleton, and one of the most recent, the Calgary-Cambridge, which has no less that 71 individual components. Models can be helpful, he said, but as all experienced GPs know, they do not guarantee an effective consultation. There is no formula for what GPs do every day. In Neighbour's opinion, "a skillful consultation is a small miracle, where, through a combination of words and expertise, you can put together a conversation that for the patient is often life-pivoting."
These words, like so many others that he has written, capture the essence of the doctor-patient interaction, where little miracles often pass unnoticed in our busy day. I first read The Inner Consultation as a young registrar, struggling to find my feet in a new career, and immediately fell in love with both the author and general practice. Within the pages of that book, I learned that the challenges that I was experiencing were not unique. That if I learned to embrace my self-doubt, it would be the thing that helped me most to become the best doctor that I could be. Ever since then, I have returned to the writings of the modest, mindful, and self-aware Neighbour whenever I found myself questioning the meaning and purpose of the work I do, and asked myself, 'what would Roger say?'
At the onset of the coronavirus pandemic, GPs were advised to provide remote consultations if possible. I followed this advice, but I was not prepared for the overwhelming feelings of self-doubt and destabilisation that arose when I stopped doing the thing that I valued most, among the myriad of tasks that I perform as a GP — the face-to-face consultation. How could anyone equate telephone and video consultations with the experience of a doctor and a patient sitting together in the privacy of the consulting room, where a look, a gesture, an altered tone of voice or a gentle touch could be as healing as medication?
 I spent the early days in a perpetual state of annoyance with the glitchy technology, pixelated images, dropped calls, poor coverage and computer crashes. Why did something work one day and not the next?  Sitting alone in my consulting room facing my computer screen, I did not feel like a GP.  My questions were closed, factual, directive and sharp. I was self-conscious on video and imagined that the patient felt the same. I was well outside my comfort zone and it was hard work. Much harder than the natural, easy exchanges of information that I was used to. 
With no way of examining the patient, I felt, at times, as if I was trying to crawl while missing one limb. My brain compared my recent virtual consultations with previous actual ones and kept up a persistent internal narrative that I was falling short every time, that this new way of working was just not good enough.
As the weeks progressed, I realised that incorporating remote consulting is not just a matter of implementing new technology. It is a complete disruption of thought processes and behaviours, a challenge to long-held values and beliefs. Mastering the technology is relatively easy; changing preconceived ideas about 'video doctors' is more difficult. But it is not impossible. In these extraordinary times, patients, more than ever, need to feel that they are understood, cared about and in safe hands. Once I set this as my goal, my self-consciousness disappeared, I smiled more, stopped worrying about camera freeze and noticed that gradually my consultations changed from interrogations to conversations. Remote consulting is challenging but in the times that I managed to transcend the technology and the physical distancing barriers, it was possible to experience again the 'artless art' of consulting. When doctor, patient and technology are aligned, even video doctors can achieve 'small miracles'.
Still, I could not help but wonder what Roger would have to say about this new practice, so one day I typed his name into Google. There, to my surprise, was a YouTube clip of the man himself, older than his book cover photograph, but recognisable all the same, offering 'Top tips for GP video consultations during Covid-19 pandemic'.
I still love that man.