Human joints vector icons for orthopedics and surgery medical design. Vector isolated icons of leg knee or arm and hand joints with cartilage synovial fluid for orthopedics treatment medicine pills
The specialty of rheumatology has established a registry of patients affected by Covid-19 to inform clinical practice, as doctors everywhere rapidly respond to the pandemic. Catherine Reilly reports
Rheumatologists around the world have collaborated to establish the Covid-19 Global Rheumatology Registry, which will collect de-identified information on rheumatology patients who contract Covid-19 to inform clinical practice (https://rheum-covid.org/).
The initiative aims to help guide specialists in the treatment and evaluation of risk of infection in patients on immunosuppression.
According to the Covid-19 Global Rheumatology Alliance Team, they were inspired by colleagues in the inflammatory bowel disease (IBD) clinical community who have put forth the helpful https://covidibd.org/ registry.
The Covid-19 Global Rheumatology Alliance Team is asking clinicians in their specialty to report to the new registry "any and all" cases of Covid-19 in rheumatology patients, including those with mild or no symptoms.
"We anticipate that completion of the case report form will take five-to-10 minutes and no protected health information is requested. We plan to use the relevant information from these cases to provide expeditious updates to the global rheumatology community."
The Irish Society for Rheumatology (ISR) has shared details of the initiative on its website (https://www.isr.ie/).
The ISR is an organisation of approximately 150 members with specialist training in rheumatology.
Members include consultants, trainees, scientists and researchers. The society has members based in the Republic of Ireland, Northern Ireland, the rest of the UK and some from further afield.
The ISR also promotes ongoing education and training in rheumatology at all levels.
ISR President Prof Geraldine McCarthy told the Medical Independent the global registry will be "very helpful" in learning more about the outcomes of rheumatology patients who contract Covid-19.
It is all part of the rapid response required of clinicians nationally and globally, in the face of a disease about which there is still much to learn.
Prof McCarthy said the country's rheumatologists, who comprise "a small community", have been discussing and sharing information pertaining to the Covid-19 situation.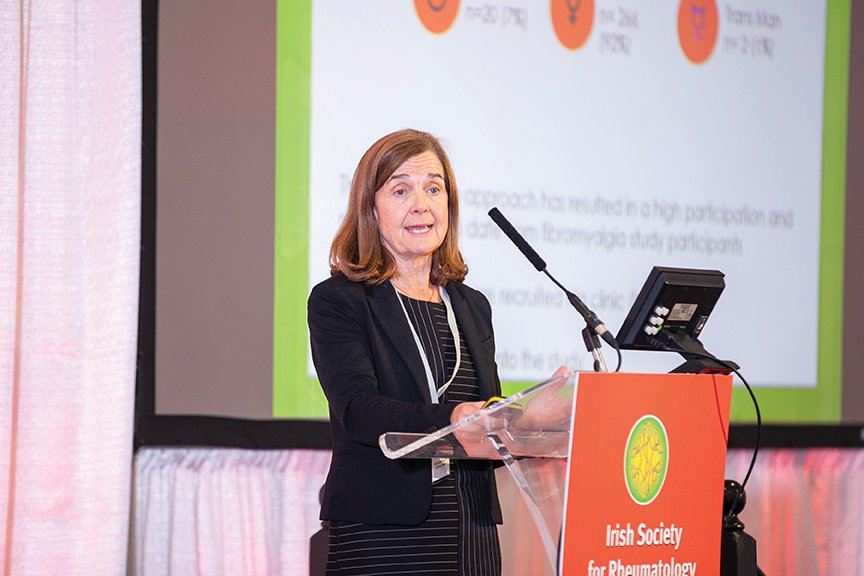 On 23 March, National Clinical Lead for Rheumatology Prof David Kane conducted a Q&A via the Facebook page of Arthritis Ireland for patients with queries in light of the current crisis. A recording of the interview with Arthritis Ireland CEO Ms Grainne O'Leary is available through the organisation's social media channels. Prof Kane urged patients to regularly check the website of Arthritis Ireland and the ISR for any updates.
Many patients in Ireland have been contacting their rheumatologists for advice on continuing immunosuppressive medication, confirmed Prof McCarthy, who is a Consultant Rheumatologist at the Mater Misericordiae University Hospital, Dublin.
The ISR has a specific section on Covid-19 on its website, which includes guidance for rheumatology patients.
"There is advice available through Arthritis Ireland and through the ISR – we have put advice on our website that doctors can share with their patients," explained Prof McCarthy.
"But many individual patients want the reassurance directly, which is very understandable. They want to know should they continue the medication or should they stop it, and the current advice is to continue it, but there may be individual patients that might, on balance, be advised to stop it; but generally not."
According to guidance on the ISR website (as of 18 March), high risk groups for severe Covid-19 have been identified as: Age over 70, chronic heart and lung disease, diabetes and active cancer.
The data from studies of the outbreak that identified these risk factors did not identify immunosuppressive treatments prescribed in rheumatology patients as a high risk factor for mortality.
"However, patients on immunosuppressives have a reasonable cause for concern as this is an infectious disease and we are monitoring data and international guidelines on the disease in order to best advise our patients," outlines the guidance.
At present there is "no known benefit" to stopping immunosuppressive rheumatology medication.
However, if a patient has stable disease they should discuss with their rheumatologist whether the dose of the immunosuppressive medication can be safely reduced during this pandemic.
Patients with symptoms of a viral infection – cough, shortness of breath, breathing difficulties, fever – are advised to continue steroids but stop their other immunosuppressives and seek advice from their GP or rheumatologist or consult the HSE website.
Telemedicine
The widespread cancellation of outpatient clinics across specialties has necessitated changes to clinical practice. Prof McCarthy confirmed that rheumatologists have been continuing consultations by remote means.
"Last week here in the Mater, I telephoned all the patients I was supposed to see. It worked out quite well. My philosophy is that if someone is really unwell and needs to come in to be assessed, I will arrange that, but I [generally] think it's in their best interests not to unless absolutely necessary."
There may be learnings in terms of greater use of telemedicine in future, where appropriate, according to Prof McCarthy.
"In the UK they have some clinics where they do it routinely. In some ways, it might change our practice forever. When you think of the patients who might have great difficulty getting in, and sometimes it is not necessary," commented Prof McCarthy.
Nevertheless, it is not the means through which she wished to routinely practice in the longer term.
Medications
Around the world, a number of drugs are being used experimentally to treat patients with Covid-19. Some of these medications are very familiar to rheumatologists, although in protocols relevant to the specialty.
"There are trials going on now looking at the potential benefits, in very sick Covid-19 patients, of tocilizumab. It is actually approved in China for use in this situation," noted Prof McCarthy.
Another drug prescribed in rheumatology, which is being used to treat some patients affected by Covid-19, is hydroxychloroquine.
"Many countries have guidelines which include the addition of hydroxychloroquine, including in patients who need hospitalisation, on the basis it might reduce the viral replication and shorten the severity and the length of the condition. "
The JAK inhibitor baricitinib is also being discussed for treatment of the "cytokine storm" that can occur in extremely ill patients with Covid-19.
In the above contexts, rheumatologists do have some concerns about potential drug shortages for their patients in the future.
Hydroxychloroquine, for example, is "not abundant in the country", stated Prof McCarthy. Some rheumatologists may be prepared to prescribe subcutaneous tocilizumab for rheumatology patients if necessary, in the event of a shortage of the intravenous product, she added.
Meanwhile, at the time of the interview, Prof McCarthy said there had not been any major disruption to rheumatology training.
At this point, it is hoped that the ISR autumn meeting will proceed as planned in September.
The spring meeting, scheduled to take place in Sligo on 2-3 April, was cancelled amid the public health emergency.