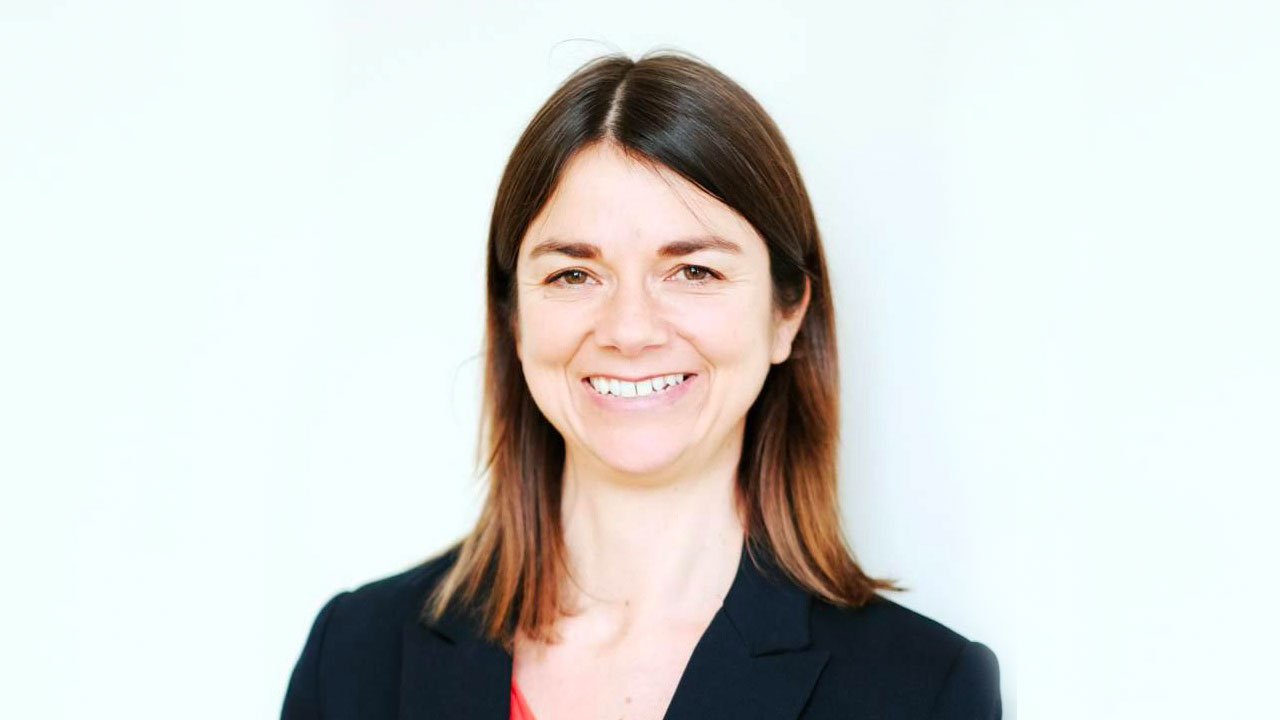 "It's really important to find the right consultant and get the right treatment, even if it means getting second opinions and not settling for one medical point of view"
A moving and uplifting presentation by a patient detailing her remarkable journey from being diagnosed with severe osteoporosis in her early 40s to full recovery was one of the highlights of this year's Irish Osteoporosis Society (IOS) Annual Medical Conference for Health Professionals, which took place virtually on 23 October. Ms Sarah Buckley, 48, from Dublin, shared her story about how she recovered from severe osteoporosis in her spine to achieve full bone health over a period of six years with a combination of medication, exercise, diet and lifestyle changes, and a full commitment to following professional healthcare advice. She was initially diagnosed with osteoporosis in her lumbar spine at the age of 41, following a DXA scan and blood tests as part of an investigation for suspected early menopause.
"My GP described it as mild and not requiring specialist care and prescribed a bisphosphonate (alendronic acid) and calcium and vitamin D supplements. The diagnosis was a shock as I'd believed that I was fit and healthy – I was very active, sporty, had a balanced diet and was health conscious. I thought that osteoporosis was something that affected only old women and not something to be worried about at my age. This really highlights that just because a person eats healthy and exercises, everyone needs to remember that it's a silent condition that can affect all ages, including fit and healthy people."
Though her GP advised that he would treat her, Ms Buckley was concerned about her spinal health because she has scoliosis and had had 12 vertebrae fused as part of corrective surgery when she was a teenager. She was thus referred to a rheumatologist, who she said took her off her alendronic acid, advising it was not necessary due to her age, low risk of fracture, and the fact she was not on a contraceptive pill. Despite continuing to maintain a healthy diet and lifestyle, with good calcium and vitamin D intake, over the next two years her yearly DXA scans showed the osteoporosis continued to deteriorate until it became severe with a T-score of -3.6 in the lumbar spine, which was an average of the four vertebrae. The rheumatologist prescribed a bisphosphonate (risedronate) and advised Ms Buckley to start taking a contraceptive pill, and reduce her exercise regime, which was difficult as she was very active with cycling.
Dissatisfied at being told she could at best expect her bones to remain stable, and being advised against using injections to treat her condition, Ms Buckley decided to seek further intervention. A new direction "A work colleague recommended that I go and see Prof Moira O'Brien for a second opinion and this was when things really started to change for the better in my journey back to bone health. Before the first consultation, I had a DXA scan, full bloods and completed a very comprehensive questionnaire to identify risk factors, covering medical history, diet, exercise etc. At the consultation, the Prof went through all my results in detail with me, including explaining DXA scan scores in my spine and hip, something that my GP and previous consultant hadn't done. She confirmed that I had severe osteoporosis in my lumbar spine with two stress fractures and osteoarthritic changes, often seen in cyclists, as well as moderate osteopenia in my hips." Ms Buckley was taken off risedronate and moved onto teriparatide, a daily injectable form of parathyroid hormone which improves bone density, to be taken for two years, along with continuing the calcium and vitamin D supplements. She also saw a dietician to make sure her diet was supporting bone health. The plan after the first consultation was to have repeat blood tests every six months and a repeat DXA every year. She was also given very clear advice on her exercise regime.
"I was to stop the long-distance cycling completely while recovering; focus on weight-bearing exercise; and avoid over-exercising, doing a maximum of one hour per day. She [Prof O'Brien] recommended that I see a chartered physiotherapist with an osteoporosis specialism to get a programme of strength and conditioning exercises tailored for bone health. "Though it was very upsetting to be told to give up the cycling – something that I loved – and I worried about my mental health as a result, the Prof warned that if I didn't do it, things could really deteriorate and I could be in serious trouble later in life mobility-wise. When I heard that, I knew that I had to follow the advice and do exactly what I was told, whether I liked it or not, and my motivation to get better long-term outweighed the short-term sacrifices." Another issue that needed to be addressed was her high cortisol levels, which were affecting her bone health, and lifestyle changes she could make to reduce stress.
High cortisol continued to be an issue picked up in blood tests, in spite of lifestyle changes, so Ms Buckley was referred to an endocrinologist. No clinical features of cortisol excess were found and the high levels were attributed to being on one of the combined oral contraceptive pills (COCP), which increases cortisol-binding globulin. She was changed onto a different oral contraceptive pill and her cortisol levels slowly came down to normal levels. The next stage in treatment was starting on a second osteoporosis drug, denosumab, taken as a six-monthly injection, as Ms Buckley's bone markers showed she needed it in order to get the maximum benefit from the teriparatide.
She started denosumab six months after starting teriparatide, so took the two drugs together for a period of 18 months until the teriparatide course was complete. Remarkable results "My DXA scan after year one of treatment under the care of the Professor showed a strong improvement. In my spine, I had improved from severe osteoporosis to marked osteopenia, with no additional fractures, and my hips improved from moderate to mild osteopenia. I was absolutely delighted with such a marked improvement and felt that all the sacrifices and hard work had really been worth it. "For the next three years my DXA results remained stable, with no change, which was very positive.
I was happy that I was on an even keel and that things were under control. I am currently still on Prolia, taking this every six months, as well as the calcium and vitamin D supplements, as I had improved on the DXA scan, but my bone markers showed I was still losing bone. I maintained the lifestyle changes and increased exercise to about an hour and a half per day, following the same programme and taking care not to over-exercise. I started back cycling again last year, covering shorter distances and not pushing as hard. The only additional change was starting to take a vitamin K2 supplement last year." Her latest DXA results in January 2021 were quite remarkable. "I am now completely osteopenia- and osteoporosis- free in my spine and hips and have recovered to normal bone density.
I never would have believed that this was possible at the start of my journey, having been told that the best I could hope for was that my bone density could be held where it was, in osteoporosis, and that the risk of fracture would increase as I got older. "I was looking at a life in fear of breaking bones, pain, losing mobility and a loss of my active life that was so important to me. With the right consultant, treatment and lifestyle changes – which were hard and took a lot of motivation and dedication – I got a result much better than I could ever have hoped for. I'm very positive about the future and intend to maintain the lifestyle changes to which I've now become accustomed. I look forward to a long and active life with continued bone health. Thank you to Prof O'Brien and the Irish Osteoporosis Society for your support with my journey."
Increasing awareness Speaking to the Medical Independent, Ms Buckley noted that osteoporosis is a complex condition and identifying the causes is key to putting the right treatment plan in place and reversing it, where possible. "In my case, a risk factor assessment indicated that the causes included over-exercising and doing non-weight bearing exercise only (cycling), an eating disorder in my teens, genetics (my Mum and sister also have it) and high cortisol, caused by being on the COCP, which increases cortisol-binding globulin." She believes that the key to her recovery was the combination of interventions: Medication; changing her exercise routine to focus on weight-bearing and strength exercises under physio care; changing the contraceptive pill she was on; and full commitment to following the treatment plan.
"It's really important to find the right consultant and get the right treatment, even if it means getting second opinions and not settling for one medical point of view." Ms Buckley stressed that clinicians need to be aware that younger women can also be affected by osteoporosis and that prevention of fractures is less painful and more cost-effective than treating multiple fractures. "The key message I would give is that young and healthy people can get osteoporosis; it is preventable and curable with the right treatment; and early treatment is definitely a better option than a life with multiple fractures, pain, and mobility issues in later life."