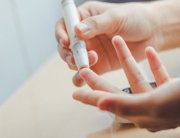 Close up of woman hands using lancet on finger to check blood sugar level by Glucose meter using as Medicine, diabetes, glycemia, health care and people concept.
Irish Endocrine Society, Annual Conference, 27 November 2020
This year's Irish Endocrine Society (IES) McKenna Lecture, which is awarded for an outstanding body of research that is carried out in Ireland, was delivered by Dr Donal O'Gorman, Associate Professor in the School of Health and Human Performance at Dublin City University, Interim Director of the National Institute for Cellular Biotechnology, co-lead of the 3U Diabetes Consortium and Associate Editor for the journal Diabetologia, who discussed 'how exercise and inactivity regulate insulin sensitivity'.
Prof O'Gorman's research focuses on whole body and skeletal muscle metabolism and he has been investigating the impact of exercise and inactivity on the development and prevention of type 2 diabetes for some time. His research essentially aims to advance the understanding of the cellular processes that are activated during exercise and how human cells adapt to exercise training.
"I've always been fascinated by the factors that underline that. What does exercise do? What happens to the body when it is inactive? And how do those changes, whether they be positive or negative, contribute to physiological changes that ultimately end up either enhancing the health and responsiveness of someone who has diabetes or indeed indicates that inactivity might lead down that path towards insulin resistance and might ultimately end up in the development of diabetes for some of those individuals."
Prof O'Gorman covered three main areas in his talk: Exercise and the regulation of skeletal muscle insulin sensitivity; physical inactivity and the metabolic changes leading to the decrease in insulin sensitivity; and the role of lifestyle intervention and individual variability in the prevention of type 2 diabetes.
He discussed his research in St James's Hospital, Dublin, which assessed the impact of short-term exercise training on insulin sensitivity on type 2 diabetes patients, where just eight exercise sessions performed over 10 days had a significant improvement on insulin sensitivity.
"While not statistically different in this smaller cohort, there was also a 25 per cent improvement in glucose disposal following one bout of exercise and this has been characterised by others also, showing the impact of exercise on insulin sensitivity can be quite rapid, but the reasons can be quite different…."
Summarising the findings of his exercise-based research to date, Prof O'Gorman said it has been shown that insulin sensitivity can be improved transiently with a single bout of exercise, but exercise training is required for the increase in protein synthesis and mitochondrial adaptation.
The intensity of exercise is a key driver of the changes in skeletal muscle; and exercise leads to changes in signalling cascades, epigenetic modulation and microRNA that alter gene expression of muscle metabolism.
He also discussed a European Space Agency study he collaborated on, that studied the impact of physical inactivity using bed rest, which had interesting findings regarding the metabolic changes leading to a decrease in insulin sensitivity. This study, which was conducted in Toulouse, France, tested a high-protein diet and a resistive vibration exercise routine, during the nine subjects' 21 days of continuous bedrest.
The findings showed for the first time that bed rest reduced skeletal muscle mitochondrial respiration concomitant with decreased insulin sensitivity, metabolic rate and fat-free mass. While there are many integrated cascades contributing to insulin resistance, the study suggests that a decrease in mitochondrial respiration may mediate some of the changes linked to physical inactivity.
Summarising the key findings of the physical inactivity research, Prof O'Gorman said insulin sensitivity will decrease with physical inactivity, even if energy balance is maintained.
The decrease in insulin sensitivity is accompanied by decreased protein synthesis, mitochondrial metabolism and metabolic inflexibility. The mitochondria attempt to 'adapt' to inactivity by decreasing uncoupled respiration and mitochondrial fusion; but many of the negative physiological changes can be mitigated by resistance-vibration exercise with whey protein supplementation – but not muscle mass.
Prof O'Gorman, also referred to the 2020 Consensus Report on Precision Medicine from the American Diabetes Association (ADA) Precision Medicine in Diabetes Initiative in partnership with the European Association for the Study of Diabetes (EASD), and discussed the work of the DEXLIFE study, an EU FP7 collaborative project that aimed to identify novel diagnostic and predictive biomarkers that better predict the onset of type 2 diabetes.
Looking at the research results of lifestyle interventions in people with pre-diabetes, he noted the results vary and it is going to take some time to explain all those variances; "but we need to start going down the road of doing that. Understanding the individual variability will be helpful in the phenotypic classification and to identify those most likely to benefit.
This is a fast emerging area that will require large datasets and the incorporation of a whole new analytical process," Prof O'Gorman concluded.