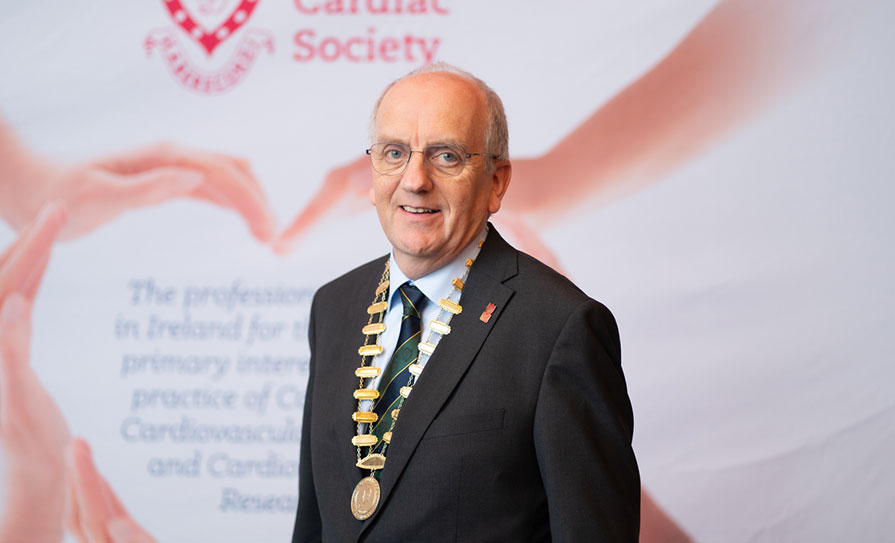 The 73rd ICS Annual Scientific Meeting and AGM was brought to a close by incoming President Prof Pascal McKeown, who delivered the final address and thanked everybody who made the event possible.
"It has been an absolutely wonderful meeting," Prof McKeown told the attendees. "The huge attendance by the nurses, physiologists and doctors at the conference is a testament that, as human beings, we need to see each other and talk in person. The virtual meetings over the past couple of years have been excellent, but we have also had a stunning review of all the key topics in cardiology over these past couple of days."
Prof McKeown paid tribute to colleagues who had come from overseas, as well as the national speakers who spoke at the meeting. He also commended the Fellows, trainees, and young researchers: "Essentially, you are the lifeblood of the Society and the standard of presentations across the plenary sessions, the posters, the oral presentations – they have all been absolutely excellent, and I want to thank everyone for all their contributions to the meeting."
He also paid tribute to Prof Vincent Maher for his leadership as President, and the Council members for their contributions in terms of the design of the programme, as well as all the other key members of the Society, not least Ms Barbra Dalton, Executive Director at the ICS, and the conference organisers. Prof McKeown also acknowledged the contribution of industry in making the event possible, as "without their outstanding help and financial support, we would not be able to hold this meeting". He concluded by announcing the winner of the best oral presentation prize as Dr Garth Hooks, and Dr Niall Connolly as winner of the best moderated poster prize. He also flagged 12-14 October 2023 as the dates for next year's ICS 74th Annual Scientific Meeting and AGM, which will be held in the Killashee House Hotel, Co Kildare.
Speaking with the Medical Independent (MI) following the conference, Prof McKeown described himself as "deeply honoured" to be chosen as President of the Society for the next two years. "This is a society with a great history of innovating and improving the care of patients with cardiac disease across the island of Ireland," he said. "The meeting has brought together experts from the international stage, including the US and UK, but featured wonderful local talent as well, and I think that's the future of the Society – investing in our trainees and young researchers will have a very significant impact on patient care and the overall population on this island with cardiovascular disease."
He also commended Prof Maher for leading the Society for the previous two years, including during Covid-19: "He met those particular challenges brilliantly and kept the Society active during that time. Apart from that, Prof Maher has undertaken very significant work and I would particularly like to highlight the development of the new ICS strategy, which will set a roadmap for the next five years. He has also been very involved in diversity and inclusion activities, particularly in relation to the women in cardiology group, and his ability to keep the international partnerships going has had a huge impact on our ability to keep abreast of developments across the globe, but also to provide our trainees with the opportunity to undertake Fellowships outside Ireland, and to bring all their new knowledge and skills home."
He concluded by paying tribute to Ms Dalton: "The conference ran without any hitches – the conference always seems to flow effortlessly, and that is a reflection of the immense amount of work that goes on behind the scenes by Barbra to ensure that everything runs like clockwork," he told MI. "Essentially, she is part of the lifeblood of the Society. She does what she does in such a gracious and supportive manner – that really is an amazing achievement. Her personal skills and ability to communicate are truly excellent."