St Vincent's Hospital FC suffered a heavy defeat in their season opener in Crumlin at the hands of a well-oiled St Francis machine. The visitors from Baldonnell, already two games into their campaign, were clinical and efficient across the pitch and fully deserved the points after scoring three goals in each half, despite an early strike from John Cosgrove that gave the doctors the lead.
Vincent's began the tie in confident fashion. They featured three débutantes in the starting 11, including Tallaght rheumatology SpR Colm Kirby at right back and Vincent's emergency department SHO Brian Gaffney in midfield. It was the latter who produced the game's first moment of quality, sliding a clever ball to Cosgrove, who opened the scoring with his weaker right foot.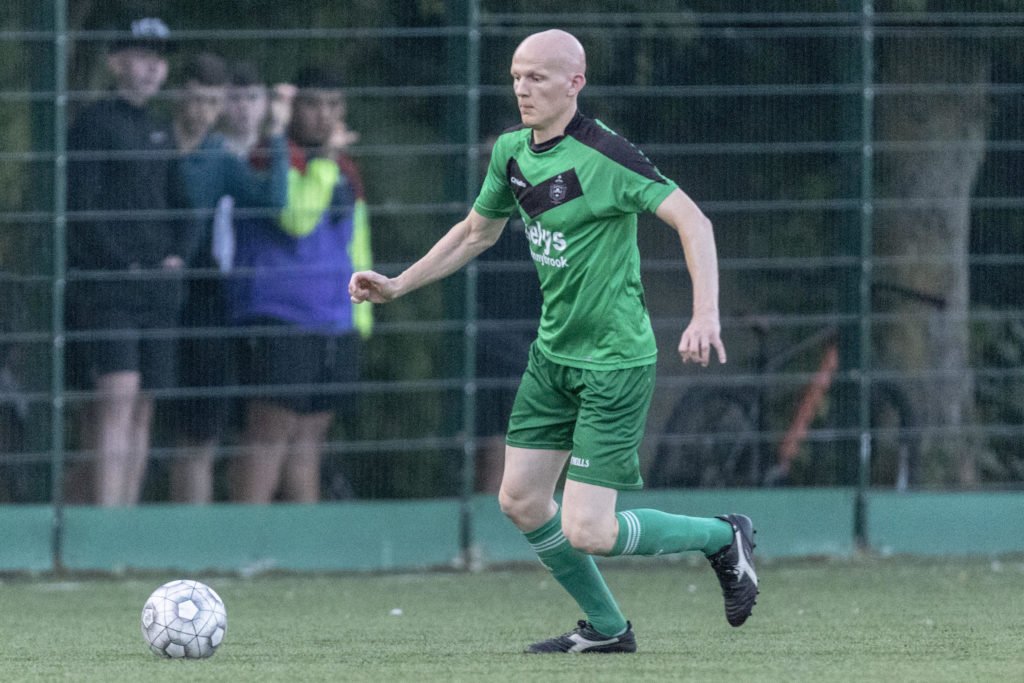 However, St Francis eventually made their presence felt. They turned a 1-0 deficit into a 2-1 lead with two goals from set pieces just after the half-hour mark, before a defensive mix-up in first-half stoppage time afforded an opportunity to extend the advantage from close range. A fourth goal midway through the second half put the tie to bed, and the away side added polish to the scoreline with a late brace.
Despite the one-sided end result, Vincent's can take solace in a final total of six débutantes, with Naas intern David Carolan impressing from the bench. Evidence of tactical progress and fitness from a gruelling pre-season campaign was also apparent — particularly with regard to the team's work rate and co-ordinated pressing, which led to the team starting both halves on the front foot. Carrying these qualities into upcoming games will hopefully lead to an upturn in fortunes — the only way is up for the doctors.
Match-day squad (4-3-3): Paul Bourke; Colm Kirby, Colm Cosgrove, Kieran Keane, David Kennedy; Andy Delany (C), Brian Gaffney, Mark Dwyer, Eddy Wrynn, Aidan McGrath, John Cosgrove.
Subs: Peter Kelly, John Heavey, Matt Berkley, Philip Rogers, David Carolan.
What's next?
St Vincent's are back to league action on 27 September and hope to get back to winning ways and begin their climb up the league table.
Player profile
Gavin Kane
We got the opportunity to get up close and personal with a long-standing member of the St Vincent's football team, Gavin Kane. Gavin is currently practising surgery in Children's Health Ireland, Crumlin. He has been with St Vincent's for last decade and is fast approaching the landmark of 100 appearances.
Growing up, Gavin learned his football trade with Mount Merrion youths, playing at his boyhood club until the age of 18. It wasn't only football that Gavin excelled at, having won six singles tennis titles at his local tennis club, Deerpark. He also represented Leinster tennis three times during this period.
Gavin also enjoyed success on the rugby field in secondary school, where he was a member of the Gonzaga rugby team all the way from first year in school until his Leaving Cert year in 2006.
After completing his Leaving Cert, his studies brought him to Trinity College. There, he successfully made his way onto the Trinity College football team, where he firmly established himself as the number-one right-back. He enjoyed two successful seasons with the team, competing to very high level in the 'Major 1' of the Saturday Leinster Senior League.
He returned with the St Vincent's football team in 2011 and has "loved every minute of it since". Down at the club, he is nicknamed "Gavin versatile Kane" for his ability to cover a wide range of positions, including full-back, right wing and holding midfielder. When asked what his favourite position was, Gavin modestly said "I don't really mind, as long as I have a starting jersey and I'm contributing to the team, I'm happy".
Throughout the years at St Vincent's, the club has progressed through the Leinster Senior League Saturday divisions, where they currently compete in Major 1b. When asked about his Vincent's highlight, he says the choice is obvious.
"That's easy. Winning the Saturday '1d' title in 2018 was an amazing achievement for everyone at the club. That gold Leinster Senior League medal is placed proudly above my mantelpiece at home."
Gavin was also part of the Irish team who travelled to the World Medical Football Championships in Cancun, Mexico, in July 2019. It was Gavin's headed goal against Germany in the group stages that earned Ireland a valuable 1-1 draw, which sealed their progression to the quarter finals of the competition. Ireland were beaten by Argentina in the last eight of the competition, but Gavin looks back on the experience with fond memories.
When asked about his hopes for the upcoming season, there are a few. "Well, I entered the '30 club' a few seasons ago and with that unfortunately comes injuries. Really hoping to stay fit and avoid the physio room up in Ballyboden this year. Apart from that, I just want to continue enjoying my football. We were lucky to avoid relegation last season. I definitely think we have the squad and management team to push on and firmly secure our position in Saturday Major 1b."