Morgan Flanagan Creagh talks to Mike Keane, Chief Engineer at Electrifi, about their future-focused solution
n a change to the usual schedule, this month I wanted to explore a future-focused solution for doctors and other astute Medical Independent readers with classic cars, or a lust for one. So, I reached out to Mike Keane, the Chief Engineer at Electrifi, to give us the inside line on the first company to manufacture cars in Ireland in almost 40 years. Based in the stunning backdrop of Powerscourt Estate, Electrifi was founded by Cork-born serial entrepreneur Norman Crowley of Crowley Carbon and is set to invest €50 million over the next three-years, developing a range of high-performance electric cars in Co Wicklow.
Morgan: Mike, thanks for taking the time to talk to us today, can you tell our readers about Electrifi and what you guys do?
Mike: Electrifi was launched in April and it's a subsidiary of Crowley Carbon, the CEO of which, Norman Crowley, is a car buff who had the idea of creating high-end electrified versions of classic cars. We have started to create classic cars that are electrified and have performance that will exceeded the original vehicle, while also having a zero-carbon tailpipe. This means people can continue to enjoy their classic cars well into the future.
We've got two divisions: Electrifi, and we have a stake in a company called Electric Classic Cars (ECC), in Wales. So ECC works on individual cars. If you have your own classic car, ECC will change the petrol or diesel power-train for an electric power-train. We remove the engine, the fuel tank and the drive-train if required, install electric motors, modified transmission, driveline and batteries and we fit them into the individual classic car. That's on a one-by-one basis and then Electrifi takes that concept and we bring it to a higher level, where what we're doing is a bumper-to-bumper review of the original vehicle. More than just changing the power-train from petrol to electric, we're bringing the full vehicle up to a level of standard that you'd expect in a modern vehicle. That means reviewing the structure of the vehicle and redesigning it. We bring the interior up to a modern level of quality, but retain the classic aesthetic. And then we bring the suspension and chassis up to a modern level of handling as well, bringing it to a level that's able to cope with the power levels that an electric power-train can deliver, while at the same time, from the outside, it's very obviously a classic car. So what we do, in that case, rather than working on individual cars, we are developing a low-volume series of a select number of vehicles. Four models in 2020-2021 vehicles will be released.
You're producing 21 rebuilds of four cars, so what models are you looking at using?
Projected for the next four years, an AC Cobra, a Ferrari 308, a Corvette C2, and a Ford GT40.
What motors are you using?
We have a range of options for what we do. In ECC, we either use motors from a company called Hyper9 or Tesla motors, so the same Tesla motor and battery you see in cars around Ireland. For Electrifi then, we have a range of options, including those, but we also have options for other very high-power, high-quality, low-volume power-trains.
If a reader of the Medical Independent was to approach Electrifi with their own classic car, you would send it over to your other plant in Wales to get it fitted-up with an electric engine. And the cars you sell out of Electrifi are completely rebuilt, limited-edition cars. Is this correct?
Yes.
So, the Electrifi cars will have modern brakes and a modern engine, but will they also include crumple zones and airbags?
Yes, the structure of the car has been redesigned, so crumple zones would be a key part of the design of the vehicle, as would side-impact bars in the doors. Then it would be fitted with airbags. It depends on the vehicle, how many or what the positioning would be.
The redesign of the structure has two benefits. One is that the vehicle gets a much stiffer base, which means that the handling of the vehicle is improved through the fact that the torsion rigidity of vehicle is increased.
And then the secondary benefit of that, or primary benefit, depending which way you look at it, is that the structure is stronger and it's different, therefore safer. And that's because we've added crush areas and side-impact bars and features like that.
So, in terms of performance and reliability, if you're using a Tesla engine, I gather that it's of the same performance and reliability as a Tesla.
Yes, absolutely.
So down to the 'dirty' question: How much is the Welsh option of bringing your own classic in, and how much is it to build one of your ground-up Electrifi cars?
Sales price for the Welsh option, where you have one of your own individual cars, depends on the vehicle, obviously, because each of the battery and motors are fitted and integrated to spec. But for a vehicle, somewhere between €20,000 and €40,000 is the cost of the conversion. But that's purely dependent on what the vehicle is.
And then the sales price for the Electrifi vehicle, it's still TBC [to be confirmed], because we're still working out exactly what position we want to pitch the cars at.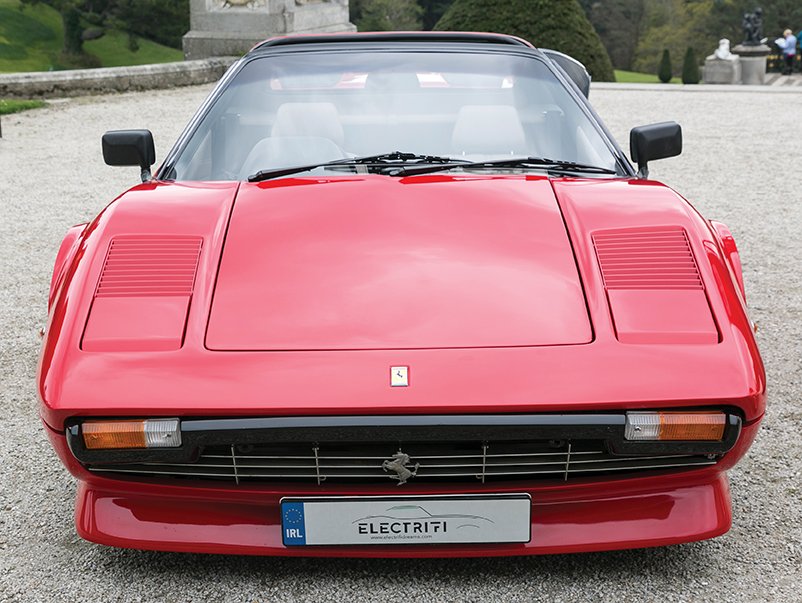 Electrifi seems to be a terrific solution to a problem every classic car lover has considered. Just imagine, a classic that started every time you turned the key and that wouldn't crumple like a Coke can at the first sign of a collision. In a press release earlier this year, the company said the prices will initially start at €750,000 for the highest-specification versions of the Electrifi models, which for now may be a little out of reach for some readers. However, with volume sales comes lower costs, so here's hoping they fly off the shelves.
For more information
www.independent.ie/business/james-bond-stunt-car-engineer-joins-electric-car-maker-36830084.html or www.electrifidreams.com/about-us