GP Dr Catherine O'Donohoe, who is based in Adamstown, Co Wexford, outlines the results of a survey she conducted on the state of general practice and the concerns of GPs
Irish general practice has only really started in 2020, with the arrival of the chronic disease management (CDM) contract, to show signs of initial recovery from the impact of the 2008-2013 State payment cuts. The Covid-19 pandemic has disrupted this process and placed increased stress on an already overstretched general practice service. Irish general practice sustained cuts between 2008 and 2013 of over 35 per cent to State payments for contractual services under the Financial Emergency Measures in the Public Interest (FEMPI) Acts. It is essential for maintaining the delivery of frontline community medical care, during and beyond Covid-19, that any systemic weaknesses are urgently identified and addressed. Through this survey, the author aimed to identify any such potential pitfalls in the general practice system.
Methods
This survey ran from Wednesday 12 – Monday 31 August 2020 on Survey Monkey. It was communicated to GPs via the online fora of National GP Forum and GPBuddy.ie.
Findings
This survey had 355 respondents, but not all responded to all questions, as noted below for each question.
Qualitative data
The survey also allowed for commentary at a number of points. In response to Question 15 (re: resource challenges acting as a barrier to the signing of the new CDM contract), comments were predominantly around time constraints, but also included:
"Can't handle any more admin, also worrying re own health due to Covid."
"Burnout."
"Unable to deal with potential additional workload."
Question 16 (re: any consideration being given to career changes on foot of the Covid-19 pandemic), also gave space for comments, which included:
Decreasing working hours/taking on staff.
Not signing any further contracts, with consideration being given by some to resigning from existing contracts.
One respondent described changes since the start of the pandemic with regard to presentation with the possibility that "a lot of attendances prior to the pandemic were unnecessary". Stress was a common theme:
"I give 100 per cent all day every day and I'm exhausted, This is not sustainable.
"Two doctors aged 70 retired from the practice overnight."
"No break – long, long hours."
"Too young to retire."
"Feeling burnt out."
"High stress levels."
Commentary on Question 17 (concerning medical cover available if all the doctors were unavailable due to respiratory symptoms) included a limited number of comments, some detailing in-house options. Others outlined the difficulty they would encounter, including :
"Don't know."
"Neighbouring practices are already under pressure for work of their own."
"Contact HSE local office and return responsibility."
Question 19, the final question, was for any additional comments. A total of 64 responded here with a number relating to the above topics, and also:
Study design limitations/design flaws.
Out-of-hours rotas.
Some practices not needing to source external locum cover.
Role of part-time GP in sharing workload of full-time GP.
Impact on family life including children; and on personal health including during pregnancy.
Financial uncertainty during pandemic.
Staff impacts of Covid-19 due to age, medical vulnerability, stress.
Inadequate time to implement the CDM contract despite signing it.
Other specific comments included:
"Very worried about how, as a small practice, will cope over winter."
"Work has become very draining. Would push one considering earlier retirement."
"Our entire GP cohort will retire in a 24 month window. Our recruitment has extended to the UK again without success."
"General practice outside of the major cities will be a failed entity in the next 10 years if the trend continues."
"High risk of burnout."
"GP is a small business… very difficult to do all the work, paperwork and then practice management. Impossible to get on top of it."
"Working every day 8am to 8pm – then meetings, etc – partner due to retire in next year."
"If this continues, will have to resign from a large viable practice."
"Single GP practices and smaller surgeries not viable going forward."
"Numerous issues worrying me… very busy working… out-of-hours… locum cover for holiday."
"The worry about getting sick."
"Highly unlikely that I will be in a position to carry out flu vaccinations".
Discussion
General practice difficulties have been clearly and publicly noted in the last 10 years.
Key findings in this survey include:
63 per cent were in single/two-handed practices.
Over 80 per cent reported difficulty sourcing locum cover. Only one-in-eight felt they would be able to get locum cover for urgent reasons at short notice, eg, bereavement, personal ill-health. This means that the vast majority do not have the 'peace of mind' of knowing that in a time of personal/family crisis, there is reasonable prospect of securing appropriate locum cover.
48 per cent reported they would consider temporarily closing the practice if all doctors needed to self-isolate due to potential Covid symptoms.
Significant stress. This echoes the TCD/ ICGP 2015 report (462 validated respondents), whereby 33 per cent rated their morale as 'poor/very poor' and 58 per cent reported their stress as 'high/very high'.
Almost three-quarters had signed the 2020 CDM contract, but a number of them, as well as many who have not signed, were experiencing difficulties in meeting the workload of same.
Conclusions
Given that 63 per cent of the GPs in this survey are working in single/two-handed practices, large sections of Irish general practice are at risk of becoming unviable, particularly under the additional challenges posed by Covid-19. It is essential that the State moves without delay to counteract this risk. Areas where I believe intervention is required are:
1. Completing the national coverage of the community intervention teams (CITs), as referenced in the HSE Winter Plan, which covers up to April 2021. 2. Creating a national GP state-employed locum pool. There have been an average of 162 MICGP graduates annually 2018-2020 to date inclusive. State health services must proactively recruit from this group as a matter of the utmost urgency. This may require legislative change. 3. Updating the practice support subsidy system so that all practices can benefit under same on a pro-rata basis. Consideration also needs to be given to adding healthcare assistant to the available allowances. Finally, given the limitations of this study, it is an area that is open to further exploration and more robust research.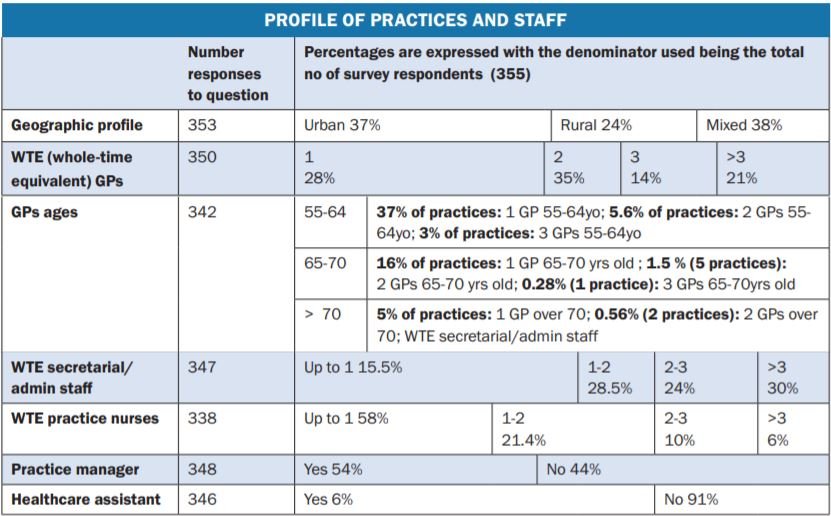 References available on request