Bette Browne examines the career of America's most famous public health doctor as he plans to exit his role after advising seven US Presidents.
Dr Anthony Fauci was hailed by many as a public health hero during the height of the Covid-19 pandemic in the United States. Others demonised him as a "Nazi". Now he is preparing to leave his post after a career that has seen triumphs, controversies, and threats to his life.
A physician, scientist, immunologist, and Director of the US National Institute of Allergy and Infectious Diseases (NIAID), where he manages a budget of more than US$6 billion, Dr Fauci has said he will step down from the role of Director, and his position as White House Chief Medical Advisor in December of this year.
Dr Fauci has helped to guide national health policy in various capacities for almost 50 years. He has acted as an advisor to seven US presidents, Republicans and Democrats, since President Ronald Reagan's tenure in the 1980s.
In 2008 he was awarded the Presidential Medal of Freedom, America's highest civilian honour, by President George W Bush. In 2021, he was described as "an American hero" by the US National Academy of Sciences, which awarded him the Public Service Medal for his "decades-long leadership in combatting emerging infectious diseases" from the HIV/Aids crisis to Covid-19.
"Anthony Fauci is an American hero who has earned the respect and trust of millions for his no-nonsense approach to the pandemic," said the Academy's President Ms Marcia McNutt. "Throughout his long and distinguished career, his leadership and ingenuity during public health emergencies has saved countless lives here in the US and around the world."
He has been awarded 45 honorary doctoral degrees from universities around the world. In March 2021, he was recognised at an online ceremony held by the RCPI, which bestowed him with an honorary fellowship for his "unrelenting commitment to science".
Now aged almost 82, he believes the time is approaching for others to continue his work. "I don't anticipate I'll be in this job at the end of the first term of President Biden, which is January 2025," he told CNN in July. "So sometime between now and January 2025, you can guarantee I'll step down." However, he said he still had the "energy and passion" to continue working on other projects.
Pandemic
In recent years, as America has become more polarised, Dr Fauci has become a political lightening rod for Republican anger for advising a cautious path during the Covid-19 pandemic. His working relationship with former President Donald Trump was fraught as he often had to counter unfounded claims made by the President. Dr Fauci also strongly supported measures such as travel restrictions and mask-wearing, during a period when President Trump pushed unscientific interventions and insisted in October 2020 that the virus would disappear "like a miracle".
To date, the death toll from the virus is over one million in the US and more than six million globally.
After President Biden defeated President Trump in 2021 there was little respite for Dr Fauci, with some Republicans blaming him for the latter's defeat. However, he had proven decades earlier during the HIV/Aids epidemic in the 1980s that he was not easily knocked by criticism.
During this period, he was also praised as a hero and damned as a "murderer".
By 1984, when he had become Director of NIAID – the institute in the National Institutes of Health that studies allergies and infectious disease – he faced pressure from many vantages. Aids activists staged protests seeking changes to regulatory processes they said were slowing the development of new treatments and advocated for more funding to support the search for a cure. During this time, some protesters outside his offices in Washington held up placards that read "Dr Fauci, you are killing us".
Years later, during the Covid-19 pandemic, the targeting of Dr Fauci was so virulent that he had to be provided with security protection in April 2020 following death threats. On social media platforms, he has faced torrents of online misinformation and abuse from individuals and groups fuelled by conspiracy theories and anti-science scepticism. 
In the 2021 documentary Fauci, he is seen on the phone in the summer of 2020 stating that "these dark web people are really getting bad. They're really harassing Chris (his wife). One of them called up violent threats eight times today on a cell phone.… They're harassing my daughters constantly, which really bothers me more than anything else."
Such "attacks on me are, quite frankly, attacks on science", he said in an interview with NBC that summer. "All of the things that I have spoken about, consistently from the very beginning, have been fundamentally based on science," he said.
His critics were not solely far-right anti-science conspirators. Personal criticism of Dr Fauci has also come from a number of Republican politicians and some high-profile conservative commentators.
Congresswoman Marjorie Taylor Greene of Georgia proposed a "Fire Fauci Act", while Congressman Madison Cawthorn of North Carolina called Fauci a demon.
"His policies shuttered the US economy, drove our country into financial upheaval and violated the rights of millions of Americans," Congressman Cawthorn declared. "This demon doctor must never be allowed to escape justice."
In November 2021, Fox News host Ms Lara Logan compared Dr Fauci to Josef Mengele, the Nazi doctor who carried out experiments on prisoners at the Auschwitz concentration camp.
Beginnings
Anthony Stephen Fauci was born on 24 December 1940 in Brooklyn, New York, the second child of first-generation Italian-American parents Eugenia and Stephen, who ran a pharmacy.
Dr Fauci grew up in an apartment above the pharmacy. When he wasn't working there, he spent much of his childhood playing baseball, basketball, and football.
Dr Fauci undertook pre-med studies at the College of the Holy Cross in Worcester, Massachusetts. In 1966 he graduated first in his class from New York City's Cornell Medical College and completed his internship and residency at New York Hospital-Cornell Medical Centre. In 1968, he commenced his career at the NIAID.
As a senior investigator in the Laboratory of Clinical Investigation, Dr Fauci established a reputation for ground-breaking research in immunoregulation. He developed successful drug programmes for previously fatal illnesses, including polyarteritis nodosa, granulomatosis with polyangiitis, and lymphomatoid granulomatosis.
In 1985, a survey of the American Rheumatism Association's membership – conducted by the Stanford University Arthritis Centre – placed Dr Fauci's work on the treatment of polyarteritis nodosa and granulomatosis with polyangiitis among the most important advances in patient management in rheumatology over the previous 20 years.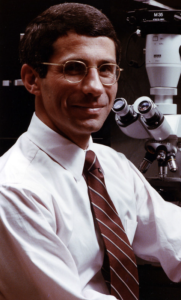 HIV/Aids
Dr Fauci was appointed Chief of the Laboratory of Immunoregulation in 1980 and became Director of the NIAID under President Reagan in 1984, just as the HIV/Aids crisis was unfolding in America and around the world.
Initially, and for much of the 1980s, HIV/Aids was primarily known for its devastation within the gay community. The new NIAID Director faced the dual task of persuading the administration to take the crisis more seriously and convincing activists that he was not at fault for what was considered slow government action.
For a considerable period, President Reagan would not even mention the name of the disease even though it had already killed thousands of Americans. From 1981 through to 1990, over 100,000 people in America died from Aids-related illnesses. 
Over time, Dr Fauci successfully lobbied for an increase in Aids research funding and formed alliances with activists by facilitating access to experimental drugs being tested in clinical trials. Significantly, he developed an understanding of how HIV attacks the human defence system, which led to the development of effective medications.
After Dr Fauci technically relinquished his leadership on the issue, with the formation of the Office of AIDS Research in 1994, he still remained highly engaged. He assisted President George W Bush to develop and launch the President's Emergency Plan for AIDS Relief (PEPFAR), which focused on tackling the disease globally and particularly in the developing world.
As of May 2020, PEPFAR had provided about US$90 billion (€88 billion) in cumulative funding for HIV/Aids treatment, prevention, and research since its inception, making it the largest global health programme focused on a single disease in history (until Covid-19).
Dr Fauci was also prominent during the public health crises of the West Nile virus under President Bill Clinton; the SARS epidemic under President George W Bush; and the swine flu pandemic under President Barack Obama.
When Covid-19 hit in early 2020, Dr Fauci returned to the public spotlight, becoming a fixture at televised news briefings alongside President Trump. At times, he had to play down or rebut some of Trump's overly optimistic and often unscientific pronouncements.
While Dr Fauci's scientifically-driven assessments helped to calm many Americans, his approach infuriated others who felt he was undermining President Trump's authority.
Addressing criticism that he was rejecting suggestions that Covid-19 was sparked by a leak from a laboratory in China, he said a natural-origin scenario was more likely. "This doesn't mean there is a closed mind to it being a leak (from a lab) even though many people feel, myself included, that still the most likely origin is a natural one." He added that he was "very much in favour" of further investigation into Covid's origins.
The release of more than 3,200 pages of his emails from the first half of 2020 also sparked new waves of criticism and attacks from conservatives in regard to his position on Covid. At the beginning of the pandemic, according to Dr Fauci, there was believed to be a shortage of masks. He said there was little available evidence that masks worked outside of a hospital setting and the asymptomatic spread of the virus was not fully known. The guidance changed in line with emerging evidence, he contested.
"When those data change, when you get more information, it's essential that you change your position because you have got to be guided by the science and the current data."
Asked about the impact of the politically charged attacks on public health professionals, he said it was "very dangerous".
"Sometimes those things were inconvenient truths for people and there was pushback against me."
In October 2020, the then Director of the US National Institutes of Health, Dr Francis Collins, commented: "It is somewhat distressing to see how some have demonised Tony for telling the truth."
At a Senate health committee hearing on Covid-19 in January 2022, Dr Fauci accused Republican Senator Rand Paul of Kentucky of campaigning on the back of lies about the doctor. He warned that the attacks had led to "threats upon my life, harassment of my family and my children, with obscene phone calls".
"This happens all the time. You personally attack me, with absolutely not a shred of evidence of anything you say. So, I would like to make something clear to the committee: You're doing this for political reasons." The senator rejected this charge. 
Asked on CNN about these attacks, Dr Fauci said: "There's no place for that when you're dealing with a public health crisis. Whoever is attacking me, it's just a ref lection of the politicisation of what should be a purely public health issue and it's really unfortunate."
He added: "They're attacking me personally because I'm a visible person, but I'm merely articulating the proper public health practices that are recommended strongly by an organisation and that organisation is the CDC [Centers for Disease Control and Prevention]."
Earlier this year, more than 200 leading American scientists, doctors, and four Nobel laureates came to his defence, signing an open letter calling for an end to the personal attacks. The signatories included the former Senate Republican Leader Bill Frist, who is also a doctor.
"We deplore the personal attacks on Dr Fauci," the letter said. "The criticism is inaccurate, unscientific, ill-founded in the facts and, increasingly, motivated by partisan politics."
Dr Fauci, they wrote, "has served the USA with wisdom and integrity for nearly 40 years", guiding it through a series of infectious disease crises, including HIV, Ebola, and Covid-19.
Then, in a comment that may best sum up the essence of his career, they declared: "Dr Fauci has our unreserved respect and trust as a scientist and a national leader."