The Medical Independent charts the news and views during a year when the pandemic continued to cause major upheaval nationally and globally, with healthcare professionals facing unrelenting pressures
January
After a 'meaningful' Christmas and the emergence of the Alpha variant (retrospectively identified as having been in Ireland since September 2020), the country enters 2021 with adjusted 'level five' pandemic restrictions. On 1 January there is another stark warning from the national public health emergency team (NPHET). Announcing the notification of a further 1,754 cases of Covid-19, Chief Medical Officer Dr Tony Holohan reports rapidly increasing hospital admissions of 50-to-70 people a day.
"We expect this to get worse before it gets better," he says. In mid-January, Dr Holohan and his counterpart in Northern Ireland, Dr Michael McBride, issue a statement strongly urging everyone to stay at home except for essential reasons and to avoid all unnecessary journeys including cross-border travel.
By the last day of January, there are 1,516 Covid-19 patients hospitalised in the Republic, of whom 211 are in ICU, with 39 additional hospitalisations in the previous 24 hours. The ray of hope on the horizon is the national vaccination programme, which began on 29 December at acute hospitals and then long-term care settings. Vaccination in the community is scheduled to commence in February, beginning with people over 85.
The Medical Council announces the appointment of Mr Leo Kearns as CEO.
February
Minister for Health Stephen Donnelly states that he has secured Government approval to expand medical card access to all people who are terminally ill and have a prognosis of up to 24 months. Separately, the Minister confirms the locations for 37 vaccination centres across Ireland for the Covid-19 vaccination programme. According to the Department of Health, "while currently vaccines are being administered in healthcare settings and by GPs, many people will be offered their vaccination in these centres, having self-registered online."
A coalition of Irish organisations, networks and unions write an open letter to Taoiseach Micheál Martin urgently requesting Ireland's support for proposals to allow Covid-19 vaccine technology to be shared openly through an emergency waiver at the World Trade Organisation.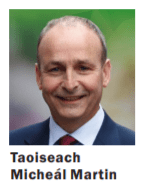 March
The Medical Independent (MI) reveals that 1,812 alleged abuse cases submitted by disability and older persons services to a HSE safeguarding and protection team had not been examined as of late 2020, due to persistent staffing deficits and the volume of referrals. Some of the unreviewed abuse concerns in Community Healthcare Organisation 7 dated to June 2019. The Government announces the phased easing of some restrictions for the month of April, including the full return
to in-school teaching and relaxing of travel restrictions within Ireland.
On 31 March, there are 297 Covid-19 patients hospitalised, of whom 67 are in ICU. There have been 16 additional
hospitalisations in the past 24 hours.
April
The Chair of the Coombe Women and Infants University Hospital, Ms Mary Donovan, says the board is "disappointed" that 16 family members of staff were vaccinated with leftover vaccines. "We are also concerned that in the case of one family, two vaccinations occurred offsite. Again, this should not have happened." Her comments follow the publication of an independent review by Mr Brian Kennedy, SC.
May
The IMO announces that public health specialists have voted to accept an agreement with the Department of Health committing to 84 consultant posts and a new model for the delivery of public health. MI exclusively reports that the Sláintecare Implementation Advisory Council (SIAC) has strongly disagreed with Minister Donnelly's view that progressing the new regional health areas should be postponed due to the pandemic.
On 10 May, the World Health Organisation (WHO) classifies the B.1.617 variant – first identified in India – as a variant
of concern. The B.1.617.2 sublineage (Delta) shifts the trajectory of the pandemic with its increased transmissibility and
will impact Ireland's full reopening plans in the autumn.

On 14 May, the HSE is the target of a major ransomware cyberattack. It proves the most significant cybercrime attack on an Irish State agency. The incident continues to impact patient access to services and work practices over the coming weeks and months, and exposes vulnerabilities in the HSE's IT security systems.
The virtual ICGP annual conference hears that GPs in rural and deprived areas approaching retirement cannot
get vocationally trained GPs to take over their practices "for love nor money".
June
Paediatric intensivist Dr Suzanne Crowe succeeds GP Dr Rita Doyle as President of the Medical Council.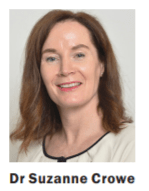 July
MI reports that 109 HSE consultants were not on the Medical Council's specialist register, as of April. This compared with 153 consultants identified during HSE site visits in 2018/2019. This newspaper also reports on concerns raised by the RCSI Council with the Medical Council and the HSE about potential complaints due to delays accessing clinical care during the pandemic.
August
While the Irish hospital system adapted "swiftly" to cope with the pandemic, there were reoccurring underlying "issues of concern" relating to non-compliance with national standards, according to a HIQA report. These issues included "poor physical infrastructure, capacity issues, and workforce challenges".
The IHCA expresses "extreme concern" at the new record number of people waiting for an appointment to be treated or assessed in public hospitals. The Association says the low number of consultants is "the root cause of the unacceptably long waiting lists, which totalled more than 900,000 for the first time in July".
September
The Executive Director of Sláintecare in the Department of Health, Ms Laura Magahy, and Chair of the SIAC, Prof Tom Keane, stand down from their positions. In his resignation letter Prof Keane states that he has "come to conclude that the requirements for implementing this unprecedented programme for change are seriously lacking". Ms Magahy does not comment publicly on her decision and declines an invitation to appear before the Oireachtas health committee.
MI reports that the HSE and the National Cancer Control Programme are working to resolve a
situation where patients with head and neck cancer who require attendance at the Dublin Dental Hospital cannot afford the relevant treatment.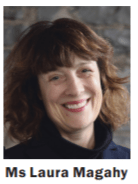 October
As part of Budget 2022, Minister Donnelly announces €21 billion for health and social care services, the largest investment in history. This includes €250 million "to reduce acute hospital and community waiting lists", €45 million
to advance the Sláintecare objective that care is accessible and affordable for the most vulnerable, and €47 million in
new funding for specific women's health measures.
Effective from midnight 18 October the full responsibility for general practice training transfers from the HSE to
the ICGP, a process in train for over a decade.
November
Some 93 per cent of the eligible population in Ireland have completed the primary vaccination schedule for Covid-19.
The Irish Nurses and Midwives Organisation welcomes the decision to extend vaccine boosters to healthcare workers. However, it adds that "this decision was made later than we would have liked".
The Mater Misericordiae University Hospital in Dublin takes the "unprecedented" decision to cancel a heart transplant due to a shortage of ICU beds. Half of those receiving critical care in the hospital are "severely ill" patients with Covid-19. The Dean of the RCPI Faculty of Occupational Medicine, Dr Robert Ryan, confirms to MI that "concerns" have been expressed to the Faculty by some "senior" occupational medicine specialists about HSE national guidance on Covid-19 control measures to protect staff in healthcare settings.
The European Medicines Agency's human medicines committee recommends an extension of the indication for the Covid-19 vaccine Comirnaty (BioNTech/Pfizer) to include use in children aged five-to-11. On 26 November, the WHO designates 'Omicron' as a variant of concern after it was reported by South Africa's state scientists.
December
The Department of Health states that a case of the Omicron variant has been identified in Ireland. Due to the level of Covid-19 infection and the emergence of Omicron, and following public health advice, the Government announces restrictions with effect from 7 December until 9 January. These include limits for hospitality and indoor venues and a requirement for a Covid pass for gyms and leisure centres, hotel bars, and restaurants, thereby removing exemptions for residents.
Visits to private homes should be kept to a maximum of three other households (ie, four households in total).According to a Government statement: "While hospitalisations and ICU admissions appear to have stabilised at a high level over recent days, this is not yet an established trend and the current high level of Covid-19 continues to have a significant and sustained impact across all aspects of the health service."
On the same day, 3 December, the Department of Health announces a further 5,419 cases of Covid-19. Some 528 Covid-19 patients are hospitalised with 110 in ICU. The Government decides that all Covid-related communications will be managed through the Government Information Service. Taoiseach Micheál Martin denies that NPHET have been gagged.
Storm Barra presents further challenges for the health system with some service disruptions and closures.
By mid-December, concerns are mounting about the potential impact of the Omicron variant.