Long waiting patient lists are not just a product of the recent pandemic, the IHCA Secretary General told the Association's annual conference earlier this month. Mr Martin Varley warned that the situation is "unfortunately deteriorating year after year after year".
"Our main message is that while the [waiting list] figures have gone up very substantially in the last year or two, Covid and the cyberattack cannot explain the very serious lists that we have," Mr Varley stated. "The problems pre-existed Covid and pre-existed the cyberattack."
The Association's annual report noted 907,617 people were on some form of National Treatment Purchase Fund (NTPF) waiting list, including 98,394 children. The total figure would soon be one million, according to the report. "The basic problem is that we don't have the [hospital bed] capacity," said Mr Varley.
"When you track what is going on with our waiting lists and compare that with the number of consultant posts that are vacant, there is a very strong relationship between the growing waiting lists figures and the vacant consultant posts." The Association's Secretary General said the number of vacant permanent consultant posts is "creeping up towards 800".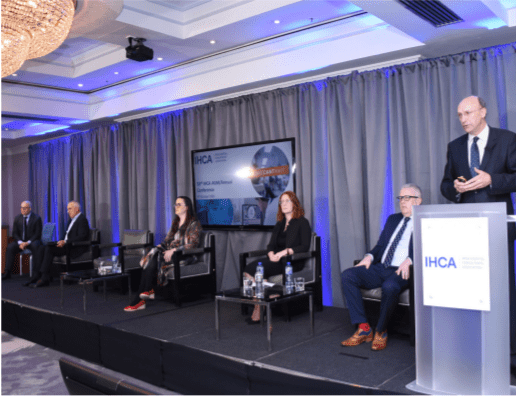 Mr Martin Varley, IHCA Secretary General, addressing the first session of the Association's AGM and annual conference with (L to R): Prof Alan Irvine, IHCA
President; Prof Robert Landers, IHCA Vice-President; Dr Gabrielle Colleran, IHCA Vice-President; Prof Clare Fallon, IHCA Treasurer; and Dr Conor O'Riordan, IHCA Membership Secretary
Photo: David Coleman – Bobby Studio
He said that a year ago "that figure was 500". "So we are waiting for health management and the Minister [for Health] to address some of the root causes of that problem." He added that the consultant vacancies "are more serious than you would think because, to start with, we have 42 per cent fewer medical specialists than the EU average and, in addition of the approved posts, we have one-in-five of them which are vacant".
Mr Varley stated medical agency spending had increased by €59 million since 2012 and that consultant salaries were not competitive at an international level. He raised the issue of pay inequality for consultants employed since 2012, adding that recruitment had "nosedived" ever since this policy was implemented.