Compulsory childhood vaccination is a "knee-jerk reaction" to anti-vaccination arguments and the best approach to opposition is promoting a strong case for the intervention, a child health expert at the World Health Organisation (WHO) has told the Medical Independent (MI).
Speaking to MI at the Europaediatrics Congress in Dublin last month, Dr Martin Weber, Programme Manager for Child and Adolescent Health, WHO, also outlined how GPs can help tackle the issue. "It is one of the biggest problems. It is the classic downside of social media where false messages are being spread and people are living in a bubble…. To break into this bubble is extremely difficult. If people still come to the GP, they can obviously try to listen to the misconceptions and correct them.
"Some people, however, do not go to the GP anymore and that is much more difficult and is something a lot of countries, not just Ireland, are struggling with. There is a huge debate about compulsory vaccination versus non-compulsory vaccination, it's the sort of knee-jerk reaction of many people and they say: 'okay if they don't want to vaccinate, let's make it compulsory.' It's not likely that this will improve the situation as people who are opposed to it are likely to find ways around it. If you make a good argument by telling them that by vaccinating they are helping both their child and the community, then it might help."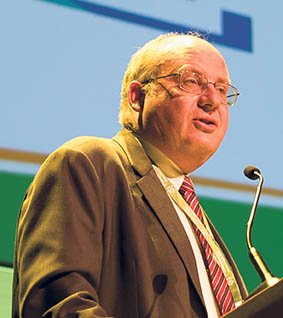 Meanwhile, on the key take-home messages from his presentation on children's health, Dr Weber told MI: "There are three areas in particular. The quality of care is a big issue from politics, to professional standards and to individual performance and acceptance by the general population. The second is early childhood development and the detection of delay in cognitive development and the provision of services afterwards – having a referral pathway backwards and forwards.
"You have a GP-based model in Ireland, so the primary care provider may not be an expert in early childhood development. When they spot a problem it needs to be referred to a specialist and then referred again. You cannot expect anyone to know everything. This is an issue where I can imagine Ireland would want to look into in more detail and see if there is an issue where children are not receiving the care that they might need or having too much delay," he explained.
"The third factor is adolescence. There are a lot of media concerns around it at the moment. How do you make children better prepared for the future? School is an entry point but that is between health and education. The education sector usually doesn't take kindly to people telling them what they should do but we have particular messages for them. We need to find a pathway and on the medical side [and] highlight things. For example, obesity, inadequate physical activity, school nutrition not being good or selling of soft drinks in school vending machines. These are the kinds of issues that are in the regulatory environment between school authorities and the ministry of education, health, individual health professionals and then of course the young people themselves."
Dr Weber spoke extensively about the migrant child and the different problems and misconceptions surrounding their care. "There is a notion that migrant children from Syria and the Middle East bring infectious diseases into the country. If you see a migrant child, you will want to do a normal physical examination, but you will not want to screen for tuberculosis [for example]. You will want to make sure that you are aware if they have not been vaccinated before, but otherwise this is the lowest concern. Mental health is a concern if they have been traumatised and they have the same risk if not higher for obesity."