The Department of Health has established a new climate change oversight group to act as a "platform" for interaction between the Department and Government "particularly through the climate action plan process", this newspaper has
been told.
The Medical Independent (MI) reported in February 2020 that a climate change oversight group had yet to be established by the Department more than three months after its own plan stated the group should meet "as
soon as possible". The Climate Change Adaptation Plan for the health sector (2019 – 2024), published in October 2019,
called for an oversight group for the health sector to be established and charged with implementing the plan.
A Department spokesperson told MI that the oversight group was finally "launched" in September 2021, "with
representation across a range of policy and business areas, including medical expertise". MI requested a membership list, but no reply had been received by press time. The group's tasks include "coordination and coherence" of climate-related policy activity in the Department; acting as a platform for interaction between the Department and wider whole-of-Government climate action; linking research in respect of health-related climate policy areas with Ireland's climate research programmes; identifying areas for future work along with resourcing requirements;
and reviewing and progressing actions identified in the climate change adaptation plan.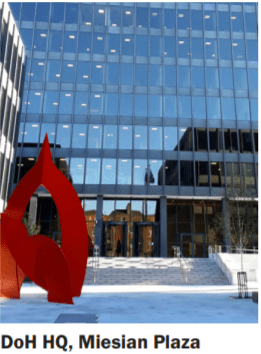 The Department said one of the initial objectives of the group "will be to develop a state of play encompassing climate action across Ireland's health sector, which will inform the development of a work programme going forward". A HSE spokesperson said it looked forward to "engaging" with the new group "once their work with external
stakeholders commences".