Conference Preview
Gathering Around Cancer, virtual, 4-5 November 2021
Ahead of the Gathering Around Cancer annual conference, Prof John McCaffrey spoke with Pat Kelly about some of the many highlights of the programme
The Gathering Around Cancer 2021 conference will take place on a virtual platform on 4 and 5 November and will be streamed live from the Conference Centre at Croke Park in Dublin. The conference will feature a large panel of expert national and international speakers who will cover a variety of diverse cancer-related topics, from precision
medicine to palliative care, as well as providing the patient perspective.
Among other distinctions, Prof John McCaffrey is Consultant Medical Oncologist at the Mater Misericordiae University Hospital (MMUH) in Dublin and National Specialty Director in Medical Oncology. Prof McCaffrey will chair the event with Prof David Gallagher, Consultant Medical Oncologist and Consultant Medical Geneticist at St James's Hospital, Dublin. Prof McCaffrey spoke with the Medical Independent (MI) about what the conference has in store for attendees
and the current hot topics in cancer care.
At last year's conference, there was a section dedicated to 'Coping with Covid', which was a necessary addition during the height of the pandemic. Prof McCaffrey was asked how the situation has changed in cancer care since that time. "We are having the meeting on a virtual platform again this year, with more panel speakers in the studio who will be broadcast to the attendees," he said. "Hopefully, by next year, we will be back to getting people together again, but the various twists and turns of the pandemic meant that we couldn't really commit to an in-person meeting this year.
However, almost all of our speakers and the chairpersons will be there [in person] and those from abroad will be either
using Zoom or pre-recording their presentations and coming back for questions."
'Normal business'
The meeting agenda is indeed extensive and will feature 15 speakers over the two days. "This year, we have deliberately tried to de-emphasise the Covid side of things, but we do have topics on Covid and the impact
on palliative care, for instance," said Prof McCaffrey.
"But we are trying to get back to the normal business, which is gathering the investigators who are away as well as at home – that's the traditional way we do it. Again, we also have the international aspect with speakers from Canada, London, and Hong Kong. This is the first time we have had a speaker from Hong Kong participating. These are all Irish graduates who are trailblazing across the world, as well as newly-returned specialists in various cancer centres around Ireland who will provide updates, either on their research, or some of their innovations," he told MI.
The latter group of presenters includes Prof John Moriarty of the MMUH, who will speak on the topic of 'Interventional oncoradiology'. "Prof Moriarty has come back from the west coast of the US and he will talk about some of the newer interventional specialty procedures that are being done, for metastatic cancer in particular, so we are very interested in his input," said Prof McCaffrey.
Some Covid-related topics are necessary to include, he said, including the increase in thrombosis that can result from the infection. "Dr Barry Kevane [also of MMUH] will update us on what oncologists need to know about clotting and thrombosis in general," said Prof McCaffrey. "A section that has been increasingly popular with our delegates, many of whom are nurses, is the nursing specialty session," he continued.
"Last year was the first time it had its own session and it was so successful that we are doing it again this year. We hope that it will be an ongoing and permanent part of the meeting."
Nurse specialists and advanced nurse practitioners from different clinics and hospitals around Ireland will present updates in the second session of the conference. There will also be an update on malignant spinal cord compression from Mr Seamus Morris, who will provide an overview of the national spinal unit at MMUH.
"He will be joined by a specialist in Toronto, Dr Aisling Barry [of Princess Margaret Cancer Centre in Toronto, Canada], who is returning to Cork as Professor of Radiation Oncology. She will speak about radiation, including stereotactic radiation," said Prof McCaffrey.
"One of the hot topics this year is the Dying with Dignity private members bill that Gino Kenny TD [People Before Profit – Solidarity Party] and his colleagues have brought to the Oireachtas. The impact that assisted dying will have on patients with cancer is concerning to all of us, so we will have a debate, insofar as we can with a limited number of people in the room.
"We will hear a proposal from Gino Kenny and a counter-proposal from Dr Regina McQuillan [Consultant in Palliative Care, St Francis Hospice and Beaumont Hospital, Dublin]. We will also get the view of the cancer patient from Prof Anne Doherty, who is the psycho-oncology lead at MMUH, because of the concern that legislation may not take into account the ups and downs that people go through on their cancer journey.
"With the treatments available, we are increasingly seeing people who are being cured or are living with cancer long-term," Prof McCaffrey continued. "The ability to end one's life without a bigger debate about the impact of the legislation is something that's of concern to everybody, so we are grateful to all our speakers for giving us their views on that really important subject."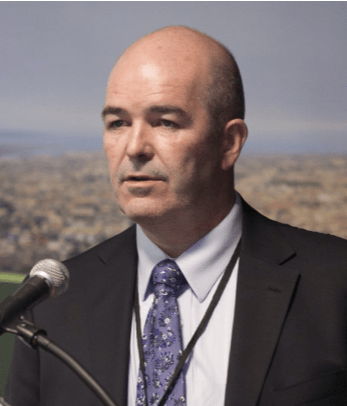 Prof John McCaffrey
Clinical updates
The conference will also see updates from specialists around Ireland on breast and gynaecological cancer, as well as gastrointestinal cancer, lung, head and neck cancer, and melanoma. These will be followed by updates on genitourinary cancers and a variety of other topics, including virally-induced cancers from Dr Stephen Powell of the Sanford Cancer Centre in South Dakota, US, and colon cancer immunotherapy from Dr Neil Segal of the Memorial Sloan Kettering Cancer Centre in New York, US. The renowned Irish writer Colm Tóbín will deliver a talk focused on the
cancer patient's perspective, explained Prof McCaffrey.
There will also be an essay from Dr Mairead McNamara of the University of Manchester and Christie NHS Foundation Trust, UK, titled 'Reflections on a career in medical oncology'.
"That really resonated with me, so rather than a medical update, I asked Mairead if she would bring her thoughts to the meeting to close it," said Prof McCaffrey. "Overall, there are some great medical updates from the various national and international meetings and where the evidence base is for everything that we do.
It's proving to be very popular, not just among ourselves, but also among the trainees in medical radiation and surgical oncology, as well as nursing and health and social care professionals and the pharmaceutical industry. This is our ninth year for the conference and every year we have a bigger audience."
Regarding industry, Prof McCaffrey acknowledged the importance of its support for Gathering Around Cancer and continuing medical education overall. "This support is given without any sense of what we are going to talk about," he told MI. "They have no input into the programme, but year-on-year they have been highly supportive. In previous years this was with help to secure the speakers.
But since Covid, it has also been with support for the technology that we are using, which is television studio-quality, and all the teams that you need to have in place to make sure everything works. The pharmaceutical industry has its own virtual exhibition hall at the conference, which we would encourage all the delegates to visit."
Prof McCaffrey concluded by reiterating the sense of community in the field of oncology. "I'm grateful for the support of our own community, not just the medical people who attend, but also the nurses and health and social care staff, as well as the media and the pharmaceutical industry," he commented. "It really is a
pleasure to be involved in this meeting."

To register for Gathering Around Cancer 2021, please
visit www.gatheringaroundcancer.com.