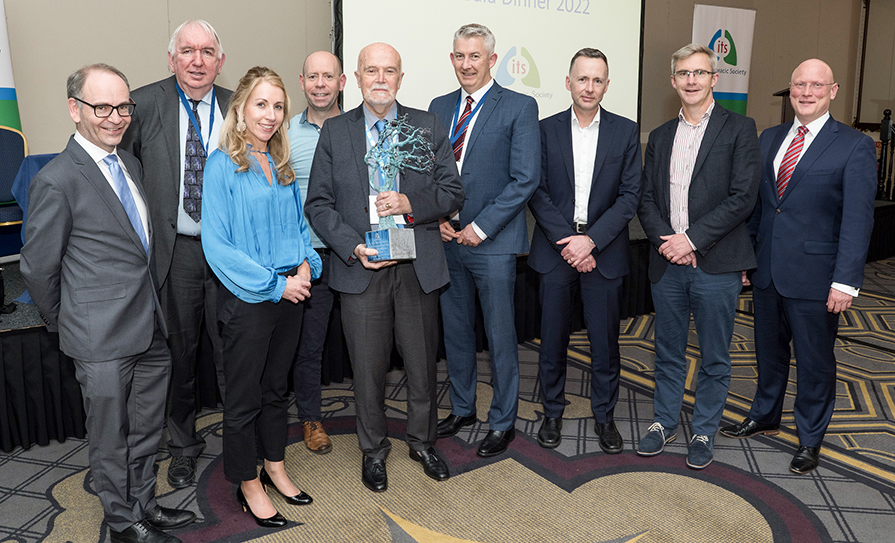 Pictured L-to-R: Dr Marcus Butler, President, Irish Thoracic Society; Prof Gerry McElvaney; Dr Emer Kelly; Dr Alan Mulgrew; Prof Shane O'Neill; Dr Mark Rogan; Dr David Curran; Prof Ross Morgan; and Dr Stanley Miller
Prof Shane O'Neill received an award for his outstanding contribution to respiratory medicine at the recent Irish Thoracic Society Annual Meeting
Prof Shane O'Neill was presented with the Irish Thoracic Society (ITS) award for outstanding contribution to respiratory medicine at the ITS Annual Scientific Meeting in Naas, Co Kildare at the end of 2022. A citation, delivered by friend and colleague Prof Gerry McElvaney, recognised Prof O'Neill's enormous contribution to the development of respiratory medicine, education, and research nationally and internationally.
After graduating in medicine from the RCSI in 1976 Prof O'Neill commenced his internship followed by medical senior house officer posts in Jervis Street and St James's Hospitals in Dublin. He completed his MRCPI in 1978 and MRCP (UK) in 1979. He spent a year as medical tutor/registrar in general medicine and nephrology in Jervis Street Hospital with an outstanding mentor, the late Prof William F O'Dwyer.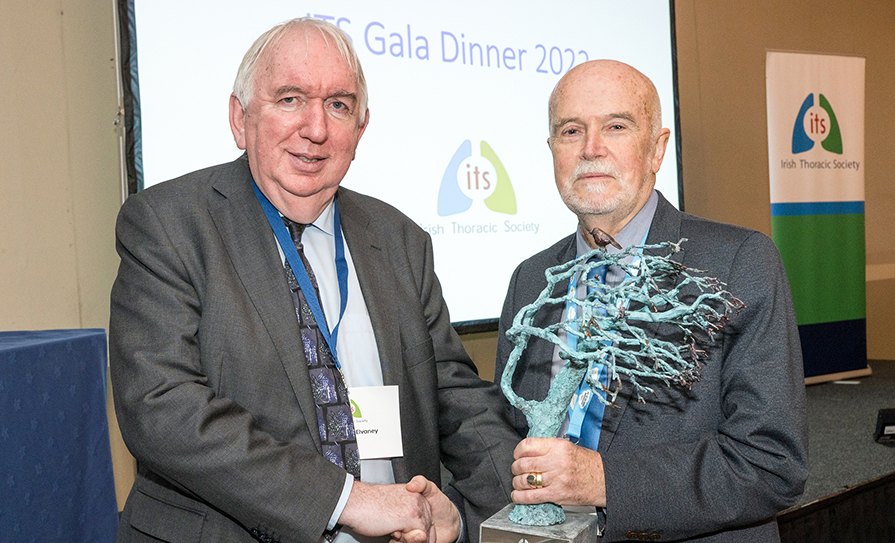 His respiratory medicine training commenced in 1980 with a post as TCD lecturer in medicine in St James's Hospital with the late Prof John Prichard. In 1981 he moved to Canada as Fellow in pulmonary and critical care medicine at the University of Manitoba, Winnipeg, with Prof Nicholas Anthonisen, another hugely influential mentor, as Programme Director. While there, he was awarded the Parker B Francis Fellowship to fund training in pulmonary cell and molecular biology as well as research grants from the Canadian Medical Research Council and the Canadian Cystic Fibrosis Foundation. He went on to complete an MD (NUI) by thesis on 'The influence of pulmonary surfactant on lung phagocyte function' in 1986 and was awarded FCCP and FRCPI in 1986 and 1988 respectively. Over the course of his career Prof O'Neill would publish over 150 peer-reviewed papers predominantly in the area of lung immunology, and host defences with over 7,800 citations. He would also supervise 10 MD theses as well as acting as external examiner for MD theses Imperial College London.
Return to Ireland
Prof O'Neill returned to Ireland in 1984 to take up the post of Consultant in General and Respiratory Medicine at the Richmond Hospital before it merged with Jervis St Hospital to become Beaumont Hospital in 1987. Prof McElvaney recalled the sense of excitement and anticipation that surrounded Prof O'Neill's initial appointment and noted the respect and affection of colleagues and those he mentored throughout his career at Beaumont. He described the deep impact that Prof O'Neill would have on the fabric of the hospital over the next 30 years up to his retirement in 2017 spanning clinical, academic, research, educational and governance spheres. This he fulfilled through a number of roles including that of Senior Lecturer, Department of Medicine, RCSI; Associate Professor of Medicine; Professor of Medicine; Chair of the medical board (2000–2002) and Lead Clinical Director of the hospital (2009–2011).  Prof O'Neill would also co-author and act as Co-Clinical Lead National Acute Medicine Programme during this period 2009–2011.
Mentor
Prof McElvaney remarked, in particular, on Prof O'Neill's strong sense of collegiality, his approachability, and generosity with his time and expertise. Nowhere was this more in evidence than in his role as teacher, mentor, and supervisor to numerous trainee doctors. His exceptional contribution to medical and respiratory education and training received fitting recognition when in 2017 he was awarded the inaugural RCSI/Beaumont Hospital consultant teaching award medal for excellence in clinical teaching. Indeed, Prof O'Neill would make a seminal contribution to respiratory training at national level when in 1995 he was elected as the inaugural National Specialty Director (NSD) to oversee the development of the newly established national higher specialist training programme in respiratory medicine. Prof O'Neill's political nous and strong negotiation skills would come to the fore in early discussions with the Department of Health when issues, such as funding, adequate protected time for training and research, inclusion of critical care training, and autonomy to choose optimum training sites proved contentious. Prof O'Neill led the production of the first training curriculum, which was aligned with the British Thoracic Society and Union of European Monospecialties (UEMS) curriculum components reflecting wider efforts to achieve mutual recognition at that time. His skilful navigation of these first six years resulted in the embedding of a highly competitive and sought after programme. Before long this was reflected in the significant increase in the volume and quality of respiratory research published in top ranking journals and presented at international meetings, as well as at the ITS Annual Scientific Meeting.
ITS
As President of the ITS (1998–2000), Prof O'Neill oversaw the drive towards increased involvement of respiratory nurses, physiologists, physiotherapists, and basic scientists in the ITS Annual Meeting resulting in significant expansion of membership and the establishment of affiliate subgroups. He established multi-year research Fellowships, which greatly boosted the Society's ability to support respiratory research. Under his leadership the ITS advocated strongly for respiratory healthcare, highlighting the high prevalence and chronic underfunding of respiratory diseases, particularly chronic obstructive pulmonary disorder and lung cancer. He led the Society's resounding support for the groundwork underway at that time in preparation for the introduction of the historic workplace smoking ban in March 2004.
Many of his former trainees were present on the night and the deep respect and affection in which he is held by them and the broad respiratory community was palpable.