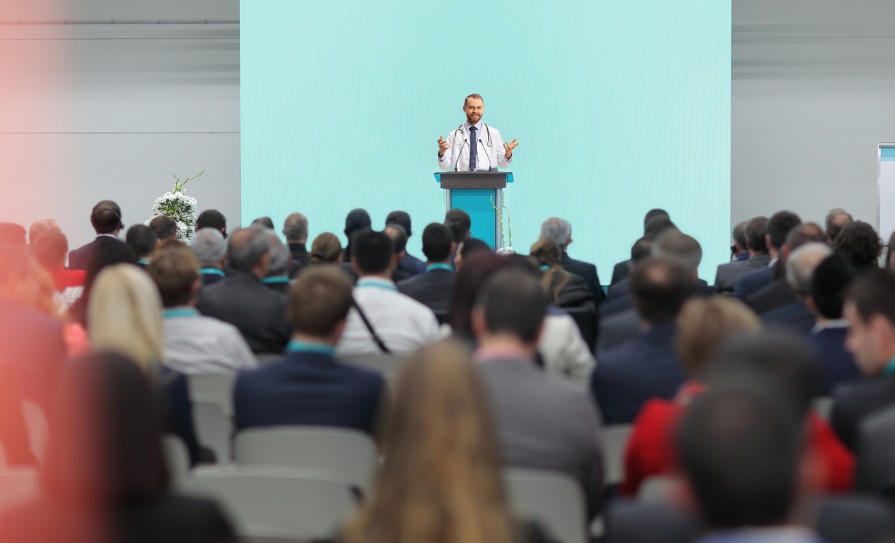 The Medical Independent speaks to Dr Ciara Magee about the upcoming Winter Meeting of the Irish Nephrology Society
The Irish Nephrology Society (INS) is comprised of doctors and scientists working in the care of patients with kidney disease, either at a clinical or research level. The INS Winter Meeting will take place on Saturday 28 January in the RCSI in Dublin. The meeting will bring together a distinguished faculty of experts specialising in nephrology. It will provide a key forum for a broad range of topics to be addressed, and to offer insights into the latest breakthroughs in scientific research on kidney disease, and updates on current clinical nephrology practice.
Consultant Nephrologist at Beaumont Hospital, Dublin, and member of the meeting organising committee, Dr Ciara Magee, told the Medical Independent (MI) that the interruption caused by the Covid-19 pandemic in having face-to-face meetings highlighted the value of these gatherings.
"Because they are a great forum for discussion, collaboration, opportunities for research, and hearing from experts across the spectrum," Dr Magee said.
"And that is what we have really tried to do with this meeting."
She pointed out how attendees will hear talks on a variety of topics, including chronic kidney disease (CKD), rare kidney diseases, and transplantation (see agenda below). The meeting will also feature the input from allied specialties. For example, Dr Eoghan de Barra, Consultant in Infectious Diseases at Beaumont Hospital, will speak about infectious disease in the transplant patient.
"It is really useful to have that perspective from other specialties and even within our own subspecialties," according to Dr Magee.
Transplantation
Transplantation is Dr Magee's own subspecialty. She said it is an area in which there has been "very quick progression from discoveries in the basic and translational side through to changes in clinical protocols and treatments for patients".
Two other talks on transplantation will be delivered by Dr Candice Roufosse, Renal and Transplant Pathologist, and Senior Clinical Lecturer in the Centre for Inflammatory Diseases, Imperial College London, UK; and Dr Leonardo Riella, Associate Professor of Medicine, and Director of Kidney Transplantation at Massachusetts General Hospital, US.
Dr Roufosse will provide an update on the latest Banff renal classification of allograft pathology. This is an international consensus classification for the reporting of biopsies from solid organ transplants. Since its initial conception in 1991 for renal transplants, it has undergone review every two years, with attendant updated publications.
"Dr Roufosse is significantly involved in Banff and she was involved in writing the recent consensus opinion," Dr Magee told MI.
Dr Riella will speak about recurrent disease post-transplantation.
"In the public domain, a kidney transplant is often understood as a cure for kidney disease," Dr Magee said.
"But it really is only one of several treatments for kidney disease. And, unfortunately, there are some diseases that caused the original kidney disease, which can reoccur after a transplant. So, Dr Riella has a particular interest in this area and is heading up a research effort called the TANGO [Post-Transplant Glomerular Diseases] study, which is examining rates and patterns of reoccurring disease from transplantation and transplant patients from several countries across the world. That is what he is going to talk about."
Prof Peter Conlon, Consultant Nephrologist at Beaumont Hospital, will also speak on the subject of the genetics of kidney transplantation.
INS initiatives
Prof Conlon will deliver another presentation at the meeting on the INS research collective.
"[Prof Conlon] is going to talk about the efforts he's been heading up in recent years in bringing together members of the INS for research opportunities and highlighting what they have done to date," according to Dr Magee.
"Hopefully, it will spark discussion for potential future projects. That is really important, not only for the consultant audience, but particularly for the non-consultants – the specialist registrars and any trainees coming through – who might see an opportunity for themselves to participate in research and potentially develop areas of sub-specialty interest and expertise as they move through their training."
There will also be a presentation entitled 'The future of the INS'. It will feature the contributions of three speakers: Prof Liam Plant, Consultant Nephrologist at Cork University Hospital (CUH), and INS President; Prof Donal Sexton, Consultant Nephrologist at St James's Hospital, Dublin, and INS Secretary; and Dr Paul O'Hara, Consultant Nephrologist at Portiuncula University Hospital, Galway, and INS Secretary.
Prof Magee pointed out how the INS has traditionally had two major meetings – the Winter Meeting and Spring Meeting.
"We are collectively looking at ways to make engagement more an ongoing process," she said.
"[The Winter Meeting] is a great opportunity to have direct engagement with the members to hear what they want and how it can be delivered." The other talks Dr Magee highlighted are: 'An update from the Rare Kidney Disease Registry' (Dr Sarah Moran, Consultant Nephrologist, CUH); 'Rare kidney stone disease' (Dr Shabbir Moochhala, Consultant Nephrologist, the Royal Free Hospital, London, UK); 'Halting the progression of CKD: Where are we now?' (Dr David Lappin, Consultant Nephrologist, University Hospital Galway); and 'Genomics and the kidney: Applying a precision medicine approach in clinical medicine' (Dr Dervla Connaughton, Eugen Drewlo Chair for Kidney Research and Innovation at the Schulich School of Medicine and Dentistry, Canada