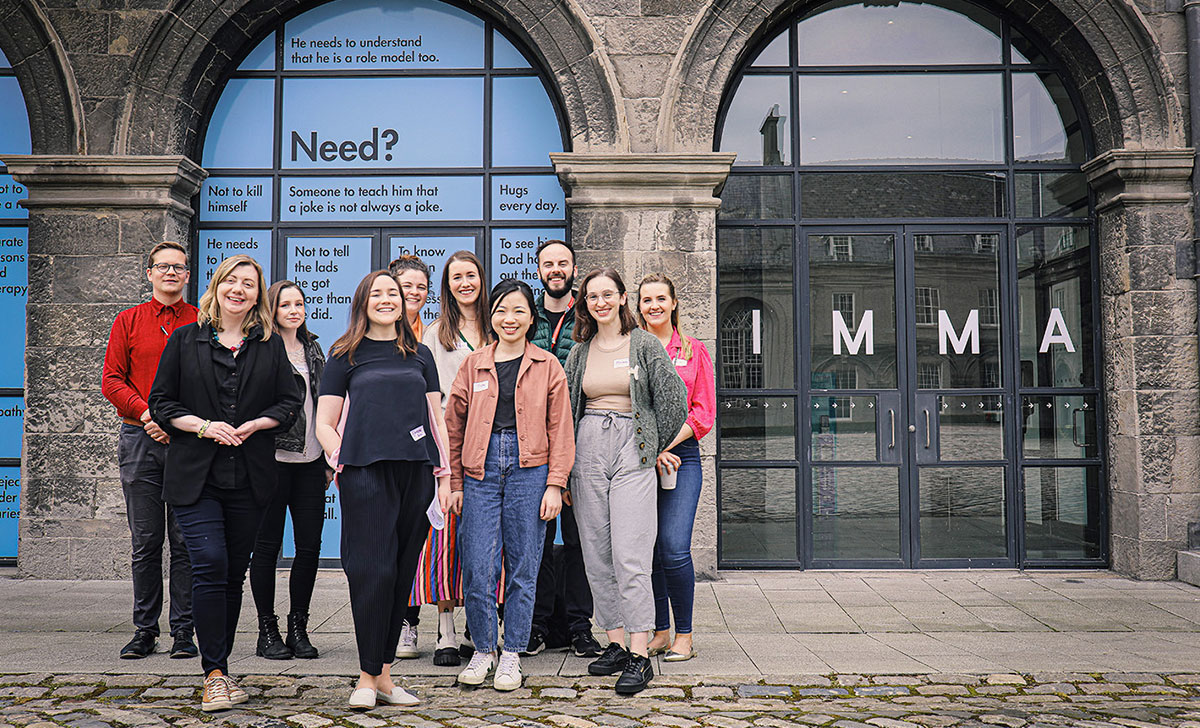 A recent collaboration encouraged NCHDs to immerse themselves in art and experience a world completely removed from work.
Demanding, rewarding, exhausting, invigorating, frazzling, fascinating, pressurising, uplifting. The experience of being an NCHD can feel alternately and simultaneously like the best and worst job in the world. Above all else, it is relentlessly busy work. Bleeps punctuate our work days. Professional exams, research, and audit too often commandeer our free time. As an antidote to this, on Saturday 21 May the health and wellbeing committee of the RCPI delivered its first ever 'The Art of Healing' event. It used art as the basis to slow down and reflect on the privilege of working in this most human of sciences.
'The Art of Healing' was made possible through collaboration with the Irish Museum of Modern Art (IMMA) and The Creative Life Hub at Mercer's Institute for Successful Ageing (MISA) in St James's Hospital. The setting of IMMA felt apt. I was explanted from my acute medicine day job in the nearby St James's Hospital to the iconic Royal Hospital Kilmainham. This is a historically healing space – it once served as a place of respite for army pensioners from the Battle of the Boyne. It was here that a group of NCHDs from a variety of specialties and hospitals across Ireland gathered to, as one attendee captured it, "experience a world completely removed from work for an afternoon."
When you observe something as a doctor, be it a scan or a clinical sign, you embark on a quest for the 'right' interpretation. Guided by two wonderful IMMA facilitators, Bairbre-Ann Harkin and Adam Stoneman, we were allowed to relinquish the narrow concept of 'rightness'. Instead, we could pause, immerse ourselves in the world of art and observe as humans. We undertook 'slow looking', spending minutes rather than seconds in front of artworks and delving into them not as puzzles to be solved, but as springboards into deeper understandings of ourselves, each other and the world around us.
In the words of another retreatant, the event helped us to "switch to a completely different mindset" and served as a "reminder of all the valuable things outside of medicine". Passing through the exhibition, 'The Narrow Gate of the Here-and-Now' was a portal to escape medical tunnel vision. It spanned works centred on forms of protest, the conflict in Northern Ireland (including Shane Cullen's impressive 'Fragmens sur les Institutions Républicianes IV'), and 'The Anthropocene'. We had the refreshing latitude to hold multiple interpretations as valid and learn from each other's perspectives. Returning to work afterwards, I felt a heightened mental flexibility, with greater ease in understanding the viewpoints of my patients and colleagues.
After lunch, we had the pleasure of listening to the spectacular poet Seán Hewitt reading from his collection Tongues of Fire. It was a special experience. IMMA's elegant gardens were originally used for medicinal purposes and seemed to confer their healing properties upon us as we sat in the shade of trees, utterly transfixed, deeply moved, and spiritually replenished.
Susan Sontag wrote that "Everyone who is born holds dual citizenship, in the kingdom of the well and in the kingdom of the sick. Although we all prefer to use the good passport, sooner or later each of us is obliged, at least for a spell, to identify ourselves as citizens of that other place."
For doctors, art appreciation offers the opportunity to hone better clinical diagnostic skills through careful observation, description, and interpretation of complex visual information. Yet it also helps us to pause, pay attention, and attend to our own wellbeing, making us better companions to patients journeying through the "kingdom of the sick".
'The Art of Healing' at IMMA reminded me to listen with both a stethoscope and an open mind and to look beyond CT and MRI scans to make people feel truly seen.
Dr Eimear Duff, Deputy Chair, RCPI trainees' committee on health and wellbeing; and BST trainee in internal medicine, RCPI.