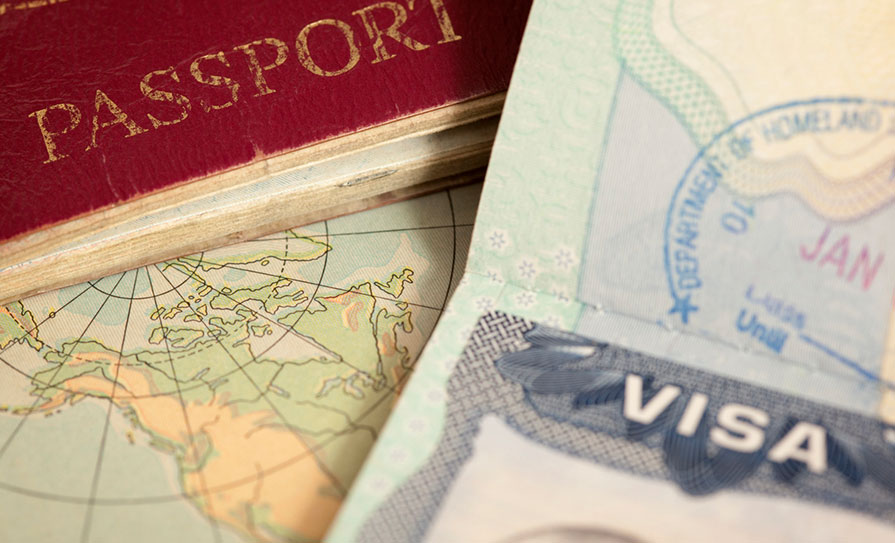 Coming to the US has made me reflect on the negative and positive legacies of immigration
My neighbourhood in Baltimore, Canton, feels like a large brick village despite being on the edge of the city centre. It has a patchwork of townhouses, schools, some churches (including a Ukrainian one with golden spires) and a famous ice cream parlour, perversely still bustling in January. And it has a town square where society happens – O'Donnell Square. There are barbers, bars, and the kind of snooty coffee shop that sustains me. For years the square was overlooked by a statue of its namesake, John O'Donnell. A Limerick man who made a fortune trading in China (hence his estate was 'Canton'), he was also a slaveowner. The statue was removed following the murder of George Floyd in 2020, although his name lingers on the square, streets, and housing developments.
For an Irish man immigrating to the US, it's a pinching reminder of our mixed history as a people here. Our two-tone legacy is everywhere you look in the city. Its name came from the Anglo-Irish Baron Baltimore, one of the founders of a settlement that thrived while native people died from imported diseases. Its scattered Catholic schools educated generations of Irish Americans, but harboured abusers too. Its movers and shakers include former Mayor and Maryland Governor Martin O'Malley, famous for progressive politics, but also anti-crime policies that left African American communities feeling more persecuted than ever. While the emblem image of Irish immigrants to America is victims fleeing famine, helpless, and almost hopeless, many before and after the famine were far from weak and far from angels.
Locals would be forgiven for treating this mixed history with a mixed response when they meet us. Instead, like virtually anywhere in the United States, introducing yourself as Irish elicits near-universal positivity. You are pre-ordained as a chancer and a charmer even if, like me, chancing and charming are not high on the CV. I've kept the façade up for now.
In fact, Americans take an uncommon delight in finding out who you are. This is not a strict question of where you were born. Anyone who has visited will be familiar with Americans whose ancestors left Moycullen two centuries ago still introducing themselves as Irish. When I first encountered this as a college student, we used to laugh at what seemed like an absurd clutching at Irish straw. Over the years, though, I've come around. I think we just have different ideas of what that tribal identity means.
So wildly diverse are the roots of American society that they have a very un-European approach to national identity. Half of the effort celebrates what they hope binds them – the beliefs in free speech and association, pursuit of happiness, and the other staples. They're meaningful, but maybe a bit abstract. So for many in this nation of immigrants, their ancestry is the neatest way of defining their fit in the jigsaw puzzle. Sometimes it's a nation, sometimes a religion, and sometimes a race. You may be Italian or Irish or Jewish, despite having never visited Italy, Ireland or a synagogue, but it is important that you are something. It's a talisman that people bear with pride long after their living connections with that background have died.
In recent years, the prevailing winds of Irish media coverage about American society have been polar. This is fair sometimes. The killing of George Floyd and rise of militant nationalism were horrors and it is worrying when slow progress seems to become no progress at all. As I write, America's cities are filled with protests over the death of Tyre Nichols after being beaten by Memphis police. You can see how people are cynical. I'm also mindful that this warmth of welcome for immigrants can be coloured by colour, and that too many immigrants suffer racist experiences.
But nor are things hopeless here, and this picture can ignore some extraordinary strengths. This city and my hospital are by far the most diverse places I have ever lived and worked. If America has historically been sceptical about first generation immigrants, it is also true that their following generation seem to weave into the fabric of the nation faster than anywhere else. My institution thrives by trying to draw on talent no matter where it comes from.
Like immigration anywhere in the world and like America itself, Baltimore's immigrant experience is complex and messy and does not always have clear good guys and bad guys. But I like their celebration of many identities under an umbrella of some common values, and I think Ireland might do well to sometimes look with less jaded eyes towards our neighbours across the water. We have lived, and perpetuated, the best and worst of it.