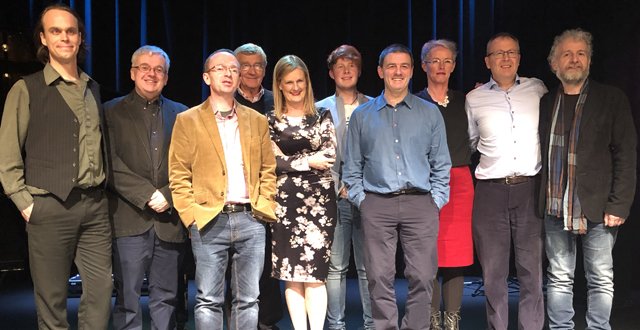 The first Leonard Cohen concert I attended was in September 2012. When people ask me why I believe it was the best concert I have ever been to — I finally understand why. It wasn't an event I attended, but rather experienced. Its greatness was in what I felt rather than what I heard.
'Bedside Stories' by the DotMD group is the Leonard Cohen concert of medical conferences: You don't attend it, you experience it. At its core, the evening, which took place in Galway last month, was akin to a 'poetry reading' by doctors, except instead of poems, there were deeply human stories of a life in medicine. And you could have a drink between the sessions.
Bookended by eerily beautiful musical pieces by Peter Broderick were eight stories told by doctors illustrating the windows on humanity we are exposed to over our careers; of our patients' lives and those of our own. Every doctor is fully aware of the power of story-telling in medicine, its power to inform, to connect and to deeply expose the tissue that holds us together as a community.
Originally scheduled to take place in the smaller-capacity Druids Lane, Bedside Stories was moved to the slightly larger, yet still intimate venue of An Taibhearc Theatre, where Pat Harrold laid the foundations as to why the venue is steeped in story-telling history.
The responsibility of the opening tale fell to Brian Jordan, who reminded us that our patients reach out to us at their times of greatest need, even when their problems are with some very irate members of an Garda Síochána. That even in times of great seriousness, insightful humour can always be discovered; and that encounters with our patients aren't limited to the consultation room; and attempted payments for services might even be offered when searching for a lost golf ball rather than at the front desk of our offices.
Aideen Henry reminded us of the shared experiences we have with our patients, reciting a short story on how trust can bring us so much closer to those we care for but can leave us exposed to breaches of that trust. How bearing witness to the struggles of our patients can bring us closer to those of our own.
Muiris Houston, one of the organisers of the meeting, shared his experiences of his many years as a GP to one of Dublin's biggest social experiments — the Ballymun towers. How the protruding chest mass of a pancoast tumour was the diagnosis of his first home visit, and how carrying vials of morphine through intimidating gangs of likely heroin addicts taught him that despite the odds, compassion still resided there, when the group didn't respond with expected violence but rather with the grateful comment of "thanks for looking after Jimmy" as he refilled the syringe driver of his newly-diagnosed lung cancer patient.
Ronan Kavanagh, another of the organisers, kicked-off the second half after the obligatory drinks at the bar, and his tale highlighted the fact that we do not practise medicine in isolation, but rather with a constellation of professional colleagues. These colleagues, however, can sometimes get a diagnosis incorrect and explaining this to our patients is tough, particularly when that 'colleague' was yourself, at the very early days of one's training.
Throughout our careers, we often feel we have become hardened to the tales of tragedy, but that doesn't mean it becomes easier. Siobhan Corcoran highlighted that maybe in fact it becomes harder to endure. That every heartbreak we bear witness to weighs us down just a little more, and, as René Leriche once quoted, each doctor "carries within himself a small cemetery, where from time-to-time he goes to pray".
While most of us currently spend our days in the calm and clinically-sterile environments of our practice or hospital, a life in medicine has for many provided brief opportunities to deliver care in lands as foreign as a war-torn Iraq under the rule of Saddam Hussein, who had confiscated all passports, thereby eliminating the opportunity to flee the outbreak of conflict. Although ambulance wait-times can be frustratingly long here in Ireland, they seem like a supreme luxury when compared to the organising of a Toyota Hilux to transport you across a combat border, into a slightly safer but less medically-advanced Kurdish-controlled area and you are the patient with a traumatic spinal injury.
The evening's story-telling was brought to a close by Paul Reynolds, who highlighted the power of a story and its potential not only to do good, but also harm. How Jack Nicholson's Oscar-winning performance might have placed the movie <em>One Flew Over The Cuckoo's Nest</em> into film-making history, but it was also responsible for a generation of psychiatric patients refusing the often highly efficacious procedure of ECT and thereby spiralling deeper into the depths of mental illness.
When doctors meet, we rarely discuss the newest clinical trials but rather we tell stories; stories of tragedy, of hope and of humanity. With ever more doctors becoming disenfranchised with their chosen profession, I can see no better antidote than the stories we share with one another. For a reminder of 'why we do what we do', the Bedside Stories series is a rare opportunity that should not be missed the next time it appears on the calendar.