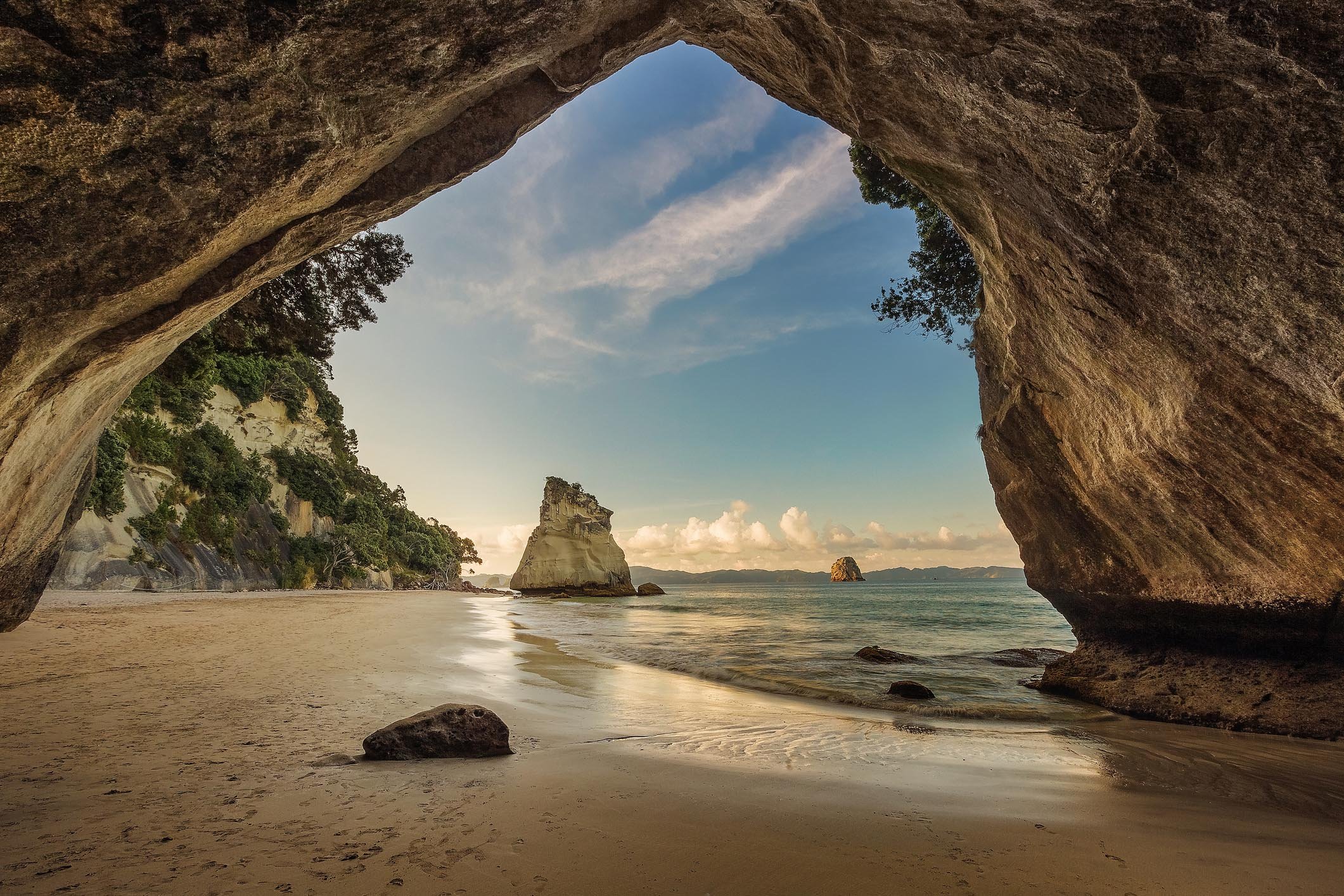 Cathedral Cove, Mercury Bay, Coromandel Peninsula, Nordinsel, Neuseeland, nördlich von Hahei
Even with his talent for charting the Zeitgeist, Irish writer Mark O'Connell could not have foreseen that his new book on apocalyptic thinking would be published at the beginning of a global pandemic.
Reading Notes from an Apocalypse during the at-times-end-of-the-world feel of the Covid-19 crisis makes for an eerie experience. The book even has a chapter on New Zealand, which has grown in relevance, although it was only published in April. With his signature ruminative but witty style, O'Connell discusses the paranoid reasons why Silicon Valley entrepreneurs, such as Peter Thiel, have bought up swathes of property in the country. Due to its low population density, plentiful supply of clean air and fresh water, and low risk of being seriously affected by climate change, New Zealand is viewed by the tech billionaires as a potential haven in the event of civilisational collapse. For this elite group, the country had become a "contemporary Ararat: A place of shelter from the coming flood".
And now New Zealand has another noteworthy 'apocalypse-proof' attribute; that of being pandemic-free. At the time of writing, it has lifted almost all Covid-19 restrictions after reporting no active cases in the country. While New Zealand is not the only Covid-19 success story, it is one of the most striking.
Its decision to pursue an elimination approach is different to the mitigation model followed by other countries, including Ireland. Mitigation focuses on delaying the arrival of the virus, followed by a range of measures to flatten the curve of cases and deaths. Elimination, as the name implies, is a more ambitious strategy with stricter controls, and one that many experts advise we must now pursue.
Prof Anthony Staines, Epidemiologist, Dublin City University; Prof Gerard Killeen, Infectious Disease Ecologist, Epidemiologist and Control Specialist, University College Cork; and Dr Tomás Ryan, School of Biochemistry and Immunology, Trinity College Dublin and Chair of FENS-Kavli Network, recently wrote an open letter in which they argued that eliminating the virus represents the most scientifically sound strategy in terms of public health and economics alike. They point not only to New Zealand, but also to South Korea, Australia, Austria, Greece, China and Iceland as offering prime examples to follow.
After suppression and elimination are achieved, the challenge is to maintain. The authors say these countries have achieved suppression, and some have demonstrated that they can also maintain it in the face of new cases, as seen in South Korea in early May.
"All our sacrifices over the last two months have driven down the number of cases and given us a precious window of opportunity that we must not squander," according to the letter.
"This is a decisive moment in the history of our island."
The fact that New Zealand is an island offers it an advantage in controlling the pandemic. This geographical advantage is one that Ireland shares, albeit with one big difference: New Zealand has one government, Ireland has two.
The open letter makes the case that the policy of elimination should be pursued by the two Governments in tandem. Such close co-operation, even at this moment in time, will be difficult to achieve. The open letter said we have a reached a "watershed moment", a fork in the road. Perhaps that moment might have already passed.
The Irish Government's decision to begin lifting lockdown measures while there are still active cases of Covid-19 is not in keeping with the New Zealand example. While the worst of the pandemic may have been avoided, further surges appear inevitable as restrictions are eased. The desire to return to normal is understandable, given the huge impact the policy has had on all aspects of society. But while it remains to be seen how New Zealand will stay Covid-19-free, the achievement of the country's approach to date offers policy-makers a valuable alternative to consider as the world waits on a vaccine.