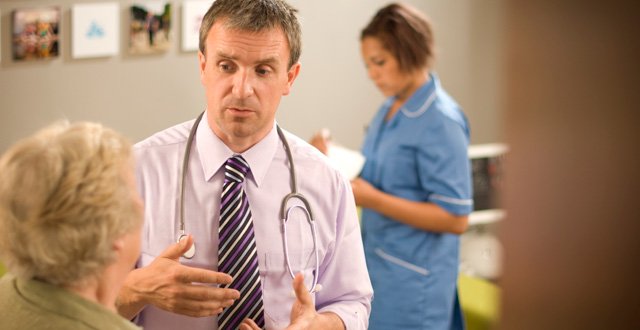 GPs give a weary smile when they are called, usually by some well-meaning politician or consultant, the 'gate-keepers of the health system' (I used to see the same weary smile on Mick Lally's face when some jovial soul would shout, 'well, Holy God!' at him in a Galway bar). We have heard the phrase 'gate-keeper' so often we are sick of it, and it is only part of what we do anyway. It is hardly flattering to be treated as a glorified bouncer when your job is so diverse and, at times, head-wreckingly complicated.
However, somebody has to keep an eye on the consultants, so if protecting specialists from themselves — like a patient and fatherly doorman — is part of our job, then so be it.
I was reminded of this a couple of years ago, when I had occasion to visit a hospital consultant myself.
I waited an hour, although there was obviously no other patient in with him. The dust lay thick on the elderly magazines which were, as I recall , <em>The Mercedes Owner</em> and <em>Practical Yachting</em>. He brusquely called me in without any apology for the wait and barked a series of questions at me.
I thought that at first it was my fault that I could feel a berserker rage rising within me, much the same as the one that must have gripped my Viking ancestors as they laid waste to Harold's Cross (look it up if you don't believe me). Maybe I had seen so much of that kind of superiority complex in hospitals in my youth and I was simply contaminated, and therefore unreasonably vexed. He probably loved his mother, I told myself.
As a GP, I had spent years studying consultation skills: Conscious and unconscious cues, transactional analysis, the whole <em>Cambridge Calgary</em> guidelines, and simple good manners, about which this poor man had no clue at all. It was like asking the chap who has come to fix the lawnmower to play a madrigal on a harpsichord, expecting him to know how to talk to a patient. The fact that I was a doctor myself was obviously of no importance. Few enough of them realise that we are GPs because we choose to be, not because we were born on the wrong side of some hospital blanket somewhere in their aristocratic fantasy world.
Anyway, does a hospital consultant need people skills? I know surgeons who are shy and inarticulate, but gifted, with brilliant brains and skilled hands. You would happily let them loose on your insides, and let's face it, you shouldn't need them too often and when you do, you should ideally be asleep for most of it. But if you have a chronic condition, if you are in it for the long haul, then you hope for a bit of give-and-take on the days you meet up.
Occasionally, I get an invite to a condescendingly titled 'GP Study Day'. These consist of family doctors sitting in rows, like Mass-goers in Ireland long ago, devotedly staring up at a PowerPoint while a series of hospital consultants read off the screen. I am longing for the day somebody comes up with a 'Consultant Study Day' given by GPs.
There would be advice on how to talk to a patient, so they might come away knowing anything at all about what you have just said in your purest argot; how to write a letter with the important message highlighted, not buried down in the text where it is sure to be overlooked; how to avoid telling GPs to refer all sorts of simple stuff to other specialists; why we can't email patient details on private servers; how we are all computerised and how they should be too; and why we don't have access to the tests they have done, so don't ask the patients to come to us looking for them.
GPs know how to talk and how to listen.
We know and love our patients, speak their language, and we hear their stories back. We hear about the rude ones, the greedy ones, and the burnt-out ones. The dictatorial consultants of my youth are getting scarce but there are still a few about who need a bit of gate-keeping. But not my consultant friends and colleagues, you understand. You're alright. You probably have some Viking in you.